Kate Hamilton
DIGITAL MARKETING MANAGER | The Strategist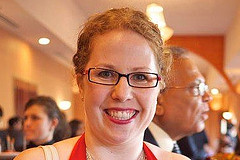 Kate comes to Lightspan with more than eight years of journalism and publishing experience where she honed her communication skills and found her niche in digital content and social media. With this passion, she shapes content delivery into conversations that engage audiences, build loyalty and differentiate brands. As an out-of-the-box thinker, she synthesizes complex information to develop practical solutions.
"Digital media allows me to combine my love of content creation with my journalism skills, passion for technology and love of conversation. Social media also is changing the landscape of communications in really fascinating and powerful ways."
In 2011, Kate founded LoganSquarist.com—on online hyper-local news outlet dedicated to promoting news, events and happenings in Chicago's Logan Square. In her spare time, Kate eats gluten-free, trains for marathons, knits, is an avid karaoke singer and maintains her blog katemhamilton.com/blog.
Connect with Kate on Twitter @katemhamilton, Google+ or via email kate [at] lightspandigital.com