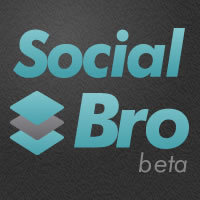 Ever wonder how many of your followers actually matter? They all have their place, sure, but certain connections are undoubtedly more useful than others. Social Bro is a Twitter community analysis tool that gives you a much more in-depth look at your followers and friends than Twitter itself can offer. Who they are, what they love, and why they matter quickly becomes less of a guessing game and more of an exact science.
"Our goal is to help companies and agencies increase their communities' growth, save time and monetize their social contacts via actionable stats and by providing really valuable data. With SocialBro you can analyze in depth what your community is like in order to manage it and drive your strategy more efficiently." - Leticia Polese, Communication Manager at Social Bro
Here are my top 8 favorite features of Social Bro:
Famous Followers – you probably don't have many. Sad face. But the ones who do follow you should be treated with extra care. Social Bro identifies your "famous" followers for you, allowing you to tap into their powerful social networks by cc-ing them on tweets and hoping they'll re-tweet. FYI: Social Bro differentiates "famous" and "influential" followers. The "famous" people are the accounts of celebrities that have been verified by Twitter, while the "influential" people have a high number of followers. 
New Followers – you're making friends! Mom would be so proud. Sort through your new followers by follow date, influence, number of followers, or a handful of other useful ways. You can easily validate your new followers by quickly following them back and saying "hi". Or, at the very least, you can quickly identify which new followers to give "welcome" shout-outs to in your morning tweets.
Inactive Friends – sort your friends by the date of their last tweet. Have they been MIA for a few weeks, months, or even years? Say buh-bye. Unfollow your inactive friends: if they never log into Twitter to read and respond to your brilliant content, are they really worth your precious "friend" space? Probably not.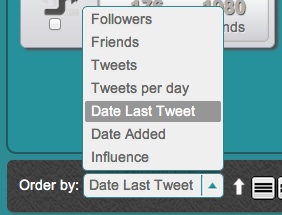 Search All Twitter when List Building – search through your followers, your friends, or all of Twitter to build lists more efficiently than ever. I recommend using the advanced bio search to group people into categories such as location, keyword, or hashtag, then add them all to a list. This feature helps you easily track down new people to connect with. Your lists will automatically sync up with Twitter, saving you transfer time. TIP: download the "Check Them All" Google Chrome app. This will allow you to select all of the handles on the page at once, saving you precious click through time. Efficiency, people!

Not Following You Back – if after two weeks your new friends do not follow you back, ditch 'em. All at once! Sound harsh? Maybe a little. But keep in mind that Twitter monitors your follower : friend ratio by limiting the number of "friends" your account can have. Don't feel guilty about freeing up some of your "friend" space to make room for people who will be more active, strategic connections. Sort this list of friends in ascending order to see the people you followed in the most distant past - they go first!
Follower Bio Tag Cloud – check out the top keywords that appear most in the bios of your followers. Ideally, these keywords will be aligned with topics that matter to you. Running a film company, but your tag cloud is filled with words like "motorcycle" and "tattoos"? That's a good sign that you may want to re-evaluate your Twitter connections…

Advanced Search Among Friends or Followers – wondering how many of your followers are from your hometown (or Paris? or New York? or Istambul?)? Use the advanced search feature to search for connections from specific locations, mentioning specific keywords, or naming themselves in a specific manner. This comes in handy when you want to keep an eye on people with specific interests or people from a certain location.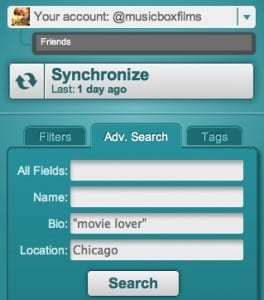 Analyze Your Lists – it exists! This long awaited feature is easily my favorite tool of Social Bro. Ever subscribe to a list of nearly 500 accounts, only to realize later than you do NOT want to sit around clicking from bio to bio to weed through the potentially good connections? Analyze your own lists as well as public lists created by other users with Social Bro's "Analyze Lists" function. But be selective! Free Social Bro users can only analyze 4 lists per account.
And that's not all! Social Bro has many other extremely useful data sorting features. Best time to tweet reports, hashtag monitoring, insights, analyzing competitors – just to name a few. Check it out for yourself. Get smart about how and with whom you chat in the Twittersphere.
What other information do you wish Twitter made more readily available to you?