So you joined Twitter, congratulations! And now you need tools to help you find Tweeps to talk to. Or if you mean business, you want to zero in on people who share common interests or who may be a good fit for your company's products and services.
Good thing we have a few tools in our toolbox and we also did some research this past two weeks! We set out to find professional tools that will not just skim the surface of the Twitter advanced search, but powerful and unique tools for running custom searches. I'm sure you will want to check out the Pros and Cons of each tool so here they are: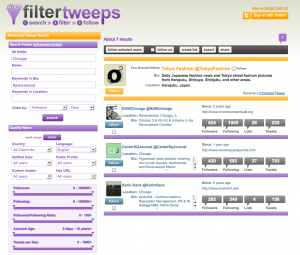 You'll definitely find this free tool useful. The numbers of filters available are impressive, allowing to search not just by location,  but by keywords in bio, number of followers and even verified status.
Pros:
Easy to use.
Filters based on their profile bio, name and location.
Can use advanced syntax, such as wildcards (*), "or" and "not" operators plus many more.
We love this tool for its many filters but also because it allows us to group people by topic within a specified location.
Oh and forgive our inclination for aesthetics but this tool is both pretty and user-friendly.
Cons:
Shows inactive twitter users.

Searching for twitter users in your area? Then this might be the best tool for you, Local Twitter Trends! It does exactly what it says, it looks for users in your geographic area and gives latest top 10 trending topics in that particular location, so you can jump in on high-visibility conversations. This is a smart and easy way to tweet-hop (I think we just made up a word and we love it) on twitter conversations.
Pros:
Shows user based on location.
Shows the top 10 trending topic in a location.
Cons:

Do you want to check if your friends on Facebook also use Twitter? A gorgeous tool called Friendlynx will do the work for you! Actually, it is a Facebook App that  links to your Twitter account, searches your Facebook friends on Twitter and lets you follow them directly from Facebook. Really! This is the best integration tool that we came across for some time!
Pros:
Finding and following Facebook friends on Twitter is made easy.
Cons:
Still in beta
Uses name search so it's inexact but tries to make up for it by giving all possible Twitter name matches.

Here's another tool to treasure! SproutSocial is a social media management platform with a strong targeting and monitoring component. It's very useful for the power users who need to do multiple searches in parallel and look for real-time results. When it comes to discovery/search and monitoring activities Sprout Social may be one of the most affordable professional tools. Targeting features include localized keyword search, brand name monitoring, bio search, as well as Gowalla and Foursquare monitoring and alerts.
Pros:
Can save searches (a limited number depending on plan level).
Saved searches update automatically.
Includes Foursquare and Gowalla location (any locations not just your own) monitoring and alerts (SMS and email).
One of the most affordable comprehensive monitoring services (good bang for the buck).
Cons:
It's a paid service.
A few bugs (sometimes searches don't "stick") but Sprout support have been very responsive.

We like to be creative and we've been using Foursquare as a search tool. It may be a bit limited as a tool but — yes, there's a resounding but — this tool offers insights into consumer behavior that you couldn't get any other way. Foursquare may lack bio data  but new discoveries about favorite hang-out places can prove to be invaluable information. So if you want to find coffee lovers, search for people who check in to coffee shops. Many of them will have their Twitter accounts listed so you can connect with them. And how else would you find the current most favorite coffee shop or the most popular bar without actually going to those places?
Pros:
Find local Tweeps based on their going-out preferences.
Learn where users go to in real-time.
Good source of consumer information, such as most sought-after coffee brands, shake flavors, and many more.
Cons:
Only active users with comments are displayed.
Now you know more about our targeting tools and techniques. We'd love to know, what's in your toolbox?