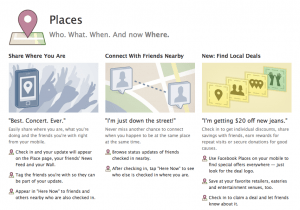 Have you tried claiming your Facebook Places location yet? If you're a retailer you may want to start the process, to have yet another social media platform at your disposal.
The platform promises wider usage than Foursquare (although our data shows more check-ins via Foursquare than Places at this time, and other studies confirm it). Unlike Foursquare, Facebook Places is not a game, and allows focus on additional business objectives – building customer loyalty, community involvement via charitable contributions or straight up sales through discounts and group deals.
Right after the launch of the service many, including our clients, jumped in to claim their locations. We expected it to be just as easy as claiming a Foursquare location or Google places. Well, Facebook did not make it very easy.
So here's what you may expect:
It appears there was an error in processing your Places claim. Please reply to this email and attach a scanned image of the documentation required to claim this Place such as:

- Articles of Certificate of Incorporation (for a corporation)
- Certificate of Formation (for a partnership)
- Local Business License (issued by your city, county, or state)
- Better Business Bureau (BBB) Accreditation
- A Utility Bill
- Tax Documentation

Please make sure the name and address of your Place are clearly visible in the documents you provide and that they match the name and address in your Place claim. We apologize for any inconvenience this may have caused.

Thanks for contacting Facebook,

Facebooker [we changed the name]
User Operations
Facebook
Some retailers were able to jump right in, like GAP for example. But the little guys didn't have as easy of a time.
Why make it more difficult for smaller businesses? We may never know… But if you have any theories please feel free to leave us a comment.