Friends, do you have opinions about the Elon Musk and Twitter news? Many do, and so do I. This week, every person I've talked to simply called it "the Musk and Twitter news." Because if you're Elon, vague sentences/tweets and memes are enough to spark a frenzy.  
So let's talk about the implications of this news. And a few other bits: Twitter's potential edit feature and their new ads formats; Google's multisearch; Meta's video changes. And a new addition this week: two podcast recommendations to help you get more background on the Musk and Twitter news and a slightly overlapping discussion on decentralization (crypto).
Can Free Speech Be Bought… by Musk? 
Elon Musk becoming a 9.2% shareholder in Twitter and joining the board may have given the stock price a bump, but in the long term, we have yet to see what influence that may bring to Twitter's trajectory. So far, despite claiming that he would be a passive board member, Musk has turned himself into a meme – the liberator meme. The self-proclaimed "free speech absolutist" tweeted that he's looking forward to making "significant improvements" at Twitter. Early indicators show that his focus is mainly on free speech. The FCC did come after him after certain tweets, so he's had this chip on his shoulder for a while. 
Assuming this is not a selfish move on his part (big assumption because everything Musk does smells of self-interest), it's a noble pursuit. However, if you buy something to control it, does that set the stage for freedom of anything?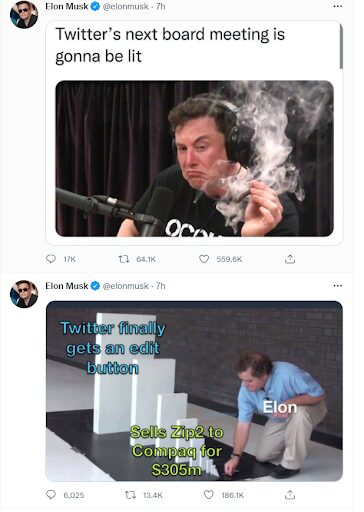 And then there's the issue of "what the heck is free speech" in the age of social media. Here's what the law says (I think we all need a primer on this), and then there's Musk's own definition of free speech, which "seems to be one in which only powerful people can say what they please and escape any negative consequences." According to Marina Koren, writing in the Atlantic, "at Tesla, Musk has fostered the opposite of a culture of speaking freely without fear of retaliation. He has reportedly fired employees who disagree with him, including those who said that the company's ambitious production goals were unrealistic, according to the Wall Street Journal reporter Tim Higgins, who published a book about Tesla last year. Some Tesla employees who have alleged racial harassment and discrimination at work say the company has ignored or tried to silence them. (Tesla has denied any wrongdoing.)
According to Reuters interviews with current Twitter employees, many are dusting off their resumes: "Longer term, employees said Musk's involvement may change Twitter's corporate culture, which they say currently values inclusivity. Musk has faced widespread criticism for posting memes that mocked transgender people and efforts to stem the spread of COVID-19, and for comparing some world leaders to Hitler."
Why Offering a Tweet Editing Feature Is Problematic
Elon has also touted the liberation of the tweet itself by adding an edit feature. There are reasons why there hasn't been one so far. And why an edited post gets visibly marked as edited on other social networks.  
Initially, Twitter was like a group chat. You'd text Twitter, and it would share your text with your followers. Then and now, you can't edit a text you send your friends. But since then, Twitter has become the leading news dissemination channel, and as such, should Twitter "news" be editable? 
There is a significant difference between an edit and a correction, and I believe the powers to be at Twitter understood this. You edit something before publishing it, and you issue a correction after. I'm not talking about Joe, who misspelled muffin. I'm talking about correcting mistakes. By journalistic standards, one of the most significant differences between corrections and edits is that corrections are transparent acknowledgments of errors. Often, corrections come with explanations and apologies. And are made as quickly as possible before the original error becomes established as truth. 
Honesty is key to upholding one's reputation. Reputable news organizations issue clearly labeled corrections and don't just edit their online articles. The New York Times, for example, says they sweat the small stuff. They'll issue corrections for even the smallest typos. Read their statement to understand why this is so important. 
Suppose Twitter and Musk genuinely want to be revolutionary. Why don't they implement a "correction" feature, which will show the original post and the edited post + additional info such as an apology, explanation, or source material?  
When it comes to accounts of influence being able to edit posts without evidence that a correction happened, edits can re-write history. 
And talking about Twitter being oral history, did you know: In 2006, the Library of Congress started archiving every public tweet sent because they were seen as a historically significant public record. As of 2017, it stopped collecting all tweets and moved only to collect "thematic and event-based tweets, including events such as elections, or themes of ongoing national interest, e.g., public policy." 
Best Related Content of the Week: 
From The New York Times, Sway: Kara Swisher and Casey Newton on How Elon Musk's 'Soft Power' May Shape Twitter's Future
Bored with "Old School" Ads? Twitter Is Testing New Interactive Options
Twitter is testing new formats for ads: 
Interactive text ads where brands can highlight the keywords in the ad and link them to relevant landing pages.

Product explorer ads, where users can swipe and rotate a brand's product visual to get a 360 view. 

Collection ads, where you can show a hero image with five smaller visuals below.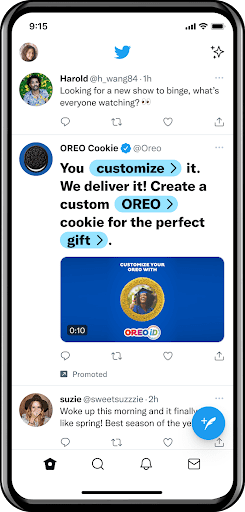 Product explorer ads: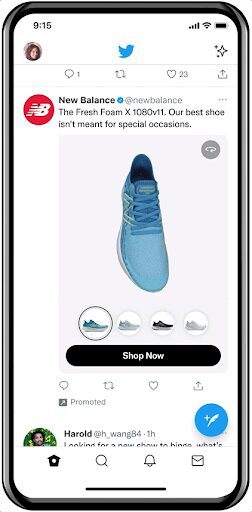 Collection ads: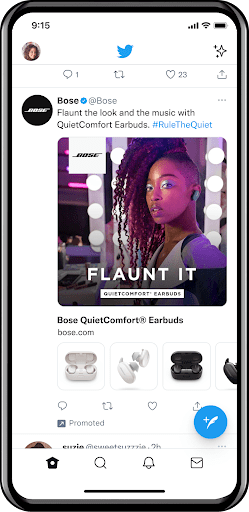 A "More Helpful Google" Expands Into Multisearch
You can now use multisearch, to search using both images and text at the same time. This is one of the many search enhancements we've been expecting since Sept 2021, when Google announced they had reached a critical milestone for understanding information with Multitask Unified Model, or MUM.
Since the launch of MUM, the training system that applies advanced AI to search, Google has been trickling out updates that promise a more natural way to search and find what you need. 
If you were to train for a marathon, you might have hundreds of questions, from training questions to questions about the weather at the marathon location, how it compares to others, and what else you can do in town while visiting. Google wants to help you get all those answers in a multi-dimensional and more refined way, so you don't have to piece all the answers together yourself through multiple searches. 

Meta Introduces Sharing to Reels for 3rd Party Developers, Like Your Social Media Posting Tool
The new API access will allow third-party developers such as social media management and scheduling tools to post video content directly to Facebook reels. 
Instagram Removed In-Stream Video Ad Placements from its Advertising Options
With the sunsetting of IGTV and the focus going to Reels, AND the expected shift to a unified media format feed, it's no surprise IG is removing this option.

Why interrupt feeds with ads when you can have the ads inside existing videos? The creators' videos. 
So if you're still on the fence about working with influencers, Instagram is signaling once more that they will continue to support integrating advertising into content creators' feeds. 
Top Pick of the Week: "
What if the [crypto] technology does work, yet the world it creates isn't a decentralized utopia but a hyper-financialized dystopia?"
This is one of two core questions in my most favorite podcast episode of the week. If you've ever felt like you don't get the crypto world or that it simply doesn't make sense… you may discover that it's not just you and that a lot of the hype truly does not make sense even to those who are experts in the field. And you may find an overlap with the earlier podcast I recommended, where you will hear a discussion of Twitter's vision of decentralization. This is not a 101 on crypto but rather a conversation at the intersection of culture and technology. 
Listen to this episode of "The Ezra Klein Show," "A Viral Case Against Crypto, Explored," on Apple, Spotify, Google, or wherever you get your podcasts.