Google Reader is scheduled to be "killed" July 1. For those of us who are content junkies and use google reader to organize our favorite publications (I have over 600 subscriptions neatly organized by topic and location in my reader account) this has been a serious blow to our "system."
Good news is, you can migrate your current google reader subscriptions in just 6 simple steps. And I'm talking about fully archiving and migrating the subscriptions here, not just synchronizing them with a mobile solution such as Feedly.
Step 1: Export (aka back up) your current subscriptions. Google makes it fairly easy, just follow this link. You will be taken to the Google "Takeout" page where you can start the archiving procress.
Step 2: Hit the Create Archive button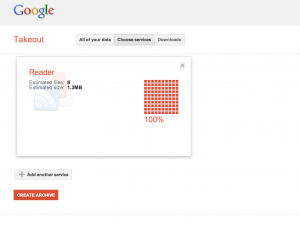 Step 3: Once the download is complete, click  the blue "Download" button: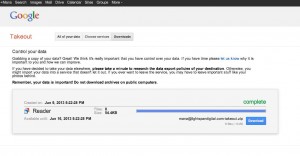 This will save a .zip file on your computer.
Step 4: Unzip the file to get a series of backup files including .json and .xml, which are compatible with other RSS subscription services.
Step 5: Pick another service. I chose to export mine to two services and will be testing them in parallel: Netvibe's BlogLines (now a MerchantCircle product) and TheOldReader.
There are other quoted options around the web, but honestly they don't quite accept true imports of subscriptions, despite the hype around them –  Feedly, and collected.info seem to be the top candidates. And then theres NewsBlur which requires a fee for immediate access (there's apparently a waiting list for free accounts).
So, all in all, try the two that are free, but most importantly back-up your data so you can have it when Google sunsets reader.
Step 6: Import your subscriptions and you're done!
In BlogLines: Click the "Add Content" tab in the upper left corner, and you will get the option to upload the .xml file from the folder you unzipped earlier.

Advantages: BlogLines is great for those who love to share their favorite content to multiple services. In fact, I may like the sharing options here better than Google Reader's.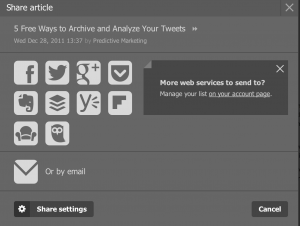 In TheOldReader: Click the "Import" link in the upper right hand corner of your account. Then follow the same process of uploading the .xml file.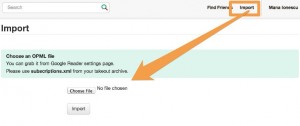 Advantages: Beautiful interface, minimalist and integration with Pocket.
About Feedly: Feedly has been much talked as an alternative to Google Reader. And it is. And I love it as a mobile app. I am not quite 100% clear if they plan on saving your RSS subscriptions when Google Reader sunsets. So although I'm a fan, I also think it's best to back up subscriptions to your computer and another web-based system. And since it's only 6 steps and 10 minutes, why not?
So hurry, July 1 is around the corner.