Is social media your true power?
If yes, then juggling tabs, posting stuff to different social profiles daily, interacting with your audience, day-to-day tasks, and so many things are happening almost simultaneously. That's the life of a social media manager. 
It's no longer a secret that social media is an essential part of establishing the brand reputation. However, keeping up with the task list, posting, and interacting with your audience can be incredibly time-consuming. 
Do you wonder if there is a way to strike a balance? 
Thankfully yes, Social Champ to the rescue! 
In this article, we have put Social Champ under a microscope to make an informed decision when you finalize a social media scheduling tool. 
What is Social Champ?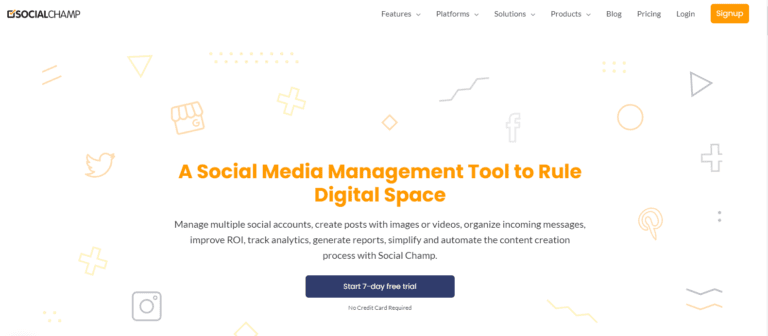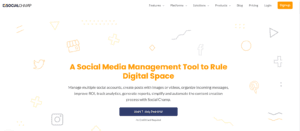 Social Champ is a social media management and automation tool that helps you to create, manage and schedule posts for all your social accounts. This is an excellent way of experiencing the power and simplicity of handling all your social media campaigns from one platform. 
With SocialChamp, you can schedule posts on Facebook, Instagram, Google My Business, Twitter, Pinterest, and LinkedIn. The content composer is crisp and has a clean design.
Once your posts go live, you can see the impact they create through platform-specific metrics, available through simple charts and graphs. 
Social Champ is a powerful tool for scheduling and publishing to the proper channels at the right time, tracking the effectiveness of your posts in real-time, and onboarding your entire team so that they can create beautiful and engaging posts for every social platform. In effect, the efforts to keep your social media presence get reduced without any impact on the effectiveness of the campaigns. 
From leveraging the power of your brand to delivering the best customer care, keep your conversation seamlessly flowing as you use Social Champ to create, deploy, and recycle campaigns across all your media networks.
Social media campaigns can get hectic, with multiple posts going live at all times. With SocialChamp, you can use the Bulk Upload option to line up post schedules without worrying about the take-live time. 
The detailed reports generated by the platform simplify the complicated task of tracking performance metrics of the social media campaigns. With these insights, you can optimize the planning and see better results in the upcoming months. 
A Sneak Peak to the Powerful Features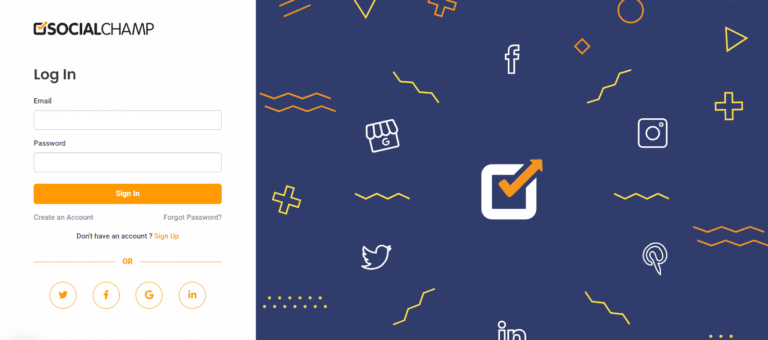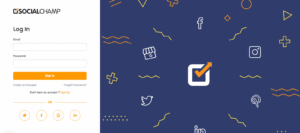 Handle all your social accounts from

one dashboard

. Create, edit, and schedule posts from one easy-to-use and clean dashboard.

Quickly collaborate with team members without sharing credentials by inviting your teammates as editors, authors, and admin using the

team collaboration

feature.
Overview and edit scheduled posts or reschedule your posts through the

Social Media Calendar

. 
You can

group

your top favorite similar social media profiles to schedule posts and publish multiple posts with one click. 

Edit pictures you want to share by adding filters or stickers through Social Champs'

Image editor

or Canva or Crello. 
You can

repeat

your posts to get more views.; the previous posts will be deleted or hidden so that the analytics data doesn't get duplicated.
Using a

CSV file

, you can

bulk upload

and schedule multiple posts (containing URLs, text, and images) at once. 

Repeat

or repost countless posts with just one click through the Social Media Calendar or the content composer. 

Create collections of your evergreen content and use them in campaigns later on through the

recycle

feature. This way, none of your posts go to waste, and you use them to their full potential. 
Monitor your social media platforms'

analytics

, including likes, clicks, shares, re-shares or retweets, and your overall engagement. You can

export

them to PDF for further analysis. 

Analyze your posts' sentiments by checking your text with the Sentiment Analysis feature without leaving the content composer. 
Share any post or picture you like while surfing the Internet and share it on your social media profiles using the

Google Chrome Extension

.


Publish
Social Champ has made your work more accessible with the Publish feature that pushes content to your social media platforms. While creating the posts, you can add emojis, images, and trending hashtags to help your posts rank better and attract more views. While queueing the posts, you can edit or reschedule post timings to make sure your target audience sees the posts at the optimal time. Use a CSV file to upload plenty of posts on your social media profiles using the Bulk Upload feature.
Analytics 
Get an overview of posts, tweets, retweets, likes, shares, and clicks. With detailed graphs, you can compare your analytics from week to week and month to month. You can discover where your content needs improvements. 
The analytics give you a good idea of what your audience prefers, as indicated by the engagement on your posts. 
Schedule 
It is nearly impossible to stay active on social media platforms and look after your social media profiles 24/7. Managing queries, replying to comments, and discovering exciting ideas to retain the interest of the audience overwhelms even the most dedicated social media managers.
Here's how Social Champ helps you stay consistent with your social media platforms – simply auto post on Facebook, Twitter, LinkedIn, Instagram, and Pinterest through Social Champ. This saves a lot of time, and you don't need to put extra effort into switching tabs. As a result, you free up ample time to focus on more critical tasks.
Repeat Posts
Repeat your posts on your desired social media platforms and see the magic of how smoothly you gain views. And no, you don't need to post manually. You can quickly line up posts for repeat posting on the social networks and let Social Champ do all the work and increase the chances of higher engagement.
Social Media Calendar 
Social media calendar is one of the platform's best features that brings all your social media accounts to a single location. You can easily view all your scheduled posts through the all-in-one calendar. There is no need to change tabs to track how many posts you have uploaded.
You can further optimize post scheduling using the Queue last and Queue next feature. 
Auto RSS
Here comes the most used feature of Social Champ – the ability to connect your favorite websites to your social media handles. All you need is to add the Auto RSS link of any website and add a title. Sit back and leave the rest to Social Champ. It will post the latest content to your preferred social media accounts. There is no need to pay extra for an RSS feed reader when you can automate the process through Social Champ.
Canva, Crello, and Wave Video Integration
Have a Canva or Crello account? Great connect it with Social Champ and use the platform of your choice to create and edit eye-catching visuals without leaving the composer. Similarly, connect your Wave.Video account to edit and embed videos in your posts. 
Why Social Champ? 
Look what the CEO of Social Champ has to say about how it started:
"It all started with a need, a birthday gift, followed by a bucket full of motivation. Every past failure is linked, the lessons learned are well revised, and the dots are all connected."
– Sameer Ahmed Khan.
Simplify social media presence management and save your valuable time. Effectively engage your audience by staying ahead of the trends by using trendy hashtags and mentions without leaving the platform.
Social Champ is a pocket-friendly tool starting from $9. You can also get a seven-day's free trial. 
If you are looking for Buffer alternatives, then Social Champ is your right choice. 
Pricing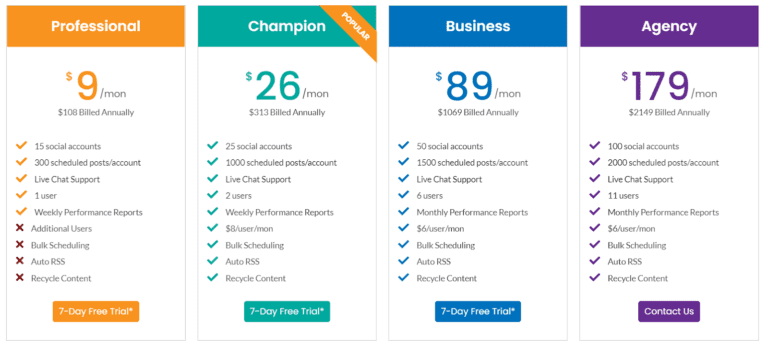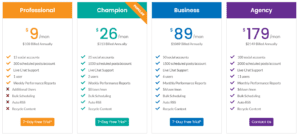 Social Champ is a pocket-friendly tool starting from $9. You can also get a seven-day's free trial. 
Here are four plans to help you pick the right one for your business
Social Champ offers you four plans:
Professional : $9/month 
Champion: $26/month 
Business: $89/month 
Agency: $179/month
Social Champ is an exceptional social media management tool.
Give the tool a try, and you will end up loving it. Bring all your social accounts together and start creating and sharing content now.