Don't think Google Ads are worth it for restaurants?
A few months ago, Google highlighted Toni's Pizzeria, a small restaurant that ran a series of highly targeted ads. With Google Ads, they increased direct online orders to 70% of total revenue in just three years. They had over 1,387.96% return on ad spend in 2019. 
Have you ever wondered how restaurants like this are making a killing with Google Ads? Google Ads, quite simply, puts your ROI in your hands. 
Google's customizable campaigns allow businesses to use paid advertising to reach their target audience using their own searches. To use it, you have to understand some basic rules of SEO and how Google Ads uses it to your business's advantage. 
Read on to learn how Google contains a goldmine of ad opportunities that can take your restaurant's profits to the next level.
SEO opportunities using researched keywords

Increased ROI due to targeted advertising

Customizable marketing campaigns on any budget
What are Google Ads?
Google Ads determines how advertisements pop up in Google searches or even on other websites that have a deal with Google (there are a lot of them). Google's search engine dominance means that their ads have ad dominance too. A Google ad is in a different ballpark than a Bing ad.
Google uses SEO to make these ads work. This means that text optimized for search engines can use Google Ads to effectively reach a target audience. Without this text, your ad could get lost in the shuffle.
Thankfully, the cost of a Google ad is determined by its effectiveness. This is where something called pay-per-click ads comes in (you may see it listed as "PPC"). Using PPC, your restaurant only pays for ads by the number of clicks it gets, with a price that increases based on the popularity of your keywords.
In other words, you only pay more for more effective ads.
How Google Ads Help Restaurants
Bidding for Google ad space using trending keywords can increase the visibility of your restaurant. People searching for places to eat can go from viewing an ad to making a reservation quickly if the ad is effective.
Ads are effective when SEO experts can use Google tools to the advantage of your brand. Even small businesses with a limited budget can use it to increase brand engagement. Your marketing plan doesn't have to focus on the most trafficked keywords, which cost more – you can focus on specific SEO keywords for your region to maximize visibility for your core audience while saving money.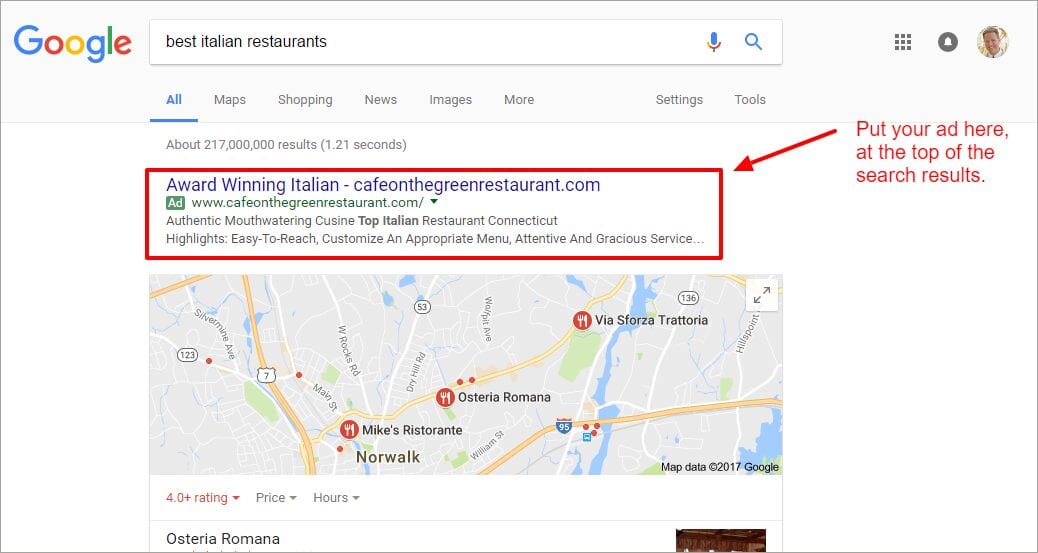 What's even cooler is the fact that you can make these ads show up for people who are in a specific location. Please contact us if you'd like a professional to set up the ad for you. 
How to Create a Google Ad
Like any digital marketing plan, creating a Google ad requires knowing your industry's keywords as well as how they relate to your restaurant's unique features. You have to decide whether to sell a branded ad that includes your name or a non-branded ad that casts a wider net for your region and for keywords frequently searched in the industry.
A great way to find out what keywords you should be using is to use Google's Keyword Planner tool. Essentially, you type in a phrase or keyword that is relevant to your industry. Google will then provide a bunch of great keyword examples you can use for your campaign. Check out the screenshot below for an example.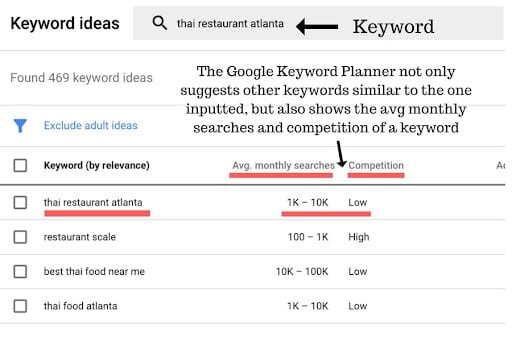 While the process of "bidding" for space and arranging keywords may seem daunting, learning how to sell your business's unique features in your region is a necessity in any advertising space. Combining it with SEO allows you to make Google work for you.
The Takeaway for Restaurants
In the modern digital marketplace, Google's search engine is the strongest ally your restaurant could have. Consult Lightspan Digital to hire professionals with SEO and digital marketing expertise who can help you use Google Ads to take your restaurant to the next level. They work on even a small budget to increase visibility and brand engagement. 
With an experienced agency and the right plan, Google is certainly worth it for restaurants to take advantage of the primary way people search for places to eat in 2021 – by doing a Google search. Knowing how valuable it can be, why not use it to your advantage?