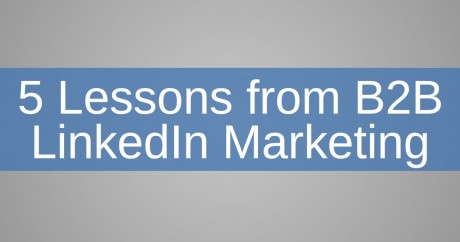 LinkedIn is traditionally seen as a job searching, recruitment and networking tool. But it can also be a valuable platform for B2B marketing. Between the finite targeting, thought leadership opportunities and transparent communication, LinkedIn is the place to be as the face of a company.
With a mixture of calculated connecting, contributing and publishing, we used LinkedIn to get a client into bigger, better sales meetings.
Challenge
James Calvetti Meats is a family owned, B2B meat processing company that relies on clients like airlines and hotels. Meat packing is an old school industry that happily lives in the confines of traditional marketing, so past marketing efforts revolved around tradeshows, WOM/personal connections, cold calling and expensive advertising/directory listings. Our challenge was to produce and nurture leads using a B2B marketing platform.
Strategic Solution
LinkedIn Marketing Goals
Reach new leads
Stay top of mind for current leads
Build an impressive professional image
Develop name recognition within the industry
Implementation
LinkedIn Marketing Strategy
Stay active in relevant groups (start, comment on and like discussions)
Connect with leads he met in person to keep communication going
Connect with leads through advanced searches (i.e. "people similar to…", search by job title, etc.)
Attract profile views from leads and decision makers
Connect with strategic partners (industry leaders, journalists etc.)
Update personal status and interact with leads frequently to stay top of mind
LinkedIn Publishing
In September 2014, Lightbug Hilary noticed that there was enough wiggle room in the budget to test LinkedIn publishing. We began to write 1 short article a month on pre-approved topics. The articles reflected his professional and personal stances on industry topics, framed in ways that potential leads would relate to, respect and want to align themselves with.
Lightbug Jamie was careful to inject the client's signature colorful personality and tone into the pieces. In an industry where reputation and personality matter, we capitalized on hot topics like food safety practices and a major competitor's scandal-ridden bankruptcy. Using his voice, expertise and opinions to take bold stances provided authenticity and value that appeals to leads.
To get the most out of publishing, you have to build a strong, targeted network first. There will be more people willing to listen when your network is full of trusting and interested connections. The foundation we laid through growing his network and engaging with the community (tactics listed above) was paramount to setting up publishing for success.
Results
Web traffic
To date, LinkedIn marketing efforts account for over 10% of the client's website traffic. LinkedIn is also the most valuable source according to indicators from website behavior such as pages per visit and time on site.
Additionally, there was a 325.61% increase in website traffic from LinkedIn during the first 4 months of publishing compared to the 4 months prior. Links within the articles themselves were responsible for a 91.43% increase in traffic.
On LinkedIn
As of February 4, 2015, the client's profile views ranked him in the top 7% of people similar to him (owners, presidents and the c-suite of food companies). We connected with multiple influencers and decision makers from at least 10 major targets. Many of these leads invited to connect first based off of the activity they saw and connections they shared through our outreach.
In-Person
The articles regarding a bankruptcy within the industry not only gained attention from the CEO of a major competitor entwined in the scandal, but also caught the eyes of a decision maker at a major airline. The client hadn't been able to get his foot in the door with that lead, but one like on an article later, he had a connection and an in-person meeting, directly attributed to the article.
Lessons
LinkedIn has value beyond jobseeking
Don't let anyone tell you otherwise. In B2B marketing and funnels where one-on-one interactions are vital, you can't beat the impact of InMails, profile views and invitations.
Don't be afraid to take a stand
This isn't the place to try to please everyone. The opinions you have as a person and a company give you a relatable persona that make you stand out from competitors.
Don't be shy
Sometimes all you have to do is ask. Get in front of and stay top of mind with the right people by being active and reaching out. If a valuable lead views your profile, invite them to connect with a "you're already here, why not?" attitude– you'll find it's hard to turn down.
Quality over quantity
LinkedIn profiles may not have the same numbers as a Facebook Page or the same reach as a blog, but specific targeting and personal connections get you the leads you need.
Listening is priceless
How do we inject a client's unique voice and style into such a personal platform like LinkedIn? We listen. These articles all came from short conversations where we established the client's opinion on a topic. From there we research the topics to convincingly match his expertise and create a draft that uses his catchphrases, personality and tone that we picked up through working with him.