There are so many reasons to go to industry conferences. Big-name speakers attract attendees who want to learn something new and attendees attract business professionals looking to create new partnerships.
With so many industry professionals in one place, it's hard to ignore the possibilities associated with getting involved.
Becoming a sponsor and having a table at an industry event can create additional visibility for your company on top of attendance. Having the best conference swag to give away can help keep your brand top of mind for attendees — even after the event is over.
The ROI of Conference Swag
When it comes to conference swag, there are two possible scenarios for where things end up:
The recipient will use them as intended
They'll go straight to the trash
According to a study by the Advertising Specialty Institute (ASI), most people keep promotional products (at least the ones they like) for an average of eight months.
With this in mind, be sure to carefully consider the quality of the promotional items you're deciding between. Cheap products are likely not worth the spend, as people probably won't end up wearing or using them. People can recognize junk when they see it and will deal with it accordingly.
The same study by ASI also found that those who receive promotional products are very likely to pass them to others that they think will use them. Specifically, 63% of over 100,000 survey respondents in the US, and 64% in Canada pass their promotional products on to others when they are finished with them.
This is good news for B2B companies because it means that your campaign message is likely to be amplified past the original recipient.
According to Forbes, the majority of people who receive promotional products are also more likely to have a good first impression with the company. After all, who doesn't like free stuff?
When it comes to measuring the ROI of conference swag, it might help to induce the influential principle of reciprocity.
Instead of just giving swag away, encourage recipients to do something in return — like subscribing to your mailing list or completing a feedback survey. Many are more than happy to comply, resulting in actual numbers that you can report back to higher-ups when justifying conference attendance and swag budgets.
But aside from creating situations with clearly measurable ROI, there's something to be said about the branding potential behind swag.
According to ASI, 85% of consumers remembered the advertisers who gave them a shirt or hat. If you can one-up your competition with higher-quality, flashier swag — you've got an in to build the relationship from there.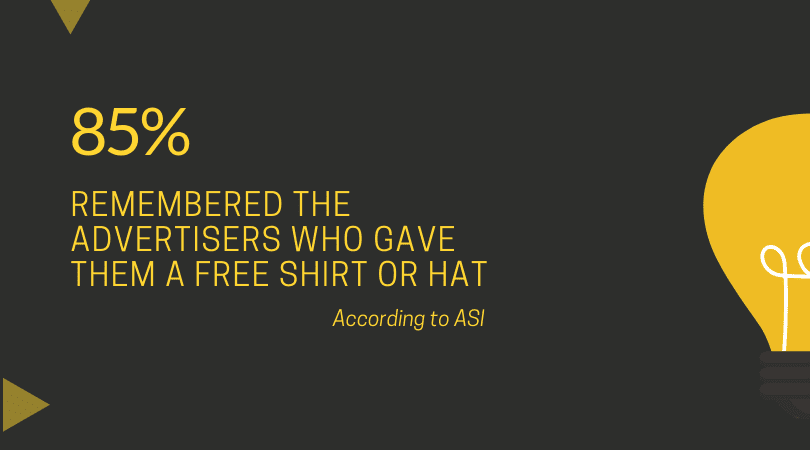 The Best Conference Swag Ideas
The best conference swag can take on many different physical forms.
But just because something works for another brand doesn't mean that it'll be the perfect fit for you. So keep an open mind and consider some of our picks for the best conference swag. You don't have to decide on just one type of swag!
#1: Something Earth-Friendly
Fast Company contributor Elizabeth Segran blasted the $24 billion promotional products industry for its contributions to environmental issues. It's not hard to understand what motivated this takedown — there's a lot of waste involved with creating, packaging, and transporting conference swag that might just get thrown away.
If your brand is associated with sustainable practices, you might be tempted to avoid the use of promotional products altogether. But there are some ways to bridge the gap while acknowledging your company's environmentally-friendly stance:
High-quality branded totes. People can use them to hold their stuff during the conference, then after the event for grocery shopping and other errands. Again, you'll want to avoid the cheapest option — they'll just get thrown away.
Seed packets. Nothing reinforces a focus on sustainability quite like giving conference attendees the opportunity to use their own green thumbs!
Reusable water bottles. Conferences create a lot of waste around food and drinks. While attendees might already have their own water bottle stash at home, they may not have brought one with them to the event. So help people limit plastic waste — at least during the event — by supplying them with a reusable water bottle. Focusing on a unique design or a high-quality product will help to ensure that it lives on past the event.
#2: Something Philanthropic
Maybe your company is well-known for being generous or philanthropic. Cement the ties of that association with conference swag to match.
Millennials love socially-conscious brands, so give those conference attendees something to Tweet about by offering swag that involves donations to a relevant charity. For everyone who stops by your booth to chat for 5 minutes, pledge $5 to the charity you plan to support at this event. Once the conference is over, share details of your impact to create continuous goodwill.
Not all of the best conference swag ideas create positive PR but this one certainly can. Since you'd otherwise be spending a similar budget on promotional products, you cut out the middle man — while doing something genuinely good.
Here's another good point in favor of a philanthropic focus:
#3: Something Wearable
T-shirts can be hit or miss. Fun slogans or slick designs will likely get worn but simply slapping your logo on some apparel item and calling it a day will likely result in attendees saving it for dirty work or tearing it up to use as a rag.
T-shirts aside, there are so many other wearable swag items worth considering.
Wearables create a physical connection between your brand and conference attendees. They also create brand ambassadors out of the attendees who opt to wear your swag out in public.
A few ideas for wearable swag that people actually want to use:
#4: Something Techy
In the digital age, people appreciate conference swag that involves technology or technology adornments.
But let's be clear — USB drives are out.
If you bring these as your conference swag, people will question your brand's ability to keep up. Similarly, external battery chargers have been popular recently but anyone who goes to more than one conference each year has a drawer full of these that they may never actually use.

Better (and more affordable) options include laptop stickers and webcam covers. In terms of the latter option, with all the data privacy issues plaguing the modern world, your customers will appreciate you looking out for them.
#5: Something Useful
When it comes to the best conference swag that survives the test of time once the event is over, focus on promotional products that create utility for attendees.
For example, some companies give away business cards that double as gift cards to popular retailers like Starbucks. That's one way to make sure that your business card doesn't get thrown out!
While you're brainstorming useful conference swag, consider the nature of the event and the location where it's held. Is there something that you could provide to attendees to make their experience better in this place?
For example, if the conference is somewhere hot — you might be doing attendees a favor by supplying them with sunscreen. Or if it's somewhere cold, branded stretchy gloves could be a lifesaver.
In general, try to anticipate what people may have forgotten to bring. Even if this type of swag doesn't last past the conference, people will appreciate that your brand helped them out of an uncomfortable situation.
Your swag doesn't have to be sexy to create a positive impact (and positive ROI!).
A similar concept for the best conference swag: notebooks.
Even if attendees bring laptops, they may not want to have to keep them open for writing notes. So be the brand that empowers the storage of knowledge.
#6: Something Fun
One of the best parts of going to conferences is the chance to meet new people. Since they're outside of their normal routines, probably in a new city, and perhaps moved by liquid courage — people are ready to make connections.
Plan your conference swag with this in mind.
A photo booth gives people the opportunity to make connections and be silly. You can add your company's logo to printouts and images shared over social media.
Since photos are more sentimental (and personalized) than your average swag item, they're more likely to survive the test of time after a conference — associating your brand with positive memories for years to come.
#7: Something Relaxing
At the end of her Fast Company article, Elizabeth Segran mentions how nice it would be for companies to consider offering wellness experiences — like chair massages or group yoga sessions — instead of physical swag that can be taken away from the event.
Conference attendees are on their feet and constantly busy, so creating a moment of relaxation really is a great way to create a positive brand experience.
#8: Something Edible
Some conferences provide ample food while others leave it up to attendees to figure out what to eat.
Even if there are scheduled meals, the craziness around conference attendance might leave people hungry at inopportune times. Providing shelf-stable snacks, like granola bars or candy, will help attendees power through early mornings and late nights.
Gum and breath mints are also appreciated for those on the go throughout the day.
Final Thoughts: The 8 Best Conference Swag Ideas for Your B2B Brand
Creating positive brand impressions via conference swag involves brainstorming and introspection. It's important to have alignment between what your brand stands for and the physical items you give out on behalf of your brand.
To be sure, this list of the best conference swag represents just a few of the hundreds and thousands of potential options. What would you add to it? Tweet your thoughts at @LightspanD and we'll share our favorites!