Elon Musk loves Twitter. And bad weed jokes. He also thinks Twitter is dying. And he also wants to buy Twitter. Are you keeping up? No worries, I have a quick explainer for you + Twitter's response and the latest news on the matter.   
What's been happening is absolutely bizarre. Polling his followers about dropping the W in Twitter is just one of the many juvenile Musk acts from the past three weeks. 
How did this all start? It hasn't been just a few weeks in the making. Believe it or not, just like everything, there's an origin story and a journey for how we got here. 
In 2017, Musk took to Twitter to troll Tesla short-sellers. And he liked it. By 2018 he realized Twitter's potential for his endeavors, be they financial or as an outlet for childish outbursts of trolling. 
But he got away with his bad behavior until 2018 when the SEC claimed Musk defrauded investors by tweeting that he had "funding secured" to potentially take his electric car company private at a premium, when in fact a buyout was not close. Tesla and Musk settled by each paying a $20 million civil fine and agreed for his Twitter account to be monitored. In Nov 2021, he put a poll on Twitter that led to a Tesla sell-off. The SEC once again subpoenaed Tesla. 
Fast forward to March of 2022, when "in a filing in the federal court in Manhattan, the U.S. Securities and Exchange Commission said Musk had not met his "high burden" to set aside a 2018 consent decree requiring that Tesla lawyers approve tweets and other public statements that could be material to his electric car company." 
That same month, Musk crosses the 5% Twitter stake threshold that requires prompt disclosure. But he doesn't go by the book, because he hates regulators and their rules. He was late filing his stake letter and he filed the wrong form. He used a form meant for passive investors and later refiled his disclosure to classify himself as an active investor. 
At this point in the story I'm thinking, Musk hates regulators, he keeps getting in trouble, and Twitter, or rather his usage of Twitter, is a big part of the story. He can't control regulators. But what if he can control Twitter?
He continues buying stock and on April 4 it was revealed that Musk was now the largest shareholder and that Twitter offered him a seat on the board. His joining the board would have limited him to a maximum stake of 14.9% in the company and stopped a potential takeover. He also would have been expected to act in the best interest of the company, but it doesn't look like there was an agreement as to what that is.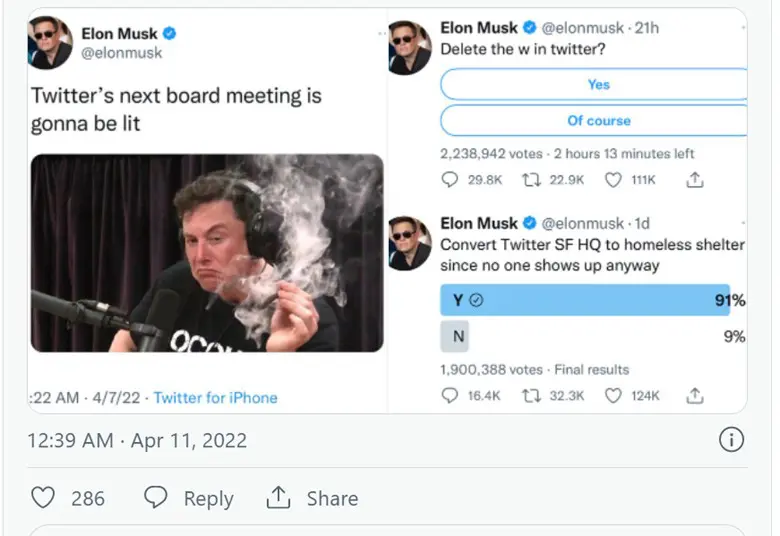 Musk at this point goes off the rails. He immediately Tweeted statements of big changes, including a meme of himself smoking weed in reference to the next Twitter board meeting. But the stock goes up and everyone is looking forward to the promised edit button.
That same week, in a Ted interview, he says he doesn't want to own Twitter.
 And we think that's it, right?
I mentioned the tweet about removing the W in Twitter right? And by Saturday, April 9, Elon starts tweeting sh!t about Twitter. "Is Twitter dying?" And that same day, the official start date of his board appointment, Twitter announced Musk renounced his board seat.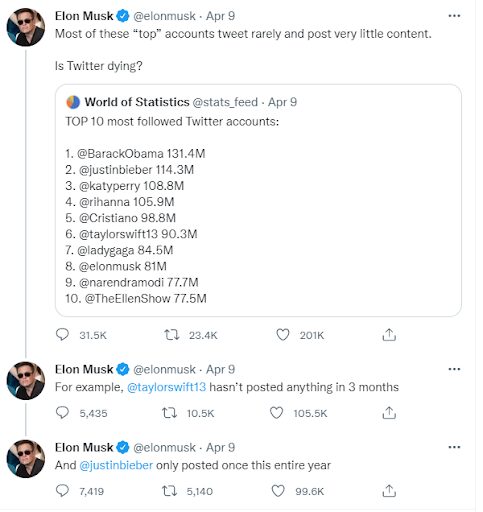 And on Thursday, April 14, he made an offer to buy Twitter, and announced it on Twitter with another weed reference. In Trevor Noah's words:
"He offered to pay 54.20 per share. Yeah, not 54 dollars exactly — no, 54.20. And that's how you know that you're too rich — when you're spending an extra few million dollars just to slip a weed joke into your takeover bid." 
Upon his announcement, the stock value dropped. And the next day Twitter announced that it put in place a poison pill. According to the New York Times "The poison pill defense would flood the market with new shares if Mr. Musk, or any other individual or group working together, bought 15 percent or more of Twitter's shares." The goal is to force anyone trying to acquire the company to negotiate directly with the board.
Why did he do it? "Having a public platform that is maximally trusted and broadly inclusive is extremely important to the future of civilization," he said Thursday. "I don't care about the economics at all." 
But it's contradictory. Twitter's culture is well-known to be widely inclusive and employees are concerned given the stories of racism in Tesla facilities.
In response, Musk is exploring a tender offer to purchase some of all shares directly from stockholders, according to an April 20 update to his buy-out filing. He has not committed to how he'll proceed according to the filing but the tender option is mentioned. In the meanwhile, he has been securing commitments of financing both through debt and equity financing. 
"I don't like to lose," was Musk's response on April 14 at TED 2022, when asked about his plan B should Twitter not accept the buy offer. Maybe he won't change his tune on this one. We shall see.
Updates:
According to an April 20, 2022 filing with the U.S. Securities and Exchange Commission, Musk has secured $46.5 billion in funding, by putting up $21B of his own and with commitments from global financial companies such as Morgan Stanley (the top financing company), Bank of America and Barclays. The filing reads, "Given the lack of response by Twitter, the Reporting Person is exploring whether to commence a tender offer to acquire all of the outstanding shares of Common Stock (…) but has not determined whether to do so at this time."  In other words, there's more to come.