Whoa, within a matter of weeks our business world has been turned upside down. It's time to take a pause and look beyond our narrow perspective no matter how scary it is. There is so much uncertainty and uncertainty leads to anxiety, and it's very easy to feel like it's the end of times. But difficult times bring about opportunity, so I'm bringing good news. Those who know how to turn this historic business pause, this time of social distancing, into opportunities to connect online will come out of this crisis ready to reenter the new normal ahead of the competition. 
Your big Q1 goal is probably out of reach by now (unless you make paper products and sanitizer). Your shareholders are on edge and putting on the pressure to minimize losses, which trickles down from employee to employee. You can take the hit and wait for this to pass, or you can use this as an opportunity to innovate and drive change.
Remember, you are not alone. If supply chain, manufacturing, working with people, the gig economy, deliveries, making, doing… oh everything… is in your daily work talk, you're being affected by this international COVID-19 crisis. Everyone is in the same boat.
I get it, it's a big deal. In 2017, global spending on business events reached more than $1.07 trillion USD. (Events Industry Council). That's a whole lot of dollars that went from your pocket to the events' pockets.
According to a 2019 survey by Growth Marketing Stage, events have been the number-one category of spending, outpacing all other channels in their survey, which confirms results published by Forrester in previous years.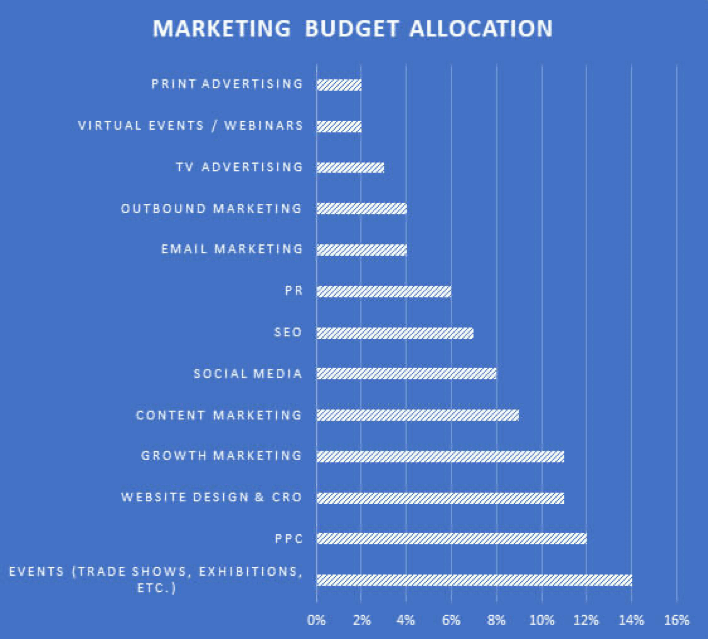 And here is how companies were planning to increase or decrease their budget by channel in 2020, according to data from the same survey.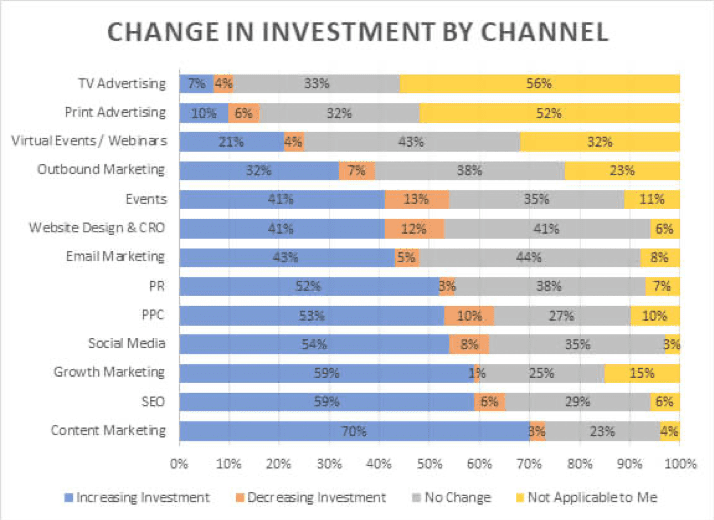 The events budget can now be redistributed to other areas. So let's get to work.
Here are 12 things you can do to close that sales gap left by everything being canceled:
Partner with Others
I haven't heard anyone say, "Yay everything has shut down – I'm so excited!" In fact, some people online are expressing strong feelings of disappointment and grief. So, team up with them to host an online event. Heck, team up with the event organizers. If you're hurting, let me tell you, they're hurting more. They will be happy and open to any ideas that may soften the blow.
Reach out to the conference organizers and say, hey, we're bummed for you too because this is a big loss of revenue. Let's do something online; I can offer up some top-notch content, I can offer up a webinar. All you have to do is invite people.
They'll feel less bummed about the event being canceled and you'll look like a hero.
Deliver Your Presentation Online, Live AND On Demand
Were you planning on showcasing something at your booth, or giving informal presentations while at the conference? Reach out to the people you had hoped to meet and invite them to share your presentation online.
Right now, everyone is trying to host an online event, and many are reporting burn-out from too much video chatting, particularly in groups. So offer a phone call instead, make it one-on-one, and you can also record your presentation and offer it later "on-demand."
Follow Digital Breadcrumbs to Find Contacts
Don't know how to find other disappointed participants? With the announcement of cancelations, people took to social networks to share their frustration and REVEALED that they were going to be at a certain event.
Do a search on Facebook, Twitter, Instagram, LinkedIn, Reddit. Look at the comments left on the posts and articles that announced cancellations. When people are upset, they leave a trail of comments and posts leading right back to them online. Reach out to them and set up a virtual meeting.
Chose Human Talk Over Sales Talk
I'll confess, the words I chose earlier, "I'm bummed for you" are not words I'd normally use. But you get the idea. But if you didn't, the idea is that this is a time to be real in your messaging.
Drop the sales talk, the academic talk, the MBA talk. Drop the "influencer" talk.
Everyone is in the same boat. A virtual one. You share frustrations and unmet needs right now and that helps people bond. It's an opportunity to say,
Hey, why are you disappointed this was canceled? Here's what it means to me. What did it mean to you?
In fact, post this to your social network of choice right now and tag me. I love to learn how people think and I'd love to hear what they say.
But if you'll go that route, please do it with empathy. Shaming people for panicking is not productive. And it's definitely not a virtue to defy public health warnings and challenge decisions that were not easy for anyone to make, and were made out of concern for an entire community of people.
How to Talk to Fellow Conference [not] Goers Online
I mentioned empathy. It's that little quality that makes the big difference between being sold to and receiving help for something you truly needed help with. This situation basically offers you opportunities to empathize on a platter. So, find some people who were supposed to go to this conference (search online) and say to them,
"It sucks, I feel […] too [and don't lie]. How can we support each other through this?"
Other options:
"Curious what we're all learning from this. What do you think?"
"How are you connecting with people now that the conference is off?"
"Feel free to look at my LinkedIN connections and if there's someone there you'd like an introduction to, and they're good people I actually know, let me know and I'll be happy to make an introduction."
"Was there someone you were really excited about meeting there?"
And I could keep listing them. Get the idea? If they're unhappy about not going to this conference, meet them where they're at. Right now you have this one common problem. Start there.
Practice Empathy and Don't Go Into a Sales Pitch
I mentioned this one before. But I have more to say because it's so so so important to let empathy lead. Make it a rule: unless someone asks you about you or it comes into the conversation, don't drop a pitch. Focus on them.
I see pitches such as, "My team specializes in providing solutions to a variety of e-commerce challenges." Honestly, that's what Google does. If you have a problem, any problem, Google will point you to all solutions whether they work or not. They're very thorough.
Stay away from broad and vague statements like that. You get spam emails and pitches like that all the time and I bet you delete them straight away. Because most of them don't start with a solution, and most of them assume that my problem is the same as everyone else's problem. Most people, especially right now, may not care about exactly what you do until you've gained their attention. But they may be open to listening if you offer to listen to them and support them. So listen, so they listen.
Run Lead Magnet Campaigns
Take some of that expo budget and redirect it toward online lead generation. Whatever you had planned on offering at the expo to get people to want to consider your services, you can offer that online.
Lead magnets are campaigns where we make a promise to deliver something useful for free – a study, research results, a unique data analysis, a "downloadable", a resource of some kind, a course and more — and in exchange, we collect contact info, primarily email address. Heck, free hand sanitizer and toilet paper may work miracles right now – in exchange for contact info. Then these contacts flow into your CRM system, get assigned to your business development folks, and trigger a lead nurturing email series.
Facebook and LinkedIn have a cool ad type, through which we can set up these lead magnet campaigns without needing a landing page. The conversion rates we've seen so far have been impressive. Besides fantastic targeting capabilities, the lead info gets auto-populated from their social media account. This removes the need for them to type it in, which makes it easier and faster…and you'll get better conversion rates than with typical sign-up forms.
Offer Free Guidance, Help, Support
Think of it this way, 1-3 or more of your people were about to travel to this expo/conference. For the next two months, put those hours that were going to go toward this conference toward free online consulting via video. Start with existing customers. Do group consulting calls where you invite your customers to invite their partners and customers. Combine this with the ideas above and go wild.
And if you're worried about how you look on video, Zoom, a very popular and affordable video conferencing tool, has a softening filter to make you look… better.
If you don't want Zoom or Ring Central, Google and Microsoft are giving away enterprise conferencing tools for a limited time.
Turn Everything Into Video Explainers
Right in our pockets, we all have devices with cameras more powerful than we could have imagined even just 5 years ago. We use them for photos of our kids and we overuse them to respond to a crazy amount of social media notifications.
Those devices were not designed for notifications. They were designed to put in your hands a powerful machine. Why not use it to its full potential?
You can shoot video showing, explaining, inviting. In fact, you can show more by NOT being at a booth in a trade show. You can show why and what and how. And why they should care. You can show more than in a PPT too.
A great tool to use is Vidyard. What I love about it is that you don't have to worry about uploading or downloading the video you made in order to share it with someone. It makes it easier and faster to share than if you use some desktop software to create a tutorial.
There are other options as well. Recording a webinar session, or a YouTube live session, allows you to later reuse it as an explainer video.
And even if you're camera-shy, you don't have to show your face. This is not about being a YouTuber and an influencer. This is about being helpful. Which brings me to my next point.
Stop Being Afraid That You're Just Giving Away Free Advice
Often when we advise B2B companies to share very specific knowledge through blog posts, articles, videos, social media posts, etc, we encounter resistance. There's the fear of disclosing too much, there's the fear of ideas being stolen and there's the simple resistance to "working" for free.
But here's an example of how showing someone how to do something for free can lead to that person wanting you to do it for them. I own a Toyota Prius. One of the headlights went out and the shop I stopped by said they'd have to take the bumper off to change the light and they'd need me to leave the car there and come back the next day. So I thought, is this really the only way to do this? I looked it up online. Well, a female mechanic had done a fantastic video on how to change the light without taking the bumper off. I had the light bulb, but after seeing the video I thought, I'd like them to do it. Unfortunately, the shop is not in Chicago. But if they were, I would have been there faster than I go for my morning coffee.
Take a chance, you've got nothing to lose. Share some knowledge freely.
Make Use of Digital Tools As If You Were a Freelancer
If you're in B2B and not fixing cars, Vidyard is a fantastic platform to use and do walk-throughs and visually explain things that honestly you should not try and write in an email. Many of those walk-throughs and demos you'd do in a meeting, you can do with Vidyard.
You may say that you've done videos and demos. Let's be honest: The 1, 2, 3 videos your company produced last year were overdue and are not a replacement for the discussions you'd have face-to-face. They are also not a match for the day-to-day realities of what it takes to deliver solutions to business problems.
Undergo a Digital Makeover While Waiting for the New Normal
You can no longer afford to treat digital sales and marketing as the least important of your efforts. Yes, expos will be back, but the world of business will not return to what it was.
When business will pick back up, the ones in the lead will be the ones who used this time to evolve. Here are some things you can work on:
Learn how to use LinkedIn for sales
Put a digital story-telling advising group together (employees, partners and even clients) and discuss ways to show the world how you help them. Or be the committee and set aside time to think about it.
Do some things on social media that you didn't dare do before:

Boost some posts with ads dollars
Post something funny
Congratulate a stranger

Explain something about your business using video
This is the ideal time to try new things. And in general, in marketing, the only constants are: try, learn and try again. That's marketing. You lose more than you win, but the wins can be big, bigger than the losses if you try enough.
Let's Get to Work
To many, this situation is paralyzing. If you're not used to working from home you may feel trapped and as a result unable to make decisions or take action. And with the kids at home, it gets harder to focus on work. You may feel emotionally drained, even if you are not anxious, you're feeling the draining pressure of others' anxieties and struggles.
I get it, it sucks.
But it's time to make that lemonade. Just because you can't connect in person doesn't mean you can't connect at all. Build relationships authentically the same way you would in person. Remember, lead with the connection and the sale will follow.
Let's roll up our sleeves and get to work. Want to talk about anything from marketing to breakups? I will have open "video office" hours for the rest of March and April. Not that many slots are available, contact me and we can sort something out.