This week I'm diving into some unique topics that we need to talk about more: 
brand partnership and collabs, 

Pepsi announces NFT collection with longest name ever, 

the online networks you didn't know but you need to know, 

legal updates on suing a social network if you're banned, 

geofencing +attribution coming to TikTok, 

Musk's massive Twitter growth goals and more
The Power of +; Why Partnership May Be Your Best Growth Marketing Solution
For decades the kids have been doing collabs and singers have been featuring singers. 
I may have given the answer away, but can you guess what's better than influencer marketing? Yes, yes, it's partnerships. 
Whenever brands ask how they can grow their social media following and expand reach, my first answer is partnerships. 
It's just math. Their network + your network = exposure to the total of people in both networks. 
There are many types of brand collabs. Charity collabs, sponsorships, seasonal or themed campaign partnerships, and contests. Here are a few recent examples. 

Nationwide Children's Hospital + Jeni's Splendid Ice Cream
Jeni's Splendid Ice Creams partnered with Nationwide Children's Hospital to break stigmas around children's mental health alongside a new flavor of ice cream.

Warner Bros. Consumer Products and Shutterfly partnered to release a TED LASSO-themed personalized gifts and stationery collection.

Teenage Mutant Ninja Turtles + GHOST
GHOST, the world's first lifestyle sports nutrition brand, partnered with Teenage Mutant Ninja Turtles to create a unique line of supplements inspired by the characters.
INTRODUCING: The Networks You Didn't Know You Need to Know #YNTK
This Week #YNTK FaZe Clan #fazeup
Big innovative brands have figured this out: How to tap into the power of communities. And how online communities are not limited to the mains-stream social networks. 
Social media's success came from the space they gave people to create communities. As soon as you stop nurturing communities, they dissipate. And then, some communities have evolved on social networks but built their own spaces outside of the traditional social networks that they now use as an extension. 
And since we were talking about partnerships and GHOST, it reminded me that they're also partnering with FaZe Clan and Doordash also just announced a partnership with FaZe clan.
What's that, you say? FaZe Clan is "the voice of youth culture." They're a professional esports and entertainment organization. They're a "global creative engine that has been a part of defining gaming culture."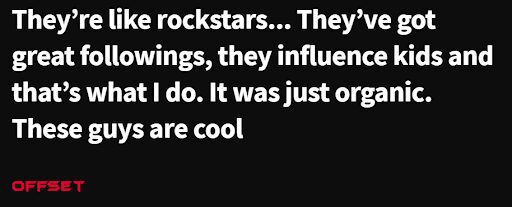 Is it still unclear? 
Maybe this will help: FaZe is "one of the world's most prominent and influential gaming organizations known for its disruptive original content and hyper-engaged global fanbase of over 510 million combined across social platforms."
FaZe has come a long way since its 2010 YouTube beginnings as a Call of Duty trickshooting channel. Earlier this year, they announced they are working toward going public at the end of this year and received a valuation of over $1BB. 
Pepsi Announces NFT Collection With the Longest Name in NFT History
OK, I confess, I don't know if it's the longest name but it feels like it must be because it's called:
The Pepsi Mic Drop x Billboard Music Awards 'Winners' Club' NFT Collection. The description is shorter:
Fans can score free NFTs tied to each televised award. 
The limited-edition long-named collection will only be available on Billboard ChartStars, a digital collectible platform.
Lots of brands have gotten into the NFT game. And some of them have done a great job creating experiences around their NFT collectibles, such as Nivea and Coach. 
What's different about the Pepsi collection is that it will be minted in real-time.
According to Billboard, "As each award is announced during the show, a custom digital collectible will unlock in real-time, available for free minting for only 20 minutes. Fans can get in on the action by following Pepsi, Billboard and BBMAs on all social media to claim the digital collectibles."
TikTok + Foursquare Partnership Aims to Solve a Social Media Sales Attribution Challenge
I guess today's theme is partnerships. TikTok aims to integrate Foursquare Attribution into their advertising, to map store visits to in-app activity. Foursquare Attribution, "is able to connect user activity to a physical location by tracking mobile devices as they move through an area. The system then matches exposed devices with this data, and provides direct feedback on how many people who've seen your ad have subsequently visited your store location."
Facebook has the feature under their advertising store traffic objective. Apple & ATT try to kill the tracking ability. But late last year, it was reported that Facebook started using device accelerometer data to pinpoint user location. Even if you turn location sharing off, they can still track your location. Since the tracking is not that accurate, Facebook uses statistical modeling to estimate the total number of store visits generated from your advertising. 
Snapchat Study Answers Big Questions About Visual Best Practices 
VidMob analyzed over 14,000 Snap ad campaigns from 3 verticals, Financial Services, CPG, and Entertainment (links further down).
Here are some key takeaways:
State your name early and make it stand out with high contrast. 

Have the call to action up-front

Be purposeful with text – view rate was 17% higher when text took up less than 5% of the screen than more than 5%. 

High contrast videos had a 15% higher swipe rate than videos with low contrast. Use bold color and lighting to differentiate your lead image from the background. Make it stand out!

And no surprise, star power has an "enormous effect" on performance, if you can afford to hire a celebrity. 
To get the 3 VidMob whitepapers, go here, here, and here.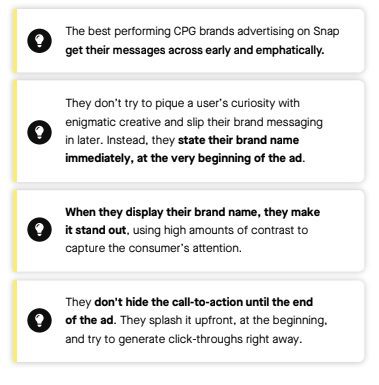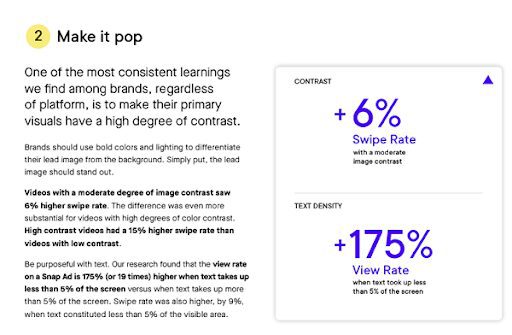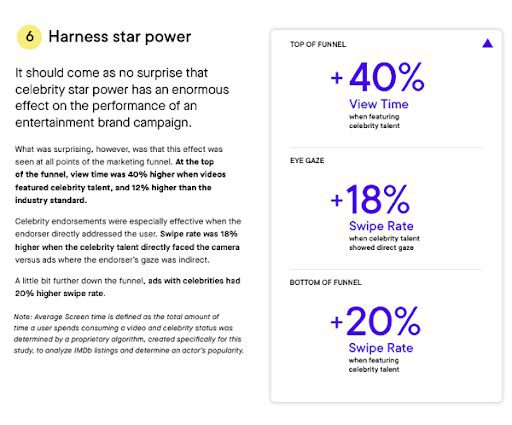 There's No End to Musk's Twitter Drama 
Today Musk announced in a tweet that "Twitter deal temporarily on hold pending details supporting calculation that spam/fake accounts do indeed represent less than 5% of users." As a result, the stock dropped by 20%. It regained some after Musk tweeted again that he's still committed. 
He just cannot help himself from tweeting instead of filing. "The nature of Musk creating so much uncertainty in a tweet (and not a filing) is very troubling to us and the Street and now sends this whole deal into a circus show with many questions and no concrete answers as to the path of this deal going forward," Wedbush analyst Daniel Ives wrote in a note.
On Thursday, Twitter fired two senior executives and announced it is pausing more hiring and backfilling.
In trying to save Twitter, Musk may actually drive it into the ground. At least temporarily. Except…
Musk Has Massive Goals for Twitter According to Leaked Deck
Last week, according to a pitch deck received by the New York Times, Musk presented investors with some lofty goal. Here are some of them:
Increase Twitter's user base to 600MM by 2025, then to 931MM by 2028, up from the 219MM (as of Dec 2021). See the chart below from Statista to compare to past and current growth rates.

Increase annual revenue to $26.4 billion by 2028, up from

$5 billion last year.

Reduce ad revenue dependency to 45% of revenue from 80% in 2020. Other revenue would come from businesses such as data licensing.

Bring in $15MM from a payments business in 2023, which would grow to about $1.3 billion by 2028.

Gain 104MM subscribers to a mysterious product X. The NYT speculates this is an ads-free subscription-based Twitter.

Cut around 1,000 staff over the next year, before adding approximately 2,700 new employees by 2025. 

Can You Sue If You're Banned From a Social Network?
Donald Trump's attempt to overturn Twitter's ban in court has failed after San Francisco federal District Judge James Donato dismissed the case. Donato noted that Twitter is a private company and that "the First Amendment applies only to governmental abridgments of speech, and not to alleged abridgments by private companies."
But all is not lost for Trump. He could move to Texas, where a federal court of appeal reinstated a law that allows citizens to sue social media companies for what they perceive as politically motivated bans this week. A district court struck down a similar law attempted in Florida last month.