What the heck happened this week, besides Musk buying Twitter?
LinkedIn and Meta keep courting creators with new features
What Instagram's boss has to say about the impact of hashtags
EU's DSA Promises
Can Musk Make Dorsey's Vision of the Future of Twitter a Reality?
And more…
LinkedIn Adds Website Link Option For Creator Profiles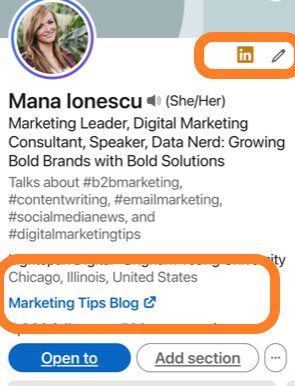 Hit that edit button to the right of your image, and at the end of the contact info section, you should find a field for the website and the option to give it a name, as I did here.
This option seems to only be available to creator accounts for now.
Google Will Let You Request Removal of Search Results That Contain Personal Information
As explained by Google:
"People can now request removals of additional types of information when they find it in Search results, including personal contact information like a phone number, email address, or physical address. The policy also allows for the removal of additional information that may pose a risk for identity theft, such as confidential log-in credentials, when it appears in Search results."
Do Hashtags Improve Reach? Here's the Answer from Instagram's Adam Mosseri Himself
Mosseri answered hashtag questions in an Instagram Live and clarified that you won't get much extended reach from hashtags. At the same time, he shared that they are working on a future introduction of features that WILL give more prominence to cause hashtags.
https://twitter.com/manamica/status/1519012634334531584?s=20&t=aQf4TaqCa2QJmnHvUympIw
Do hashtags make a big difference on Instagram? Here's the answer from Instagram's own Adam Mosseri. https://t.co/83tycPNs8y

— Mana Ionescu (@manamica) April 26, 2022
Instagram Is Testing Reel Templates to Make Reels Creation Easier
Meta/Instagram recognizes that creating Reel videos is not easy, which presents a barrier for many. If they want more participation, they need to make it easier. While still in testing, the Reels template feature allows you to copy another Reel's format and use your own clips based on the timestamps of the original version.
Instagram REELS announced a new feature! "Use as template" allows user to replace the clips with your own and it will match the time stamps of the template reel. Let me know what you think of this feature. Does this make you want to create more reels? pic.twitter.com/rLMJAX89jG

— Jo Millie (@JosephineMedia) March 26, 2022
Recently, Instagram has introduced several features designed to keep people on the platform and away from TikTok:
a Remix feature: the ability to collaborate on videos
new music features
Last year, Mosseri said the platform would double down on video in 2022. So it's likely we'll see even more announcements from them in the months to follow.
Facebook Introduces Share-to-Reels Feature for Devs
To make it easier to share to Facebook Reels from other video dev apps, Facebook will now allow developers to add this feature to their apps.
Here's an example: Smule is an iOS Karaoke app. They've added this feature so users can share their Karaoke moments straight to Facebook Reels instead of having to download them, edit them some more, and then share them.
Facebook knows that people are more prone to share to TikTok than to Reels. They hope that by making it easier, they'll see an uptick in Facebook Reels usage.
What You Need to Know About EU's Rules to Shake Up Big Tech
This news flew under the radar for many, but the EU passed the Digital Services Act earlier this week.
The regulations focus primarily on content moderation, advertising, and algorithms.
"The time of big online platforms behaving like they are 'too big to care' is coming to an end," said Thierry Breton, commissioner for the internal market, as quoted by the Financial Post.
The DSA aims to make the internet safer for consumers.
A few interesting facts:
The DSA promises to hold big tech accountable for illegal and harmful content.
The regulation defines "very large platforms" as having more than 45 million users, or 10 percent of the EU's population. Twitter has more users than that in Europe. I wonder what Musk thinks of what's to come for his newly acquired company in Europe.
The DSA would require public disclosure of algorithms used for content moderation and targeted advertisement if requested by the Commission. Some reports said algorithms, in general, would have to be disclosed. But it appears that the rules apply to advertising algorithms specifically.
Targeting based on religion, gender, or sexual preferences will be banned.
Platforms must publish "clear, easily comprehensible and detailed reports" on their content-moderation efforts.
Internet companies' terms and conditions must be understandable even to children. 
Non-compliance can bring about fees of up to 6% of the company's annual revenues.
What Musk and Dorsey's Shared Vision Tells Us About the Future of Twitter
Amongst all the predictions for Twitter's future, few are looking at the technical side of things. Instead of asking journalists and political news aficionados, we should ask software engineers and tech nerds involved in the open-source community and decentralization.
For Musk to bring about the change he's promising, a lot of tech will need to happen. And a lot of Twitter's core makeup will need to change. Musk and Dorsey, the co-founder and former CEO of Twitter, agree on this and share a vision.
That shared vision will tell us more about the future of Twitter than Musk bringing Trump back will. 
Jack Dorsey has been talking about this change since 2019, when he announced the launch of a project called 'blue sky,' with the goal of developing a decentralized social platform system.
The vision was inspired by the evolution of email – a foundational protocol on which email providers can build their own versions of email services. The outcome is that you can send email to anyone regardless of server, you can control your own inbox, and the service providers can set up their own rules and algorithms for how to control spam.
You can expand this town square that Musk loves to talk about with a decentralized platform. Multiple social networks could be built on it, each with its own rules tailored to its own people. There would be more individual controls. Algorithms would be transparent. And spam control would be distributed and theoretically easier to implement.
I'm simplifying things. As I said, ask the tech nerds. Or read this April's update from BlueSky on their self-authenticating social protocol.
Musk's vision for Twitter may not be that far from that of its founders. And it's not half bad. Just as Tesla was not Musk's original idea (Martin Eberhard and Marc Tarpenning founded Tesla), the future of Twitter may not be either.
And it may be precisely the change that's needed. Unfortunately, a decentralized Twitter is not possible in a closed system as a private company. But it can be spun off as an open-source platform, just as Android is. Or Twitter would become one of the many social media platforms built onto 'blue sky.'
So instead of jumping ship, instead of predictions of doom, let's give it some time. And let's let Musk digest the EU's DSA rules. Oh, how I wish I could be a fly on the wall right now.
YouTube Is Starting to Run Ads on Shorts
YouTube's advertising revenue grew in Q1 but fell short of analyst expectations. But YouTube has more places to grow that revenue. Such as Shorts, its TikTok clone. So now you have more advertising options. Enjoy!
Good thoughts, ideas, questions? Drop them in the comments or send me a note. I'd love to hear from you.