We often talk about our core methodology, the Daily Social Media Workouts™. To grow an audience and attention from social media, you need to go through a consistent and persistent set of activities. These are proven to work, just like the workouts you do if you join a fitness program.
The Workouts outline a schedule of monitoring, liking posts, commenting, resharing and also sharing original content. But it's effective because it has a ratio of 20% posting and 80% conversation. Liking posts is good (but lazy). Sharing posts shows you're paying attention (but maybe you didn't read what you were sharing). Having an opinion and contributing to or starting a conversation is even better. Now you're starting to build relationships and get movement to happen. Recently, LinkedIn examined the way that people were having social conversations on their platform. They found that their algorithm wasn't working the way they'd hoped it would.
LinkedIn changes its algorithm.
LinkedIn's 567 million users communicate through the platform by liking, commenting, sharing posts, and updating their statuses each day. They want to share the good, the bad, and the informative with their professional network. LinkedIn aims to make sure that means something.
LinkedIn recently found, however, that their viewer feed was in danger of optimizing posts of major influencers instead of the posts of users with small-to-medium connections. A like on a post may not mean something critical to Richard Branson. However, it may make a difference to the average user who took the time to share something meaningful with their close connections. What LinkedIn discovered is those content creators who get 10 or more likes on their content are 17% more likely to post again in the following week. They realized that feedback was crucial not just from an engagement perspective but also from how that engagement might be appreciated.

The "creator love" model
LinkedIn ran a couple of A/B tests to come up with their "creator love" model, which helps viewership within the networks of small-to-medium creators. And as Facebook business page engagement drops off for brands, it's entirely possible that LinkedIn is trying to fill that market gap.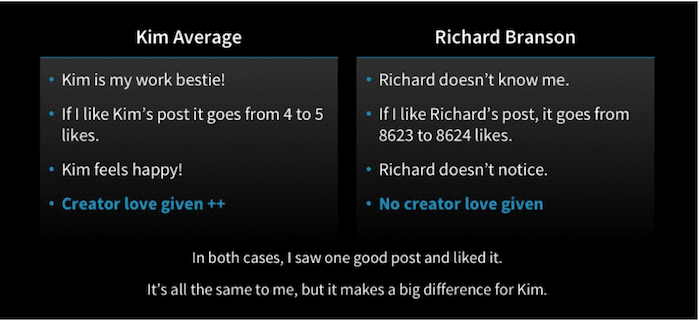 So what does this mean for you? Of course, the biggest takeaway is to not exclude LinkedIn as a viable platform. But, in general, if you notice something isn't working:
don't be afraid to experiment,
do an A/B test or two,
ask for feedback, and
use your powers for social good!
If you want to start using LinkedIn but don't know where to start, we're happy to help.