As a B2B marketer, you have probably already experienced both the frustrations and the joys of spreading your marketing net wide and hoping for leads. This approach certainly feels safer—you may be compelled to not let anyone get away.
However, this approach can be confusing. Sometimes you do not know exactly which of your approaches is working, or how they translated into leads. This makes them harder to replicate. 
Account-Based Marketing (ABM) takes a different approach, by carefully and personally targeting specific leads. The beauty of ABM is that you can study each lead or group of leads carefully and tailor campaigns and strategies to each one. 
What is LinkedIn's Role in Account-Based Marketing?
LinkedIn is one of the best tools you can utilize in your ABM strategy. The platform is uniquely designed for businesses to reach out to other businesses and potential partners. In identifying your audience demographics, you can go far beyond location, name, and industry.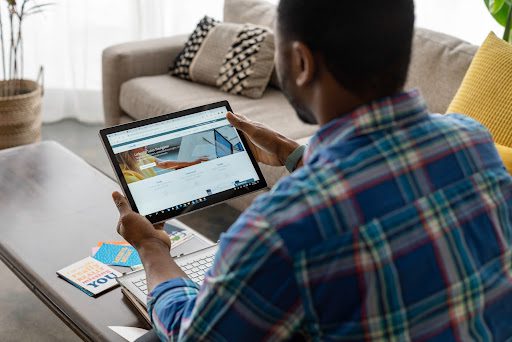 Photo by LinkedIn Sales Solutions on Unsplash
Using LinkedIn ABM to Generate and Nurture Leads
1. Establishing Target Accounts on LinkedIn
LinkedIn introduced the Account Targeting tool specifically for B2B marketers to pursue ABM. With this tool, you can create targeted ad campaigns for over 300 and as many as 300,000 companies at a time. While you will probably not be targeting that many at a time, that wide limit does give your company space to freely define your target accounts. 
One way to establish target accounts is to narrow down each group of accounts by specialization. You can then tailor your ads to each group. Each ad you release will no longer be a hit-or-miss. For example, a paper supplier can target publishing houses, stationery sections in department stores, or universities. Each specialized group of potential accounts would get their own ad campaign, tailor-fit to that industry.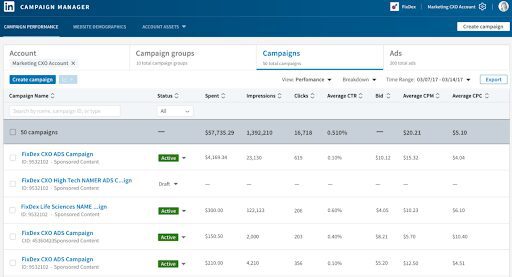 2. Knowing Your Audience
To continue with the example of the paper supplier, it is not enough to assume that a publishing house is looking for book-grade paper at the cheapest possible price. The publishing house might be a social enterprise, looking for paper that has not been treated with certain chemicals. It might be a niche publisher, looking for a very specific look and feel for the paper they use for their books and other printed materials. 
Even when you know what specialized group to put a target account in, such as publishing houses, you have to know what each target account is looking for. You might need to be sorting your audience by social enterprise vis-a-vis a for-profit account rather than by industry. LinkedIn allows you to do this through different filters that include job functions and even interests.
3. Identifying Priority Accounts
Through ABM, a lot of the legwork comes in at the research level. Your marketing, sales, and customer relations personnel should be in close collaboration with one another as part of an ABM committee. After identifying the industry you want to target, such as publishing houses, your ABM committee works together to identify which publishing houses have a need you can fill. More importantly, they identify which of those publishing houses would give you an ROI worth pursuing. 
LinkedIn's Buyer Circle profiling can help you identify your audience's personnel most likely in charge of purchase decisions. This approach may start slow, especially since you will need to turn down some leads.
In the long run, however, 85% of ABM-inclined businesses do indeed report an increase in ROI. 
4. Selecting Ad type in Your ABM Campaign
When selecting the ad type for your ABM campaign, factor experimentation, and A/B testing into your planning and timeline. Ads will cost you, and the ROI needs to be worth it for the spending to make sense. LinkedIn provides a variety of ads: image or video ads that land naturally in the feed, conversation or message ads, and so forth. Take time to run various ads, and various versions of each ad. Track each one's conversion rate and shift your resources when necessary.
LinkedIn's Campaign Manager helps you ensure that your ads are reaching the right audience. Through the "Account Assets" and "Matched Audiences" functions, you can create an audience group through the list of priority accounts you identified. 
5. Customizing Content for Target Accounts
Sending ads to your target accounts is just the first round of the strategy. The whole ABM approach is designed to convert priority leads. What happens when your target accounts begin to engage with your content? The LinkedIn Sales Navigator helps you identify the specific accounts who engaged with your content. 
While the temptation to jump into making contact with these accounts may be strong, this is where your research deepens. Your ABM committee must take another and deeper look into each account that engaged with your ads:
What content did they find helpful?

Are they frequently engaging even with content on your main profile?

What signals are they sending out?

How can your company help them?
Your customer service, marketing, and sales teams should be ready to customize their response to any of the accounts that reach out to your business. 
6. Tools That Enable LinkedIn to Work for ABM
Some of these tools we have mentioned here; some you might even already be using. LinkedIn Account Targeting helps you upload multiple target accounts at a time, and segment them by audience so you can tailor different ads to each one. The LinkedIn Campaign Manager helps you create and run a campaign from start to finish on the LinkedIn platform.
When it comes to engaging with your priority target accounts, LinkedIn Buyer Circle gives you a good idea of who is involved in decision-making about purchases. The LinkedIn Sales Navigator shows you who engages with your ads, allowing you to identify accounts closer to the conversion end of your sales funnel. LinkedIn can afford to be straightforward because the platform itself allows the users to know exactly what to expect from LinkedIn interactions.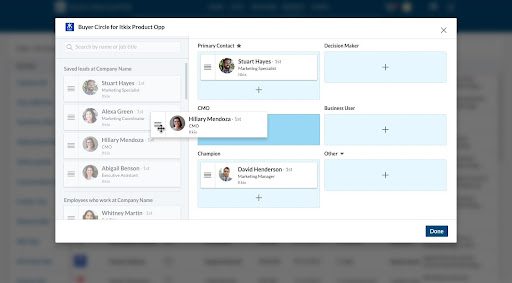 7. Tracking Engagement of Your Accounts
Using LinkedIn Sales Navigator, you can get real-time alerts about engagement with your ads. That way, you know which kinds of audiences are responding, and which ads are converting more accounts. However, it is not enough to just track engagement of accounts who are responding. You also need to look into possible reasons that other accounts are not engaging. Is there a pattern to them? Is there a pattern to the ads that are not being engaged with?
ABM is practical in that it makes the whole conversion funnel for each audience data-based. While this should be true of every conversion funnel, the amount of pre-research that goes into the selection of each audience and target account gives you more starting data to work with. This also makes identifying campaign weaknesses easier, and proposing solutions, even faster. 
8. Measuring ABM on LinkedIn
Some of the ABM LinkedIn tools have been presented here. This integration of tools provides you with a clear view of how each account in each audience travels down the conversion funnel. You can see what hooks the audience, what moves them forward, where they get stuck or slow down. You can see what converts them. 
This view allows you to problem solve at every level, from the audience targeting to the final customization of content that allows you to convert. As this view and the metrics would be available to your whole ABM committee, your sales, marketing, and customer service teams would also be part of the refinements as you sharpen your ABM strategy. 
9. Case Studies on LinkedIn
LinkedIn freely invites companies to do case studies on working with LinkedIn tools on its platform. By looking through the Case Studies page, and finding studies that are close to your industry or close to the strategies you plan to implement, you can learn how to maximize the platform for your business. 
Each case study does not only present how the LinkedIn platform and tools help them. The companies also present the problems they were trying to solve, the challenges they had in the problem-solving stage, and how they eventually came away with different results and insights. These real-life examples can also help you and your ABM committee prepare for the challenges your company will face in using these tools in your ABM-focused strategy. 
LinkedIn's Role in Account-Based Marketing
Not every tool or platform gives you practically everything you need to run an ABM campaign from start to finish. LinkedIn allows your business to identify target accounts, segment them, and run customized ads—even with A/B testing—on each audience. As B2B marketers, we need both speed and care when it comes to choosing the accounts we pour our time, energy, and resources into. LinkedIn turns your hard work into clearly measurable results through your ABM strategy. 
If your business is only just transitioning to ABM, you will want the process to be as predictable and manageable as possible. If your ABM committee is new, you will want digital platforms that present audiences and metrics to your committee in a way that is easy for them to communicate to the marketing, sales, and customer relations teams. 
Are you ready to discover all that LinkedIn can do for your ABM strategy? Let us know what you think!