Today I have quite a bit of news to share. In the live video, I went into more analysis with some of this news, and I didn't cover some bits of news that you'll see here. For the full experience, watch and read, or just pick and choose which of these interests you most. Here's a quick summary:
From LinkedIn:

Updated Industries Available to Pages

New Product Pages & Product Reviews Now Available to Select Industries

New metrics available for creator accounts

Newsletters can be added to the Featured section

Meta in the news:

What we know about Meta's TikTok smear campaign

Instagram is testing a new full-screen feed

Study shows the high inaccuracy of Meta's inferred-interest matches

Podcasting news:

A leaked document shows YouTube may be looking to enter the podcasting space

Want to win an award?

Signal (Webby) Awards Is Launching Their First Podcast Awards

Twitter is still on:

Soon You May Be Able to Collaborate on Tweets, Instagram-Style
LinkedIn Updates Industries Available to Pages
We have many clients with industries that simply didn't have a category on LinkedIn until now. So I welcome this move by LinkedIn to increase the industries available for Pages so they can better represent their brands. As a Page admin, you can now choose from over 400 industries for your Page. Unfortunately, this may not solve the problem for those that cross industries; you can still only choose one industry per page. 
How will this affect Campaign Manager (the LinkedIn ads platform)?
Advertisers will also tap into the more granular audience for more refined targeting. 
LinkedIn is releasing the update in phases; they expect the new industries to be available within Campaign Manager in early June. More to come.
LinkedIn launches Product Pages.
Suppose you're a business-to-business (B2B) software, computer hardware, financial services, insurance, education, healthcare, and pharmaceuticals company. In that case, you can now take advantage of the features offended by the Product tab on your LinkedIn page. 
You will be able to:
Collect follower and visitor feedback and product recommendations, which will be publicly visible on your Product Page.

Highlight customer brands (other Pages) who use their products via the

Featured Customers

section. Highlighted customers are visible to Product Page visitors. Admins of featured brand pages can request to be removed from the section.

Facebook vs. TikTok: Meta Has Allegedly Hired Political Consulting Firm to Smear TikTok
According to several reports released this week, Facebook parent company Meta is paying one of the biggest Republican consulting firms in the country to run a nationwide campaign to turn the public against TikTok. 
The campaign includes op-eds and letters to the editor in major news outlets, promoting stories about alleged TikTok trends that originated on Facebook. They seek to push political reporters and local representatives to help take down its biggest competitor. 
Employees with the firm, Targeted Victory, launched a nationwide media and lobbying campaign portraying TikTok as a danger to American children and society, according to internal emails shared with The Washington Post.
If you've been following my video series for a while, you know that I talk about this war every week. Meta is fighting this on multiple fronts, including many of the updates they are making to Instagram and their increased incentives for creators. 
A smear campaign will also distract us from Facebook and Instagram's shortcomings regarding social responsibility. And redirect attention from privacy and anti-trust concerns. "Bonus point if we can fit this into a broader message that the current bills/proposals aren't where [state attorneys general] or members of Congress should be focused," a Targeted Victory staffer wrote.
Study finds that 33.22% of Facebook interest profiles it generates for users are irrelevant or inaccurate.
Facebook promises advertisers that they will find the right match for their ads by targeting advertising based on user interest. In theory, this should please both the advertisers and the users. 
However, the paper "Analyzing the Impact and Accuracy of Facebook Activity on Facebook's Ad-Interest Inference Process," co-authored by Evan Lafontaine and led by Aafaq Sabir, a Ph.D. student at NC State, shows that 33% of inferred interests were inaccurate or irrelevant. 
"The key finding here is that Facebook takes an aggressive approach to interest inference," Sabir said.
"We also found that most study participants didn't even know Facebook's ad preference manager exists. They didn't know there was a list of interests they could look at or that Facebook provides at least a basic explanation of why it has assigned a given interest to a user.
"This is an interesting finding in itself," Das says. "Because the goal of providing all of this information regarding interests is ostensibly to be transparent with users. But given that many users don't even know this information is available, Facebook is not achieving that goal."
Instagram is testing a new fully immersive feed:
https://twitter.com/i/status/1507309531621122049
Leaked Presentation "Deck" Shows YouTube Is Planning on Introducing Podcasts
It's well-known that many use YouTube as a podcast platform because many podcasting stars share their recordings as videos in parallel to the audio releases. Documents leaked to PodNews show that YouTube is planning on making this official with the launch of podcasts and audio ads.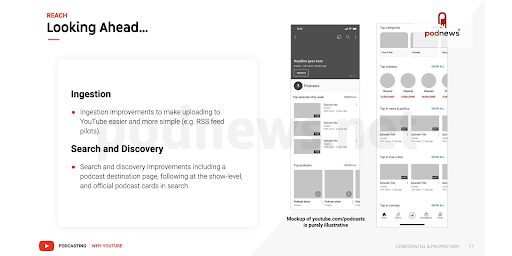 LinkedIn Announced New Tools for Content Creators
Here's what's new:
New Creator Analytics

Improved individual post analytics

New Content Alerts: Now, your followers can catch every post you publish by hitting the "subscribe bell" in the top right corner of your profile

New Profile Video Tools: new prompts to inspire your video, and now the video ring will show up in the feed and search so people can watch your video straight from there

Feature Your Newsletter: You can add your newsletter to the featured section of your profile so people can find it easily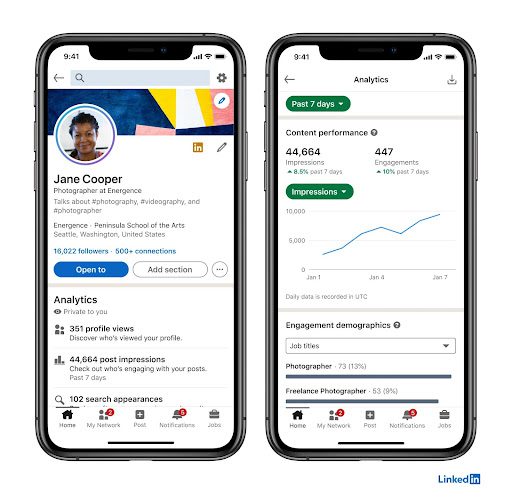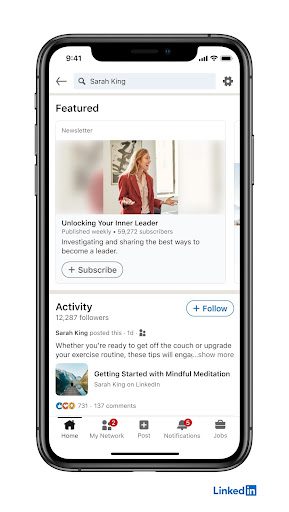 See more here: https://news.linkedin.com/2022/march/new-creator-tools-
Soon You May Be Able to Collaborate on Tweets, Instagram-Style
 The social network is working on a feature that would allow multiple users to co-author a tweet, called "Collaborations." Instagram has had the feature for a while. And if you've been following my updates, I've talked at length about the Twitter study that shows users want to be a part of brand experiences, not sit on the sidelines. And this feature may offer at least one answer to the finding.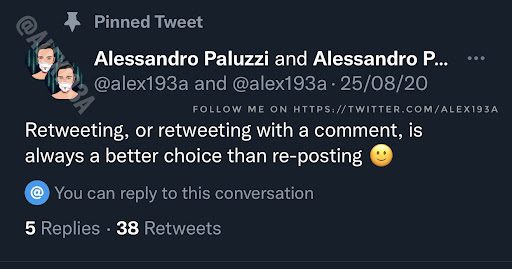 Signal (Webby) Awards Is Launching Their First Podcast Awards 
Called Podcasts Are Everything, the awards' early deadline is May 6th. The winners will be announced in November.