Today I have zero news about all y'all's favorite social networks. So if you're eager to hear more about Instagram or TikTok, jump off now. Or stay because what I'm about to share is pretty hot. I'm going to talk about:
YouTube's 2021 CTV Ads Leaderboard. If you have any guesses, drop them in the comments. You'll have to wait until the end for that one. 

Google's new AdSense feature and how it triggered some thoughts for me about the value of creating useful experiences online 

And one for t

he B2B software companies and demand gen professionals out there

:

TrustRadius adds LinkedIn intent data integration

.
But I'm going to start with a bit of a rant. I need to make this loud and clear. This week I got an email from Marketing Dive with the subject line, "Driving ROI Is Simpler Than You Think." The email is pushing a guide on what you need to know when evaluating different mobile marketing providers in the context of digital transformation.  In my experience, having worked with hundreds of brands and listened to even more marketing leaders than that, too many assume marketing is easier than it is. Oh if I had a dime for every time I've heard the word "just," It's just an extra social media post, it's just a video you can take it on your phone, I do it all the time. It's just an 800-word blog post. 
Also, despite having years of time tracking data from my agency and 20 years of experience, I even underestimate how complex a project can be. 
Driving ROI is not simple at all. Can you develop a clear path to results? Absolutely, but that in itself is not simple. Companies that have gone through true digital transformation spent years doing so and they continue to test learn and evolve their strategies. What they have is clarity. They have the right resources and budgets to do it right. They have a clear vision. They're agile. 
But no, it's not simpler than you think. 
Rant over. 
Let's get into the news:
Google has added a new AdSense feature, related search for content
It's for publishers to create even more useful search experiences on their sites. It's called  'Related Search for Content'. What's AdSense? Going forward I will be publishing my video notes on our blog at LightspanDigital.com as well as on my LinkedIn Newsletter so please subscribe. You'll be able to head over there to learn more. 
One of the things I like to do as a proxy to understanding what Google doesn't specifically tell us about their algorithms and what powers what we see in search results – I like to pay attention to the words Google uses in their announcements. 
In this case, they're talking about creating more useful experiences. 
[And here's the truth. For those who don't know, AdSense for search lets you offer your users Google web search directly from your pages. By placing an AdSense for search box on your site, you'll generate earnings from ad clicks made by users on the search results pages. And let's be honest, we all hate our experiences being interrupted by ads. So whether Google truly cares about our experiences or they know that if we have a better experience, they make more money, the result is the same. They're adjusting to what we want and think because it's better for them as well.]
Going back to the statement about "creating more useful experiences." 
Google has all the data in the world. Literally. If they tell us we should create more valuable experiences, we should listen. 
It's not enough to express your value proposition, which is a language that I often hear. Think of creating experiences that give your people what they need. And they need useful experiences. 
If you're a software or SAS company, you either just got super excited, or you're thinking, whoa, what the heck does that mean? 
TrustRadiums is a software review company that reports over 1.2 million visitors a month, which means a lot of user intent data. They're probably further in their journey and closer to the conversion point if they're looking at reviews. 
"Nearly 50 companies are already using this integration to level up their ABM efforts, increasing click-through rates by as much as 35% and lowering their cost per lead by 20%, " according to TrustRadius' announcement.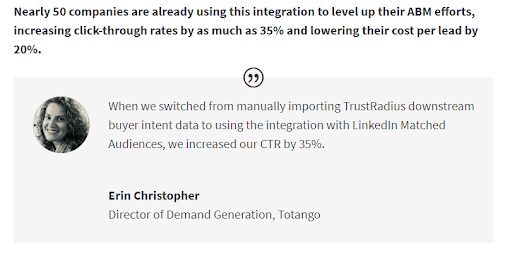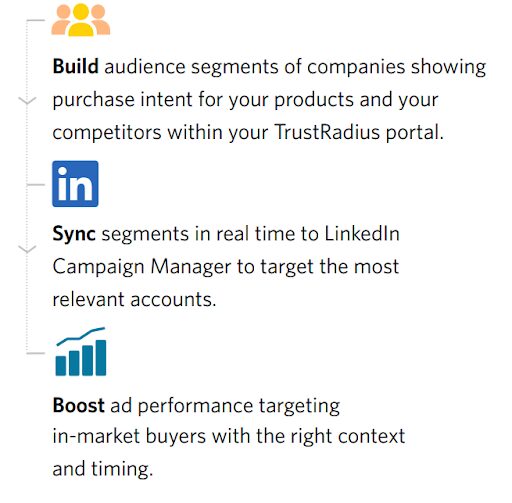 You sign up as a "vendor"  with TrustRadius. 

Go to your vendor portal and build audience segments. According to TrustRadius, "these segments are composed of downstream intent data for companies that have researched the vendor's product(s) or category on TrustRadius."

TrustRadius sends the data to your LinkedIn Campaign Manager. "This data includes company information for users who have researched products or categories related to the vendor on TrustRadius." 

"LinkedIn uses the company information to match TrustRadius companies with their corresponding companies on LinkedIn. Companies that are successfully matched are included in the LinkedIn audience segment."

You can now use the segment for your ad campaigns. And it sounds like these segments are refreshed automatically, daily with the latest intent data. 
It appears that the only data sent is company information. In other words, let's say you are targeting 100 companies for your software. TrustRadius has a record of people from 20 of them researching your company. You'll get those 20 companies. Not the people who searched. Because: privacy. So you'll still have to add other filters there and tailor your content to different potential players in the pool of decision-makers. But you won't waste money targeting companies with no buying intent. 
YouTube's 2021 CTV Ads Leaderboard
YouTube has launched its first annual CTV Ads Leaderboard, showcasing the top 10 connected TV campaigns of 2021, showcasing the top ads from campaigns that ran on YouTube connected TV screens in the past year.
At number 1, came ALSAC/St. Jude Children's Research Hospital, Creative agency RBDavies; Media Agency In House.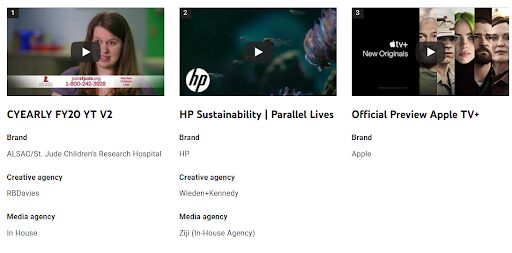 You can watch the 13 minute live stream for additional commentary: