What the heck happened this week? Besides the Supreme Court writing, "that the right to abortion is not deeply rooted in the nation's history and tradition." In other words, it's against American tradition for women to control their own bodies; thus, there is no fundamental right. Meanwhile, Musk wants to liberate Twitter. There's a more arduous battle for the future of social media algorithms than for women's rights. 
But I digress. 
The Very Pretty TikTok Announcement of Pulse, a New Advertising Solution with Creator Revenue Share
"Are you ready to put your brand next to the pulse of culture?" TikTok has the most enchanting way of speaking about itself. Or rather their communities. They used beautiful language to announce a new advertising solution that will present ads contextually among the top 4% of all videos on TikTok. There will be a 50/50 split of the ad revenue with creators.
"With TikTok Pulse, we will begin exploring our first advertising revenue share program with creators, public figures and media publishers. Creators and publishers with at least 100k followers will be eligible in the initial stage of this program."
When I see well-written announcements like this, I can't help but analyze how words deliver meaning. In this particular case, we can learn a lot about the role TikTok sees itself playing and we'd better pay attention. They mention: 
"Creator" 14 times

"Community" 12 times

"Content" 9 times

"Moments" 7 times

"Engagement"  6 times

"Entertainment" 6 times

"Culture" 6 times
"This experience has opened the doors for brands and advertisers to not only put their brand in the center of where culture is created, but to actually be a part of the conversation. From #beautytok to #booktok to #sportstok, content and communities exist for every interest and passion imaginable. When brands embrace the creativity of TikTok and engage with relevant communities and creators, they align with the content people love."
Pretty language, right? And you can just copy and paste what I highlighted above into your next TikTok strategy deck. 
Now, most social networks, including YouTube, have a premium advertising tier. But they don't all share revenue with creators. TikTok recognizes that creators will no longer work for free products. That their creativity should be compensated since, after all, it's their creativity that helps the social networks make money.
So heads up to marketers, the age of content-for-product is ending. Start planning your influencer marketing budgets now. 
Facebook Is Discontinuing Podcasts and No One Cares
Here are the results of my lil' LinkedIn poll. I'll leave it at that.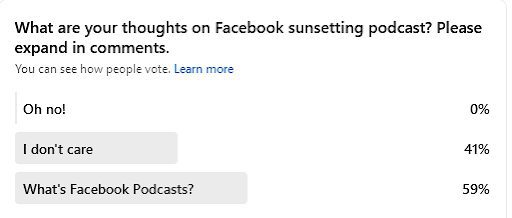 Pinterest Launches New 'TV Studio' App to Expand Its Live Commerce Options
Did you forget about Pinterest as a business channel? You shouldn't. Pinterest has been stealthily growing and quietly launching features. It's an interesting strategy when news streams are flooded with Meta and TikTok updates. 
Data from Meta has been showing that people are increasingly buying from Live streams. So it's no surprise that Pinterest is adding the feature. The app is only available to a limited group for now, which indicates (alongside their quite launch) that they're testing into it. 
As per TechCrunch: "Upon first launch, creators have to enter in a code or scan a barcode that Pinterest provides in order to gain access to the live-streaming tools the app provides."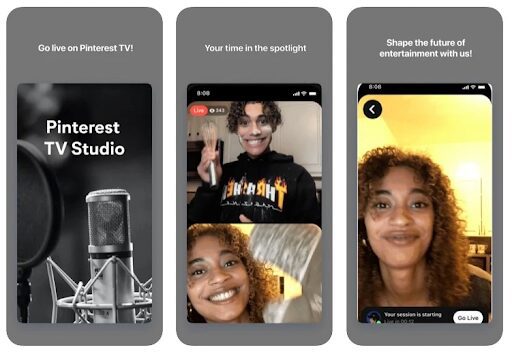 Last week, Pinterest (NYSE:PINS) said it earned 10 cents a share in Q1, on sales that rose 19% from a year ago, to $575 million. Shares rose more than 8% on Wednesday (May 4, 2022).
Question of the Week: What Is the Next Level After Personalization?
Excellent question from one of my students at the Kellogg Professional Certificate in Digital Marketing program. 
The answer is Individualization. 
It requires a single view of the customer across multiple channels. It requires rapid first-party and behavioral data aggregation and deployment, particularly in B2C scenarios. Imagine it like this – you go to your mom and pop pet food store and Jane, the owner, asks you how your kitty is feeling after her recent illness. That's individualization. At large scale, it's challenging to accomplish but not impossible. It's widely used in B2B and in most high-touch, high-price exchanges. The biggest challenge in individualization is creating memorization systems and getting permission from users to share their info with you. Companies are starting to deploy more AI to do this and more incentives for first-party data sharing. 
Twitter Report: Twitter Conversations Lead to Sales
Twitter released the results of a Sept 2021 Twitter shopper survey. Here are a few insights:
76% of people surveyed agreed with the statement: " Conversations about products on Twitter result in my purchasing a product." 

Inflation, Coupons, Prices, and Value are trending keywords that saw huge increases YOY according to Twitter internal data (Semantic Core).

There was a 10% increase in retail conversation volume by men (comparison done March to March YOY)
How does this inform your social media strategy? You'll notice that this report talks about conversations and trends. So, monitor, measure, converse. Are your people talking about your products or industry? Jump in the conversation. Do you target men? Jump in the conversation. Posting won't get you very far on Twitter unless you're a mega brand. And even they have to converse. 
Instagram Officially Announces Full Screen Home Feed
I shared this a while ago when some testers leaked it and now it's official, from the mouth of Adam Mosseri, the head of Instagram. Yesterday he announced on Twitter "a new, immersive viewing experience in the main Home feed." 
You can see it here:
📣 Testing Feed Changes 📣

We're testing a new, immersive viewing experience in the main Home feed.

If you're in the test, check it out and let me know what you think. 👇🏼 pic.twitter.com/dmM5RzpicQ

— Adam Mosseri (@mosseri) May 3, 2022
Key points:
Photos and videos will fill the screen

9×16, aka tall videos, is the format to aim for both photos and videos. "Vertical and eventually fully integrated through the composer flow, the profile, and the rest of Instagram."

Why? Mobile-first for better user experience, and video-first because that's what da people want. In conclusion >>user experience.
When I presented this information at a recent event, the reaction was, "hold on, I haven't even figured out how to get traction from posting images." I'm just the messenger. Adapt now, or… you fill in the blanks. 
LinkedIn Wants You to Run Legendary Lead Ads Campaigns
I'm not making this up. The guide actually uses the term "legendary." You can get all 17 pages of the guide here.