Hi friends,
With the seemingly never-ending series of awful events and news, it's been hard to focus on digital news and so this week's edition is a bit scattered. Scroll down to find:
Linkedin's State Of Sales Study

Report: The World's Most Valuable Brands And What We Can Learn From Them

Meta's Avalanche Of New Creator Features

Survey: Tiktok As The Best Story-Telling Platform By Smbs

Quote Of The Week

The Future Of Product Placement

And More… 
LinkedIn Publishes State of Sales Report: The Role of Sales Tech and Data
Has sales changed since the world changed? And how? That's what the LinkedIn survey of 15,000 buyers across 11 countries is looking to uncover. The results are plainly unsurprising: more and more of the sales processes have moved online. 
LinkedIn's report subtly acknowledges that the rise in sales tech, "often leads to sellers simply becoming more efficient at spamming potential buyers." 
But the most effective salespeople are those who do their research, keep tabs on their decision-makers, warm up their leads and here's my favorite: challenge their buyers.  
"Yes-sayers" are falling behind.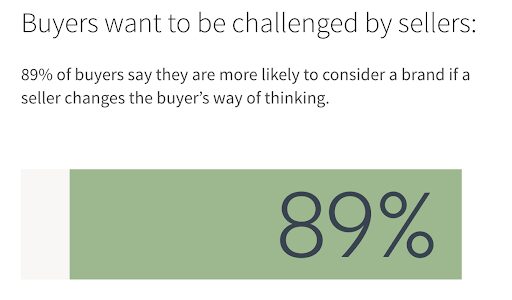 Apple Overtakes Amazon As The World's Most Valuable Brand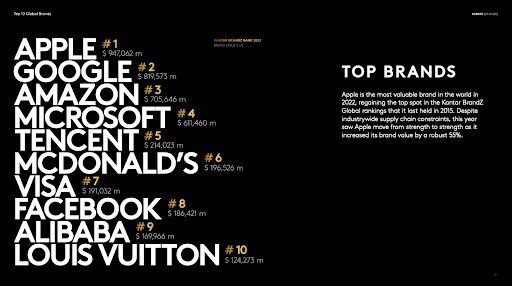 Did you know that based on Kantar BrandZ's evaluation the total value of the worlds' top 100 brands is equivalent to approx 9% of the world's GDP? The value rose 23% from 2021 to 2022, to reach a total of nearly $8.7 trillion. 
The Kantar report is a must-read, with fantastic examples and tips for how to capture mind-share. If you can go through all 202 pages of it. If not, here are a few highlights.
Highest category growth: Luxury and Consumer Tech. 

Top riser: Cartier

Top banks and car brands also grew faster than the overall BrandZ Top 100 – with growth in the cars category most notably driven by Tesla, which grew year-on-year by more than 78%.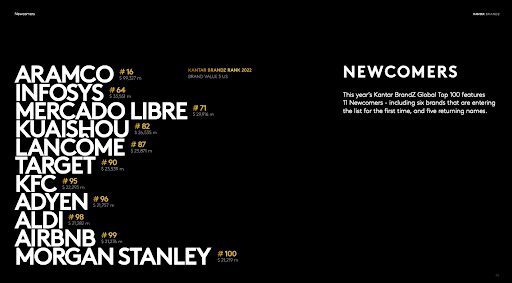 Insights:
"Gen Z consumers are looking for branded products and content that they can truly make their own. They don't just want to stand still and pose with their purchases:

they want to show them off, demonstrate them, and remix them – in motion, for all to see

."

"

The top-rated brands on the Kantar Sustainability Index had a 40% incremental advantage in brand value growth

compared to the lowest-rated brands; they grew 25% on average year-on-year, versus 15% for the lower performing group." This is the first year that Kantar has created a Sustainability Index. 

"The ultimate goal for retailers is to

achieve omni-channel success

." And the analysts acknowledged that's still the Wild West. Much easier said than done. 

This is something I've been preaching and it's nice to hear it from such a reputable source: "

We've moved from user generated content to user generated sales

. Are the very consumers who most love our brands also competitors? Distributors? It will be crucial for brands to figure out how harness this energy and brand commitment."

"It's a good time to be in the business of business transformation."

Business solutions and tech providers:

Build your brand not just your pipeline.

"Tactical outreach will always have its place in this category – but there are many missed opportunities to articulate a larger brand vision along the way. "
LinkedIn Is Finally Acknowledging the "Funny"
LinkedIn is introducing a "Funny" reaction. It feels like being funny is finally acceptable in business. Now you'll know when someone is laughing with you… or at you perhaps. 

Meta Announce Flurry Of "Creator"-Focused Features And We Can't Keep Up
Meta Started Test of Creator Marketplace on Instagram
Influencer marketing agencies, beware. Meta is making it easier for brands to cut the middleman. With the new Creator Marketplace on Instagram, brands and creators will be able to build branded partnerships. Meta promises to be the ultimate matchmaker: brands will have access to demographic and interest filters for both a creator and their audiences.
You can learn more about this and other new ways for creators to make money here:
https://about.fb.com/news/2022/06/tools-helping-creators-build-businesses/
Instagram is Giving a Boost to Creators Who Use Their Affiliate Tagging
Hey, Allie here, I was accepted into Instagram's new affiliate program a few months ago. I finally tested out the feature in a couple posts this week. I was very surprised to see those posts get almost double the impressions and engagement compared to my usual posts. I used the affiliate product tagging in Stories as well and the views spiked there too. If you have the affiliate capability, you might as well take advantage of the momentary algorithm boost. 
Here Comes Another (Paid) Newsletter Option from Meta: Bulletin for Creators
If you're feeling left out, I'm with you. These days most new features are designed to help creators. I don't know what else to tell you, except to:
Invest in becoming a creator

Start working with creators

Now It's Easier for Everyone to Participate on TikTok, Thanks to the Introduction of Stories
This feels like the first reverse feature adoption, where TikTok copies what's Instagram's which was Snapchat's. We're basically going back generations so that everyone can warm up to TikTok. Enjoy!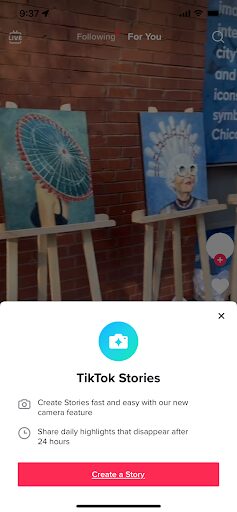 Want To Anonymously Rage In Facebook Groups? Now You Can. 
However, the group admins and Facebook will still be able to see your info and block you. So proceed at your own risk. Here are the full details.  
Data Shows TikTok Is Seen As the Best Story-Telling Platform by SMBs
A new study by Hello Alice, shows that while most small businesses still see Facebook followed by Instagram as their top opportunity channels, TikTok is leading in particular categories: creative storytelling and the platform SMBs are most excited about for business use.
Unfortunately, there are quite a few flaws with this study. The most glaring one is that while Snapchat is included, Twitter isn't. Unless the results were so bad that Elon Musk asked Hello Alice to not include it.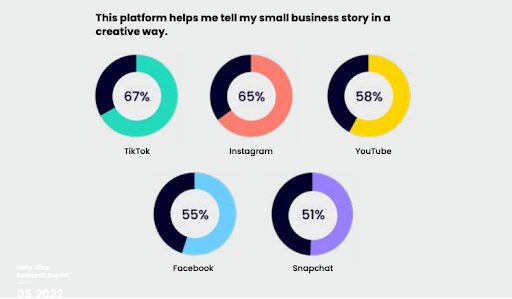 Everything Is Marketing: Product Placement Up By 14% Since 2020
Our tolerance for watching ads is close to zero. So brands are figuring out new and easier ways to get their products in front of us. So it's no surprise that product placement is now a $23 billion industry, up by an estimated 14 percent since 2020, according to the New York Times. 
And virtual product placement is the next frontier.  "At an industry conference in May, Amazon announced that it would be experimenting with a beta version of "virtual product placement," which the company is testing in shows like "Reacher," "Jack Ryan," and the "Bosch" franchise. "It creates the ability to film your series without thinking about all that is required with traditional placements during production," Henrik Bastin, chief executive of Fabel Entertainment and executive producer of "Bosch: Legacy," said at the conference. "Instead, you can sit with the final cut and see where a product could be seamlessly and naturally integrated into the storytelling." An exemplary still from "Bosch" shows M&M's edited into a scene next to an office coffee machine."
Quote of the Week: Snapchat's Pursuit of Full Range of Self-Expression
Social media is oftentimes a competition between friends for the number of followers that you have, or the number of likes you get. What we found is that actually limits self-expression when you're constantly trying to create something that you think other people will like, that will help you get more followers.  (…) You only end up expressing a tiny percentage of your life and not that full range of emotion. And what's so important for deeper relationships with your friends and family is that full range of self-expression, which is why we don't have likes and comments and things like that on Snapchat, and why you have to opt into having that relationship together with your friends. Snap CEO Evan Spiegel
Why it matters: While social media came about to connect people, it has evolved into a medium of self-expression. Twitter data (which I mentioned in an earlier newsletter) confirms this, TikTok has proclaimed itself an entertainment network, not a social network, and the Meta properties are investing heavily into empowering creators and putting their needs first. 
DuckDuckGo, Qwant and Ecosia Publish 10 Principles For Fair Choice Screens
The search engines teamed up to pen an open letter in response to the DMA (The European Digital Markets act designed to ensure "fair and open digital markets"). Here's the gist of it: 
"Without strict adherence to both clear rules and principles for fair choice screens and effective switching mechanisms, gatekeeping firms [Google, Apple, and Microsoft] could choose to circumvent their legal obligations. We suggest regulators make clear their enforcement should adhere to the following ten essential principles for fair choice screens and effective switching mechanisms."
What does this mean to digital marketers? The bulk of SEM and SEO strategies get defined with a Google-first mentality. A truly fair and open search world could upend a marketing strategy "tradition." Even with this first-step regulation, the volume of search has been slowly but steadily shifting away from Google to the other search engines. Keep an eye on your data and start paying attention to your optimization for these search engines. It's not that different than optimizing for Google search (build links back, write useful content). But there are some important differences: for example, DuckDuckGo uses Apple Maps, so if your business is not set up on the Apple Business Register, you may lose some eyeballs.
Full-Funnel This, Full-Funnel That: Why Now? And Here's How
There's been a surprising increase in discussions and demand for full-funnel marketing. In one of LinkedIn's most recent newsletters, there were TWO articles on full-funnel marketing. Think with Google just published an article with a case study video from Grammmar.ly. Amazon has been writing about it at length. Everywhere you turn, every blog post and every job description mentions full-funnel marketing. 
Funnel marketing is not new. In fact, it's so old that it was replaced with lifecycle marketing, yet now we're back talking about full-funnel marketing. 
No matter what you call it, it's about developing marketing plans that apply appropriate tactics to build awareness, and when people are ready to buy, apply conversion tactics. 
Here's where I think the change is coming from:
We didn't use to have such sophisticated tracking and now we do. So we can better target our messages based on prior, current, and real-time interactions

We have the programmatic capabilities, AND they are now affordable and available even to small businesses with small budgets
THE IRONY: LINKEDIN SUGGESTS EMPLOYING QUANTUM MARKETING
One article later, after the one-two punch of Full-Funnel Marketing advice, LinkedIn suggests that in times of uncertainty, you employ quantum marketing. 
"In quantum marketing, you don't reach exactly the right buyer. You reach anyone who could potentially buy, in either the short-term or in the long-term. You don't design specific creative for specific buyers. You design creative that's potentially relevant to a massive set of customers. And you don't deliver that message at a specific moment in time. You deliver it all the time, so that you never miss a moment."