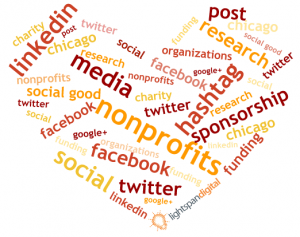 We get that question a lot. Our answer is yes, of course it does—when you do it right.
Does social media work for nonprofits?
Christa Beall Diefenbach of North Park University's Axelson Center for Nonprofit Management addressed one aspect of this topic earlier this week. In her post on Chicago Now, she said online fundraising is beginning to be a bigger part of the nonprofit pie:
"Although online giving is a small share of the total dollars nonprofits raise, organizations continue to experience growth in this area … Other research shows that overall online fundraising revenue increased by 19% from 2010 to 2011. "
That's an encouraging trend, but don't think that fundraising through social media doesn't come with its own costs. Yes, you don't have to pay the postage associated with direct mail appeals, but there are costs. Chief among them is time. With limited resources, Diefenbach asked, how much scarce staff time should be devoted to social fundraising?
This is a question nonprofits grapple with daily. We wanted some other perspectives on the topic, so we gathered Diefenbach and a handful of other writers to talk about how they've used social media for social good. Next Tuesday, March 19, they'll each be writing about how they have used Social Media for Social Good on their blogs. Check back here for links to all of our participants' articles. Tuesday afternoon we'll host a Twitter Chat from 1 pm to 2 pm on the topic using the hashtag #MarketingHop.
We'd love to have you join us to discuss how social media can—and can't—be used to improve our organizations, our communities and our world. To get a better understanding of how the blog hop will work, check out our post from our January #MarketingHop on Social Media and the Runner's World.
Meet Our Contributors
Heidi Massey (@heidiekmassey) is the founder of the Chicago Counts conference for nonprofits and the Chief Connector at CommunityConnective, where she helps nonprofits leverage technology to achieve their mission. She'll talk about using a Facebook group to help nonprofit professionals in Chicago share resources, tools and ideas. 
Alexandra (Ale) Bezdikian (@alebez) the Global Content and Community Coordinator at TechSoup Global, manages their annual Digital Storytelling Challenge. She'll show us how nonprofits are using the Vine app to tell their stories.
Christa Beall Diefenbach (@AxelsonCenter) of NorthPark University's Axelson Center for Nonprofit Management will discuss how nonprofits are using social media for fundraising, while Lightspan's Michelle Laing (@m_laing) writes about building a running community for the Gateway for Cancer Research's Team Demand.
Sophia Madana (@smadana) and Keidra Chaney (@kdc) are teaming up on the Learned FanGirl blog, where Madana will write about bringing social media into the classroom.
Lightspan's Myles Dannhausen (@mylespulse) will write about how his hometown community used Facebook to rally support and raise funds for 13-year-old Bo Johnson during his year-long battle with leukemia. Finally, at the Gateway for Cancer Research, our own Michelle Laing writes about building a running team and raising funds through Twitter.