Companies and brands have finally realized Snapchat's audience reach. The social media app has 100 million daily active users (more than Twitter's 80 million), gets 6 billion video views per day, and is a new way to create influence, especially with younger audiences who use the app regularly. But of course, the number 1 question is, how do I get Snapchat followers? 
Getting followers on Snapchat can be tricky. It's still a terrain that many businesses have yet to explore and get right. You don't have to fear the unknown when it comes to building your Snapchat audience, though. Here are some ways to get followers on Snapchat and grow your reach on this budding platform.
Here Are 9 Things to Do to Get More Snapchat Followers
Make a Promise and Stick to It
This is the law of getting followers on any social network, or getting people to join your email list. You must make a commitment, a plan and a promise that you'll provide value through the content shared. The promise may be different for each social network, to match the reasons why people turn to those social networks.
For Snapchat, you have to understand why people are there and what you can give them that matches their expectations of the network and gives them something they can't find anywhere else.
Go through the exercise of answering this question – what's in it for me, the 18-25-year-old who consumes massive amounts of Snapchat content. Why will you do for me, that others won't?
If the answer is truly a compelling one, then you're ready to start campaigning to gain more followers on Snapchat. Then you just have to make sure you stick to that promise and keep on delivering awesomeness.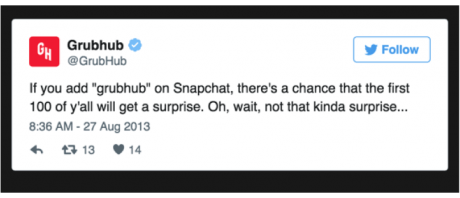 Cross-promote.
If your brand has built up a following on other social media platforms, then you already have a means of Snapchat promotion online. Social users that follow you elsewhere, and find what you have to say and share of value, are likely to be interested in coming over to Snapchat with you, too.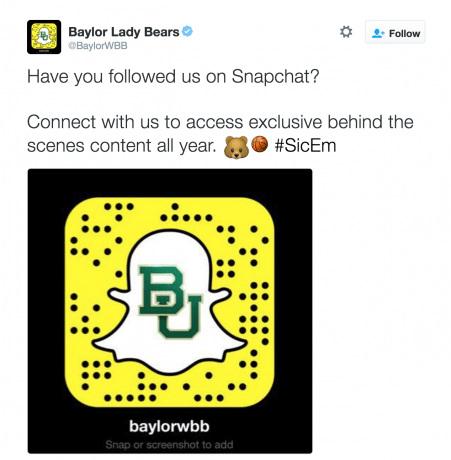 Share your username and Snapcode (the scannable code that Snapchat assigns to each user) across the platforms you already have. Aside from sharing your Snapcode within posts, you can also change your profile picture to it. Or, you can do both.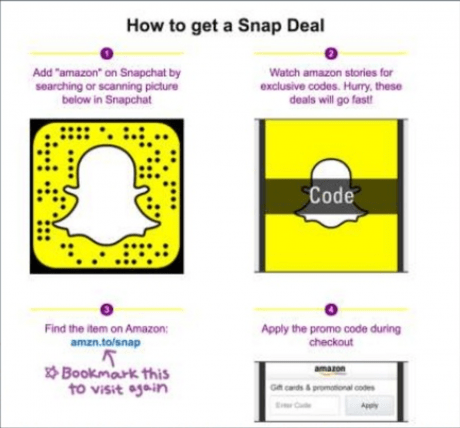 Offer something special.
Even if you have audiences on other platforms, it may still take some work on your part to get them to head over to Snapchat. If you want these users to make the effort to follow you to yet another social media platform, you've got to give them something they can't get anywhere else.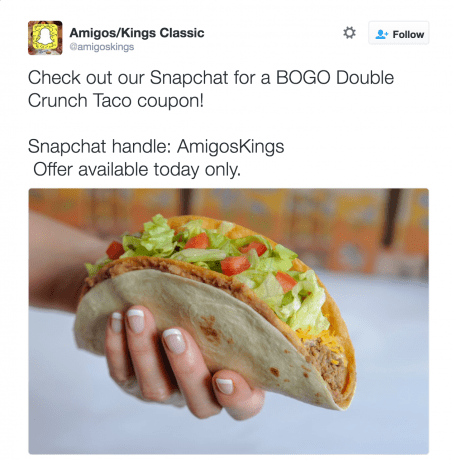 Your Snapchat content should be different and exclusive than what you share on other platforms, and that can help you drive traffic there. Special coupons, deals, and customer contests can help you encourage them. This methodology can work to attract young customers in a great way. In fact, 58% of students are likely to purchase a product from a brand that sent them a coupon via Snapchat. Those deals should also have a short expiration to generate a sense of urgency.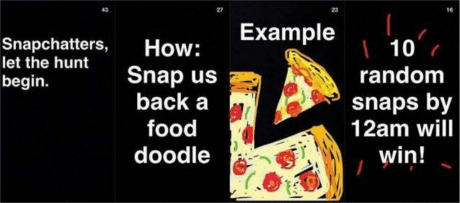 Get listed.
If you want followers to be able to find you based on your industry, then you're in luck. There are curated lists just to help Snapchat users find other Snapchat users who are in certain industries and fields. Directories and apps like GhostCodes were made just for this purpose. GhostCodes organizes users in categories and then ranks them by the number of "kudos" they get in the app.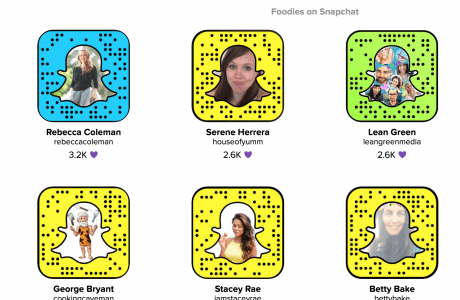 Create intimacy.
Unlike some of the older social media applications, such as Facebook, Snapchat is a space for getting up close and personal so brands should focus on promoting content that gives audiences a window's view into their company.
Take users behind-the scenes, be vulnerable, and have conversations that are authentic.
Language is an essential part of creating that feeling of closeness. Use words that real people say and leave the business jargon out of your content plan.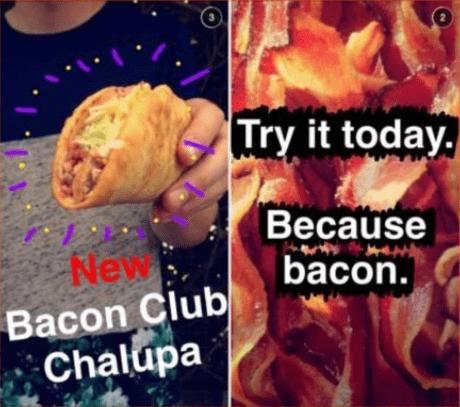 Use filter fun.
Snapchat has the very unique aesthetic feature of allowing its users to use filters and lenses to get creative and personalize their posts in fun ways. Your brand can take advantage of this opportunity by sponsoring a lens or creating a custom-designed geofilter.
Sponsored lenses are a type of ad that often uses Snapchat's face recognition software to change the user's face or put him or her into a scene. A great example is Gatorade's lens from this year's Super Bowl. Gatorade doesn't actually have a Snapchat account like its parent company PepsiCo, but that didn't stop the sports drink giant from sponsoring a lens that virtually dumped a bucket of Gatorade dumped over users heads in the same celebratory way their favorite sports teams commemorate a win. Lenses are extremely expensive, costing thousands of dollars, and aren't a viable option for most brands.
Geofilters are a totally different option though and one that your company should consider, especially if you have a physical location or throw events. Geofilters are non-moving images that appear over photo and video that you can customize to fit your brand. Some are simple and some are more artful, but they are a Snapchat favorite and easy to buy for any sized company. The exact cost depends on size of the Geofence (the area in which users will see your filter) and how long you want it to run, but the cost can be as lower than that of a team lunch.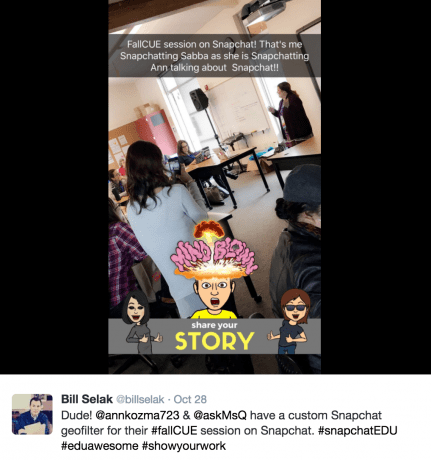 Organize takeovers.
A simple way to get more Snapchat followers is to earn someone else's. Social media account takeovers are now common occurrences and they originated in the world of Snapchat, when until recently you couldn't re-share others' content. This of this as a guest blogging tactic of sorts.
Seek out influencers in your industry and give them the keys to your Snapchat account. Leading up to the event, share what you're planning to do on your other platforms and get the influencers to do the same.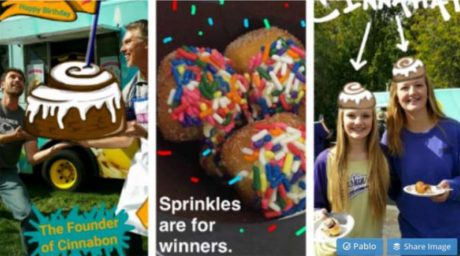 There are some clear benefits to connecting with well-known people in your industry to do this. Not only will his or her followers come to your Snapchat to see their posts, but they are also likely to be users that fall within your target market. At the very least, they are interested in brands like yours and may continue to connect with you long after the takeover has ended.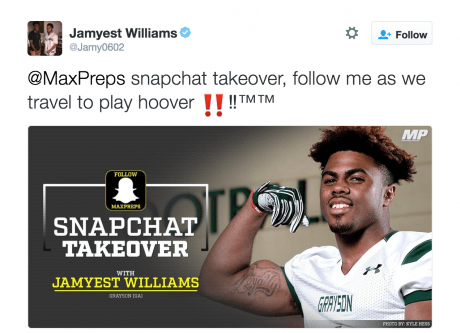 Follow, follow, and follow again.
Following a lot of other users on Snapchat is one of the most manual options for attracting more followers, but one that works if you have time to manage the process. It is true that many people will follow you back, but several will not and it will be necessary to go back and unfollow them.
But, it's not easy to see who is following you back on Snapchat, especially if you've followed a ton of people. One way to figure this out is to send messages to these users. If they have followed you back, your message will go through. If not, it'll show as pending. Periodically delete users whose messages show pending and then go back and add more.
Give them reasons to reshare your stories.
Now, you can get your Snapchat followers to be ambassadors of your content if you convince them to share it with their friends. In November, the Snapchat app was updated to let you share stories with your friends. Users press down on a post they'd like to share, press the blue "send" arrow icon, and then select the friends they'd like to share the post with.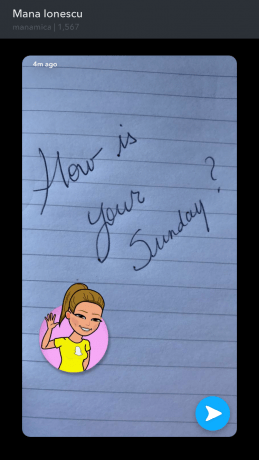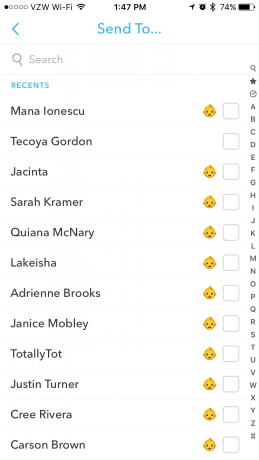 Encourage your Snapchat followers to use this new feature to share your deals and coupons with friends. Although you can't see who shared your Snap, you can see who viewed your original post, and it will encourage more and more users to follow you for themselves.
Checking Out Friends' Stories
To check out a friend's story, go to the top of the story screen and tap the tile with your friend's name on it. You may tap the screen if you want to watch the next Snap in a Story. You may also go back to the last Snap by tapping the left side of the screen. Moreover, if you want to reply to a Story, just swipe up on a Snap and send your reply. After you watch a friend's story, a preview of another friend's story will appear. If you want to watch it, just tap the screen or swipe to skip it or you can also swipe down to exit stories. The easiest way to send a Snap from a Story is to press and hold on a Snap you're watching, then tap the button and select who you want to send it to. However, you may also tap Mute if you want to mellow out from watching a friend's story. So easy, you'll get the hang of it soon!
Have you been successful at grabbing new Snapchat followers? Let us know what works for you.