I hear this question often – should we be on Snapchat? If you're looking to learn about Snapchat marketing options, or how brands are using Snapchat for marketing, this article is for you. You may not be ready or able to use Snapchat for business at this time, but you can learn a lot from how users and brands interact on this young social network. Many of these lessons can be applied to your marketing on Instagram and Facebook. So let's dig in! And don't miss part 1 of this series, What You Need to Know Before Getting Started with Snapchat.
Snapchat is no longer an obscure little social network. With 100 million daily active users and 6 billion daily video views (same as Facebook), Snapchat is claiming its role as one of the social networks with the most captive audience. 30% of US Millenials access Snapchat regularly and 77% of college students report using the social network daily. 58% of students say they are likely to purchase a product from a brand that sent them a coupon via Snapchat.
[bctt tweet="77% of college students report using Snapchat daily."]
And yes, you read that right, Snapchat gets the same number of video views a day as Facebook, according to an International Business Times report.
[bctt tweet="58% of students are likely to purchase a product from a brand that sent them a coupon via Snapchat."]
These Snapchat statistics point to a highly engaged audience, in love and committed to this intimate and visual way of interacting with friends, family and brands.
Besides large companies, that can drop $350K-$700K a day to feature a sponsor selfie filter, using Snapchat for business sounds like a daunting project. Another social network to figure out, invest in, and maybe fail at?
Truth is, you don't have to try Snapchat. But if your audience is in their teens and 20s, and you want to reach them in a more direct way, consider a Snapchat content plan. Even if you're not going to jump in, the following marketing tips may apply to other social networks as well, such as Instagram. Snapchat gives us a preview of things to come, so we're best served to pay attention.
Here Are 9 Snapchat Marketing Tips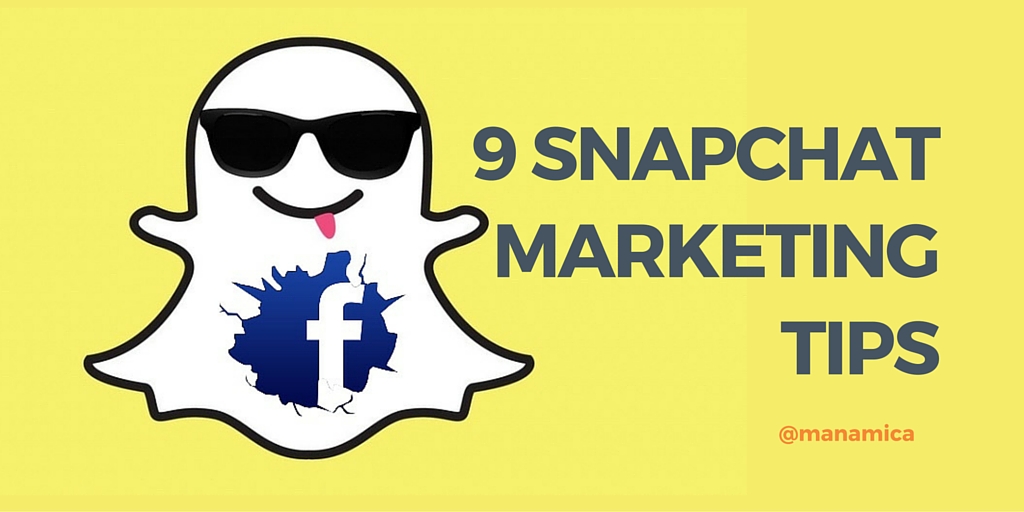 1. Make a Promise and Stick to It
The first thing to do is to determine the value that you will offer. Why should they follow you? This is not unique to Snapchat. Any time you want someone to "follow" you, you'll need to promise value and stick to that promise. Whether Facebook, Twitter, Instagram or email marketing, people will only opt in and pay attention to your content if there's something in it for them.
Step 1: Promise a positive experience, something that will make your followers and/or their lives easier, better, more profitable, more productive and/or more entertaining. Why should they, big numbers of them, care to connect with you? What's in it for them?
Typically on Snapchat users expect deals, updates, intimacy (behind the scenes exclusives) and fun.
Step 2: Craft your calls to get Snapchat followers. Use the following formula: ask + promise. "Connect with us on Snapchat and get exclusive [discounts, behind the scenes, tips, jokes etc]."
Step 3: Place your calls to action everywhere, with an image of your snapcode and the spelled out username. It is common to write your username like on twitter. Mine would be @manamica.
2. Use Your Snapcode
Snapchat doesn't have a sophisticated search function, or a public stream of content. So if you want to be found you'll need to be aggressive about telling people how to find you. Snapchat makes it slightly easier by enabling each account with a snapcode.
Here's how to download your snapcode:
Open the app and tap on the snapchat "ghost" icon at the top of the screen.
You'll see your code, a yellow square barcode. Tap on it.
The barcode will expand on the screen. In the upper right hand corner you'll see a "share" icon. Tap on it and select "Save image."
Now you have your snapcode and can use it on your marketing materials
In case you're wondering how your fans will use your snapcode, here's how it works:
You can point your snapchat camera towards a code while pressing and holding the middle of your screen. The snapcam will scan the code and show you the user to follow.
You can take a picture or screenshot of a Snapcode. Open Snapchat, then tap at the top of the camera screen. Tap the 'Add Friends' button. Tap 'Add by Snapcode' and select the image to scan. Snapchat will show you the user to follow.
 3. Make Announcements
Snapchatters use the social network in three ways:
Privately exchange real-time content with friends and family (I know many users in their 30s and 40s using Snapchat to share with family endearing moments from their childrens' daily exploits).
Share content via a story their followers can see, a story which only lasts 24 hours
Consume content produced by their friends and brands, because it's fun, unique, exclusive, fast and intimate (they feel like the snapchatting brand is having a private conversation with them, in a safe space).
4. Give coupons or discount codes 
Urgency and scarcity are well-known to improve marketing conversion rates. Sharing coupons via snapchat plays into this. Snaps disappear after you've watched them, and stories only last 24 hours. So you have to act quickly if you want that coupon or deal. There's also a sense of exclusivity – snaps can't be re-shared (if we don't consider the screenshot option).
5. Run a contest:
Facebook contests have become boring. Mostly because participation simply means a "like" or a "share" or giving you my email address. If we get fancy, we may ask you to go through a process to submit photos or videos. On Snapchat the photo and video sharing option is built in. And you can encourage your fans to do a whole lot more. Like GrubHub's doodle contest.
Or ask for a screenshot, which not only drives engagement, but it gives you a tracking mechanism (Snapchat will tell you how many screenshots you got, by whom).
Tips to Run a Successful Snapchat Contest
You need to create a follower base on Snapchat by promoting your profile to other social media platforms. The more visible you are to every popular platform, the more successful you are in your promotions.

Your contest has to be something fun and creative. Something that can attract your target customers especially the millennials and the Gen Zs as they are the ones usually using Snapchat. The reward also should be something worth the effort and worth getting. If your budget permits, you involve an influencer or influencers to join your contest to add some excitement and to get your followers hyped.

Get loud! Add some thrill to your contest by keeping it known and alive in every social media platform you have. This way your followers will really look forward to joining and winning your contest and they will be the ones to spread the word to their network of friends.

Launch your contest and announce it on all your social media accounts. It will also be enticing if you post entries of your followers so when they see this, they will be so thrilled that they will share it in their stories on their social media accounts too! 
6. Let an Influencer Take Over:
Takeovers are becoming a big thing in the social media space. Brands will let celebrities take over their Instagram accounts for a day and it's quite common on Snapchat. In 2015 Wet Seal, a clothing brand popular with teens, won the Shorty award as the "Best Brand on Snapchat." They collaborated with a social media influencer, and turned their account to her, to reach her audience.
7. Show Behind the Scenes
Unlike Facebook, Twitter, Instagram or Tumblr, Snapchat offers the sense of capturing a moment as is, in real time, which makes it very appealing for users. The video and graphics quality is quite low, and it's expected to be so. The grittier the quality, the truer the content.
This is a great asset for brands. It offers a unique personal connection with consumers that other social media vehicles don't offer, without the big bill of creating perfect designs and videos.
Here's an example – Refinery29 goes behind the scenes at Zoolander 2's pre-release fashion show.
 8. Give Tips and Tutorials
Sephora and BirchBox are doing a great job of filling their stories with make-up and lifestyle tips and how-tos. You too are an expert. Find your customers' most-asked questions (not just about your products but about current events and life) and share quick-tip videos that address these pressing concerns.
9. If you have the big bucks – filters, ads in stories and more
I mentioned the sponsored selfie-filter. There are other advertising opportunities in news stories, which Snapchat opens to large events: Superbowl, Fashion Week etc. Or you can pay a celebrity to do a take-over.
Here's an example of a sponsored filter, for the movie Allegiant.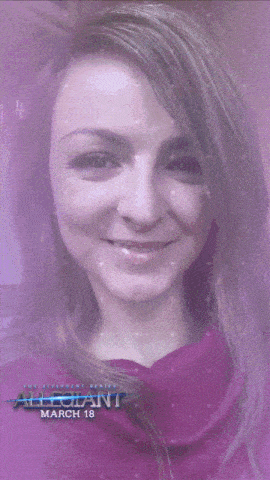 What to take away:
You may look at this and say, no-way. This will take work! Wait, you still think marketing is free or cheap? Even if you don't go the Snapchat route, these marketing lessons can be applied to other social networks, Instagram in particular.
Any Snapchat marketing tips we missed? Tell us in the comments!