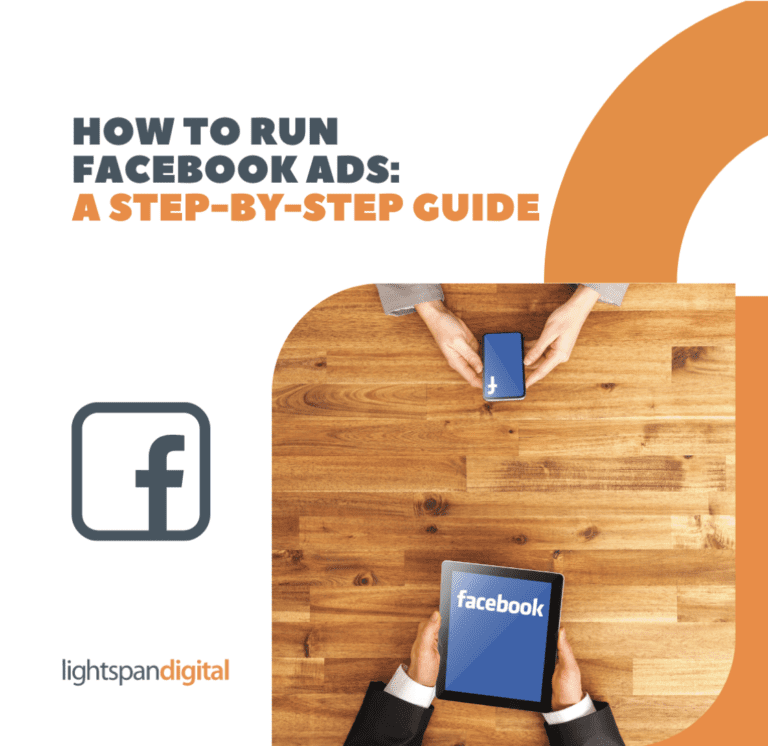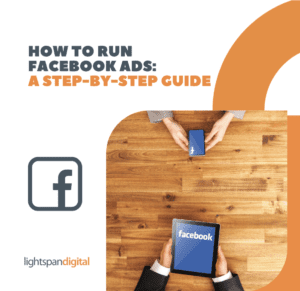 One of the most common questions we get has to do with setting up Facebook ads or improving results from Facebook and Instagram ads. And can they really help build your brand? And do Facebook and Instagram ads truly work to drive sales? 
Regardless of your industry, the audience for your site is guaranteed to contain Facebook users. It's the largest social network in the world, after all. One in three people is active on Facebook. This makes their social media presence a valuable asset to your marketing strategy. Facebook's algorithms could be your secret weapon to generate leads naturally through an outside source. 
Facebook's optimization algorithms can put your ads in front of customers most likely to care about them. This builds engagement which builds your brand. If you know how to run Facebook ads effectively, your advertising can take advantage of Facebook's personalization options and the key features that help them organize the largest social media network on earth. Your conversion rates and returns will thank you.
Why Use Facebook Ads?
Let's say you're a small business struggling to make local connections. Facebook allows you to create a network of users based on your location. There, you can start conversations and place yourself in people's feeds, reaching them in ways that conventional ad spaces could never hope to. 
Consider Angie's List, for instance, a popular Facebook promoter for home improvement businesses. They run ads daily that bring small businesses to the attention of the Facebook users that might use their local services.
Or perhaps you're a large business trying to increase positive engagement with people who genuinely care about your products and services. From Facebook ads, you can target specific customers in unique demographics. You can inspire them to take actions that will benefit your brand.
Traditional ad spaces often intrude on other content, such as ad breaks in streaming videos, or appear almost unnoticed to passersby, like a billboard. By contrast, Facebook is already a place where people go to share their favorite brands and products. This means that you can encourage brand engagement on a platform designed for engagement.
The benefits of using Facebook ads are nearly limitless as a result. Facebook itself has business accounts that can help you create and manage your new ads, track engagement, and tailor your marketing. 
Here's our brief guide on how to use Facebook ads tools to launch a targeted marketing campaign. 
1. Set Up an Ad Account
Facebook allows you to customize the engagements you'd like to focus on, such as page likes or event responses. Your marketing should plan out this focus to better target your audience. They make setting up the ad account easy because you have many options once you get there.
Facebook even has tools available to help you set up a marketing plan for your business if you don't know the direction you should go.
2. Choose The Goals of Your Facebook and Instagram Ads Campaigns
When starting an ads campaign, Facebook will prompt you to choose a campaign objective. This should be straightforward; however, here are a few things to consider before picking the campaign objective. These goals are not just labels; they will tell Facebook how to optimize your campaign's display. For example, if your goal is conversions, then Facebook will try to show the ads to people who have a behavioral history that makes it more likely they will buy. Here are a few other things to keep in mind:
The idea here is that while Facebook makes it easy to select a goal, you have to consider your objectives properly before selecting one.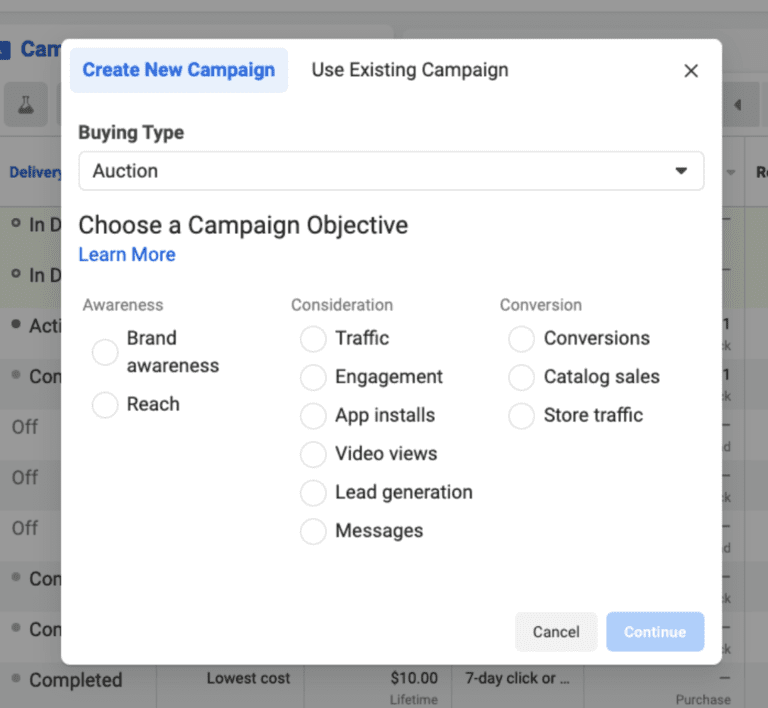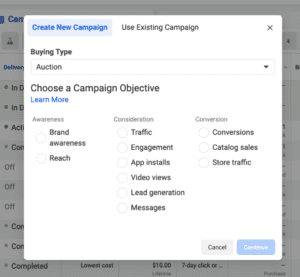 3. Choose Your Target Audiences
Detailed targeting is a Facebook tool that helps you include and exclude demographics and interests to create a more directed campaign. You can sort out the people you believe will engage with your products to increase conversions.
There are three types of audiences:
Custom audiences:

Custom audiences are created by uploading lists of contacts who have opted-in to receive marketing from you.

Look-alike audiences

These are audiences built based on an existing audience. Facebook will create a look-alike audience that behaves similarly to your custom audiences, or a look-alike to people who visited your website, and more. 

Demographics and behavior-based audiences:
Facebook is a social network where people naturally separate themselves in terms of interests and preferences. In other ad spaces, businesses have to work hard to create the niches that already exist on Facebook. All you have to do is figure out who you want to target.
4. Choose the Right Ads Types
Not all Facebook ads are created equal. You should use diverse types of ads and refine your strategy based on what your customers respond to. Here's a brief description of the main types of ads you should be familiar with.
Image ads

are simple ways to boost a post you've already created. They're great if you have products or designs to show off. If your brand sells products based on visual contact, you should take advantage of image ads.

Video ads

can be an extension of image ads, using gifs to catch a customer's eye. If your brand could create how-to demonstrations or video guides, these are great ways to boost credibility. A brief video ad such as a time-lapse of a recipe or DIY project can work wonders for your conversion rate. 

Carousel ads

cycle up to 10 images to showcase a product. You can use it to show off a product's features or a series of products you feel the same customers would be interested in.

Instant experiences

give savvier Facebook users a full-screen ad that is accessible on mobile devices. Brands use these to highlight new products that will interest their followers.

Collections

can be used to advertise multiple products at once, allowing customers to browse and even buy products right from their phones, all within the ad experience.
Below are some of the targeting parameters you can use with Facebook Ads.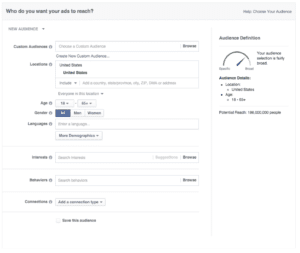 A final note about audiences; a big question we get is, can we see who Facebook identifies as a "look-alike" audience member. No, we cannot. All audiences are anonymous to marketers. 
5. Choose Ad Placement
The location of your Facebook ads can affect their visibility. Different platforms such as Facebook, Instagram, and Messenger require different placements. You should try to make your ads friendly for desktop and mobile devices and the many options for ad locations, including:
Feeds (Facebook and Instagram)

Stories (Facebook and Instagram)

Right column

Messages

Articles

Other mobile apps
Decide how you want your ads to be viewed to make your campaign as effective as possible. This includes where your customers will see them.
For example, we are seeing the best return on ad spend from Instagram stories ads. You may find that for you, the right column works best. So it's worth testing different placements so you can get the best bang for your buck.
6. Schedule and Create
Budget the costs of your Facebook ad campaign so you can create a schedule that works for your timeline. You can change your campaign so that your ads only appear when your target demographic uses Facebook the most, for instance.
Then, choose your ad format and additional media functions, all with your ad objectives in mind. You can preview ads before they go live from your Facebook business page.
Click here for a Facebook ads design guide. 
The Takeaway for Businesses
Facebook represents a major asset for brands that want to push products to new clientele. They offer multiple types of ads as well as features on professional ad accounts to target specific demographics and improve usability.
The right ads can improve your credibility and create opportunities for positive brand engagement. With the biggest social network in the world at your fingertips and the tools to utilize it as a lead magnet, you can't afford to ignore Facebook as the marketing tool in the modern digital marketplace. So many modern businesses have used Facebook ads to take their engagements to the next level.
How can Facebook help your brand do the same?