Instagram remains one of the most relevant social channels for your brand. It's one of the fastest growing social networks ever! If you want to make this year the year Instagram helps you grow your business, our tips and hacks for how to use Instagram to your advantage will help.
And if you're not on Instagram? Read on for our Instagram marketing tips and hacks to find out why you should be. (We also published Instagram tips in Q&A format not long ago, so check those out as well)
Here are the promised Instagram tips & hacks so you can kill it in 2019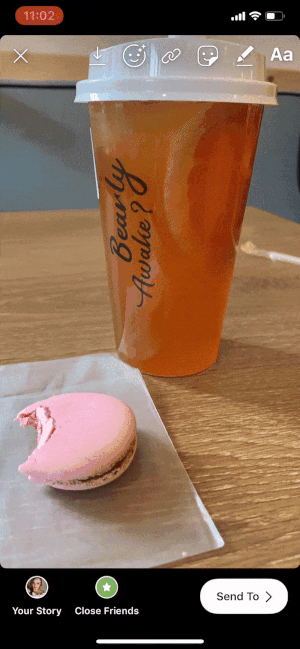 1. Use This Instagram Stories Hashtags Hack to Increase Your Reach
Add a few hashtags to an Instagram Story

Using the color pick tool that appears when you enter text, select one of the colors within your photo. Ideally, pick a color from an item that's large
enough to accommodate your hashtag.
Then pinch the hashtags to be as small as possible (so they're almost invisible).
This allows you to use multiple hashtags and expand your Story's reach without showing a cluttered mass of hashtags.
2. Here's How to Beat the 30 Hashtags Instagram Limit
Instagram limits the number of hashtags you can use in a feed post to 30. But don't let that limit you. Instagram audiences are very "hashtag tolerant." 
The simple trick to beating Instagram's 30 hashtag limit… is to post 30 hashtags at the bottom of your post's description and 30 hashtags in the comments.
Your post will show up in the search results for those hashtags, the same as when the hashtags are in the description. 
3. Save Your Own Posts to Collections to Give Them a Boost
This tip came from professional hair and makeup artist, and Instagram influencer Jen Bean. And it's related to what many call "the Instagram algorithm." 
What is Instagram's algorithm?
An algorithm is a set of rules put in place to deliver a certain outcome. In this case, it's a set of data points and behavioral cues (signals) that Instagram uses to determine the importance and relevance of a post, and thus how high (how early on when you look at your Instagram feed) and how often to show it. It also determines the order in which you see your friends' stories, which posts, stories or IGTV videos show up in search first as well as what shows up in your discover section (when you hit that magnifying glass icon at the bottom of your screen).
In early 2018, Instagram disclosed six signal categories used to determine the rank of content in people's feeds. According to TechCrunch, these are the signals that determine what you see in your feed (and thus what we need to tap into as marketers):
Interest: How much Instagram predicts you'll care about a post, with higher ranking for what matters to you, determined by past behavior on similar content and potentially machine vision analyzing the actual content of the post.

Recency: How recently the post was shared, with prioritization for timely posts over weeks-old ones.

Relationship: How close you are to the person who shared it, with higher ranking for people you've interacted with a lot in the past on Instagram, such as by commenting on their posts or being tagged together in photos.

There are also three additional criteria that play a smaller part in your Instagram feed rankings:

Frequency
Following
Usage
One of these behaviors is the action of saving a post to collections. Saving something is a sign of importance or relevance. So add your own posts to collections to improve their importance in the eyes of Instagram's algorithm.  And create collection-worthy content so others are compelled to save your content as well.
[bctt tweet="Here's our recommended content worthiness test – will my target audiences want to print this and keep it at their desk?" username="manamica"] We get it, people don't print any longer, but I hope you also get the idea… 🙂 
4. Add emojis to your profile and posts to get more interactions
Emojis can lead to 47.7% more interactions on Instagram, according to Quintly.  Research found that when we look at a smiling face online, the same parts of the brain are stimulated as when we look at a human face – so they actually show a real effect on human beings.
More than 60% of Instagram accounts now use emojis and you should too (although, don't overuse them). Limit it to one to two emojis per post. You can even put some in your Instagram bio.

Tip: For more on emojis, check out our blog post: Memes, Emoji Phrases, and GIFs: Staying Relevant in Online Communication
5. Use Stories for engagement and Feed Posts for conversions
We manage many business Instagram accounts and in 2018, in particular, we noticed a significant increase in Instagram story views/reach (business accounts have analytics, so take a peek at your stats and let us know what you notice). 
AdEspresso went the testing route to prove or disprove what we all were observing.  Their results showed that Instagram feed posts drove the lowest cost per lead with the highest conversion rate. However, Instagram Stories gave the highest click-through rate and lowest cost per click.
So, set your goals and then use Instagram static feed posts for conversions and Instagram Stories to drive engagement. Ultimately, you'll have to find the right cadence for both.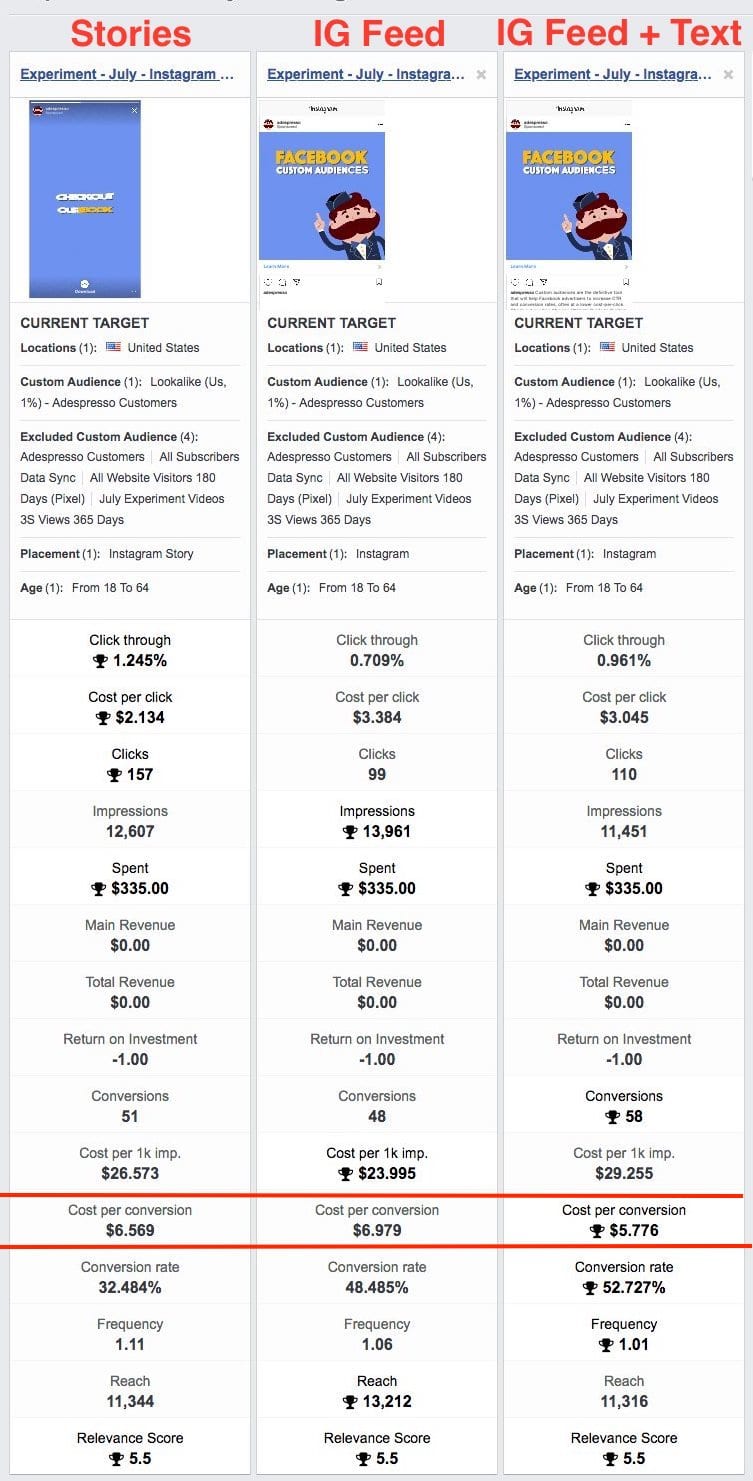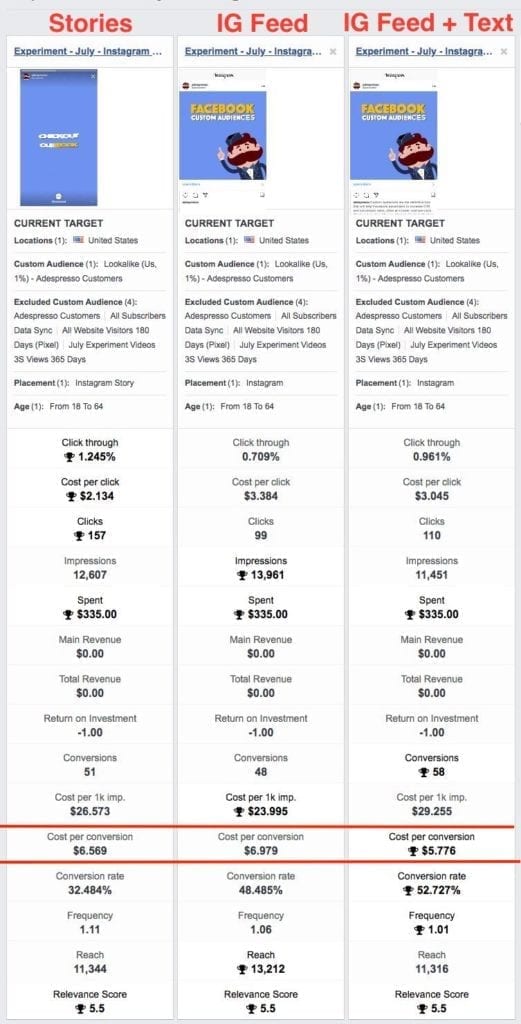 Samantha Leung of the brand HEMLEVA uses Stories at least once a day: "It allows for another avenue for you to engage with people that are interested in seeing the less polished photos behind the brand."
[bctt tweet="Instagram feed posts drive the lowest cost per lead with the highest conversion rate. Instagram Stories drive the highest click-through rate and lowest cost per click, according to tests. So use both! " username="manamica"]
6. Don't Just Randomly Use Hashtags – Use These Tools to Make Smarter Selections
Some of the most common questions we get have to do with hashtags:
How many hashtags should I use?
Where or how do I find hashtags?
How do I know which will work?
I can tell you which won't work – the most popular hashtags. You'll just be one of the millions using them and your content will get lost in the mass of other posts with the same hashtag. And you will attract spam bots (which auto follow and unfollow, and also auto-comment to try to get you to follow back).
There are many tools out there that help make smarter hashtag selections. 
Hashtagify

is one of our favorites.

We also like the Hashtag Expert app for use on iPhone. Just choose a category and put in a relevant hashtag then the app will give you related suggestions that you can copy/paste and it will automatically add a space block between your photo text and the hashtags, for a clean look.
7. Use the following strategy to get attention from people who use your target hashtags
This tip also comes from our friend Jen Bean. She recommends that after posting a photo with hashtags, you click on one of your hashtags and "like" about five photos that come up. But ONLY photos of accounts that don't have a huge following and that seem genuine and authentic in their content and how they are using the hashtags. This way you'll both find and get the attention of people who are like-minded. 
8. Use long captions to tell stories because… Instagram is the new improved Tumblr
In the past two years we saw the rise of the long-form caption on Instagram, and while most brands still avoid it, it appears to work for those who use it. And big brands are starting to jump on board. Let us bore you with this jaguar story from NatGeo.
David Byrd, the photographer behind Reality Reimagined says, 
My brand has encountered a lot of traction with the copy that I put to each image.  Most seem to enjoy the stories behind the images and the process, rather than brief copy that isn't very supportive of the process to create the images.  Industry leaders tend to keep the copy shorter with brief statements following the paradigm that Instagram is for the casual scroll. I do believe that practice for IG is fading away as more are turning to IG for their social media interaction than Facebook.
9. Show the creative process… or your brand's process, because people love to peek behind the scenes
Check out Marta Sasinowska's project, Practice Studies. She travels around the world and talks to makers and artisans about their creative process. She uses Instagram and referrals to search for makers (so makers out there, get your stuffs on Instagram so you can be found!) and tells the stories behind their creative process with beautiful photography.

David Byrd has also seen the impact that comes from showing the process:
My knowledge and business practices for IG center on the world of photography and specifically Photoshop, but one of the strongest mechanics that I see from leading brands is to show two to four versions of a final piece of art, depicting the editing process from beginning to end.  This in conjunction with a plug in the copy as well as a link to education available on the website, brings quite a bit of traction to each post.
10. Share your own post to your story to increase reach
Since story posts seem to get more engagement, a way to increase engagement on your feed posts is to share your own posts to your story. Just be selective. Don't train your audiences to look at your stories for your posts and ignore your actual feed.

[bctt tweet="Instagram tip #10: Share your own posts to your Instagram story, because studies show that stories get more engagement. " username="manamica"]
11. If you share others' posts to your story, let them know, and here's why…
Sharing others' posts to your story is a great move to diversify content and get the attention of accounts you're trying to network with. You've got to let them know by  @ tagging them in the story, though. Just resharing a post won't notify them.
12. Give a Sneak Preview Through a Story Reveal With This Instagram Hack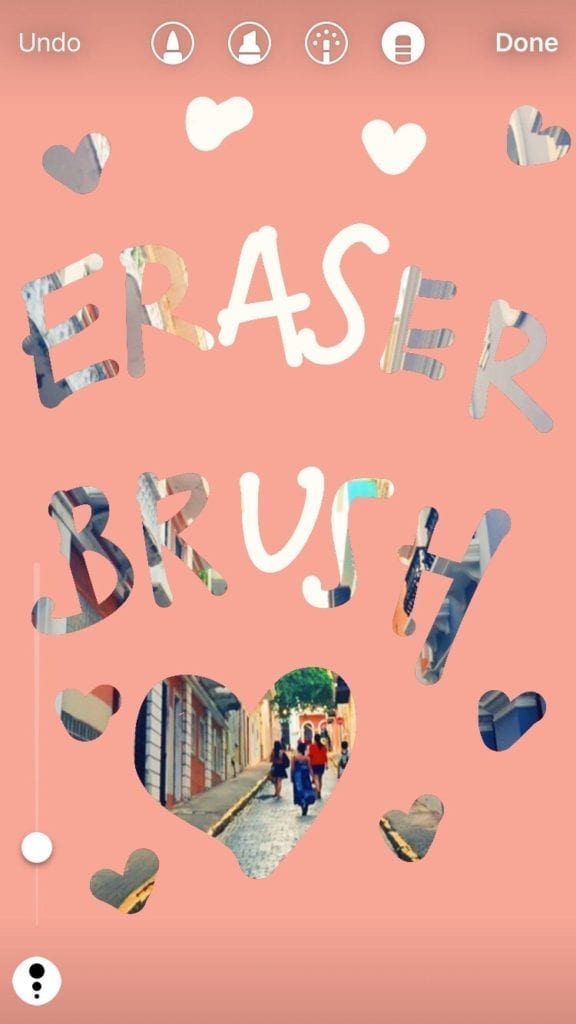 Instagram Stories are technically photo canvases. They allow layers, like layers of paint onto a canvas. So you can add in a photo and then hide it with a layer of paint. Then, you can erase some of the paint to give a sneak preview. Here's how to do it:
Select your photo
Flood your screen with a solid color

Tap the pen icon in the upper right-hand corner of the screen and select a color

Next, tap and hold on the screen for 1-3 seconds until the screen is filled with a solid color.
Then hit the eraser tool (the one closest to your right hand as you hold the phone) and mark a path for your reveal
13. Tag Your Posts With a Location, and Here's Why
Posts tagged with a location receive 79% higher engagement, according to Socialinsider.
14. Use these guidelines to set the bar higher when picking influencers
As thousands of new wannabe influencers pop up each day, it's easy to think that the market is becoming oversaturated. It's harder to know what to look for if you're considering using an influencer to help assist your marketing efforts. Influencer marketing is still alive and well, especially on Instagram, and can be a great way to generate authentic content and reach niche markets.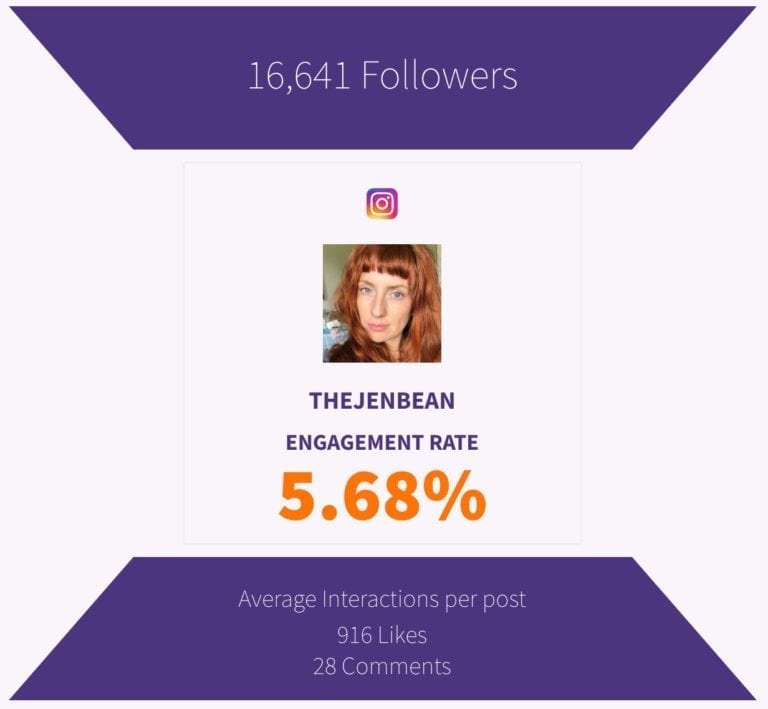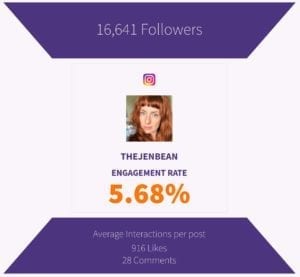 If you want to work with influencers this year, look for the following when you visit their pages:
High-quality photography (remember, Instagram is very visual so this should be your first clue)
High engagement rate in comparison to follower count (what's the ratio of likes and comments per follower?). 
Their fan base should align with your target customer

Are they authentic in how they represent brands?
We have a lot more tips and influencer marketing tools in our Intentional Influencer Marketing toolkit.
TIP: Use the Phlanx Engagement Calculator to find the engagement rate for any public account. It's also useful to keep the pulse on your own account's engagement rates. 
15. Get More Followers Through Strategic Interactions
There are many ways to accelerate gaining new followers. From ads to buying followers (not recommended), from contests to mass following and unfollowing. Fast-growing accounts implement a variety of methods, but few have the patience to strategically grow their accounts. However, you can try these Instagram tips for strategic interactions: 
Identify accounts that have a following similar to whom you are trying to attract.
Turn on post notifications for these specific accounts
Leave a comment as soon as they post so you get their attention before everyone else
Follow their real followers.
Periodically find other accounts and apply the same method
16. Use the "tag a friend" method
Earlier on we talked about creating content that people will want to save. Let's also talk about content that people will want their friends to see. Once in a while create posts that invite your followers to tag other people.  "Tag someone who inspires you", "Tag someone who is going to/should [do/be something]", and so on.
17. Use the "'tag a friend' to win something" method, but do it wisely using these tips
Giveaways can be a great way to grow your follower count at a relatively low cost. However, they're a little overused these days, so use them sparingly: You don't want to burn your audience out! We recommend keeping the entry requirements simple and straightforward. Follow the participating brands and tag a friend, and you're entered.
You can partner with an influencer or another brand to get audience crossover. And try a contest instead of a giveaway. You won't get as many entries but those who do follow you might be more likely to stick around.
18. Beware of influencer giveaway schemes, often called "loop giveaways"
Talking about influencers and giveaways… brands need to get smart and avoid influencer engagements that look too good to be true. Loop giveaways are fast-growth schemes where participants have to follow sometimes up to 100 Instagram accounts in order to enter. These result in quick follower growth but most of the new followers often drop off after the giveaway ends. Thanks, Lightbug Allie of Allie's Fashion Alley for the tip. 
[bctt tweet="Brands need to get smart and avoid influencer engagements that look too good to be true" username="manamica"]
19. Reuse and Recycle: Don't let IGTV's vertical format stop you
When IGTV rolled out in June 0f 2018, people couldn't have been more excited about it. I coincidentally started shooting video for my new series, Learn to Love Change, that same day. And from day 1 we decided to produce IGTV videos.
Little did we know that the task of producing tall and wide videos was daunting. We had to think of how to shoot, and how to edit. The graphics had to be adjusted for the tall format and we just couldn't easily make the tall format work perfectly by shooting wide.
And then we realized we don't have to be perfect. Good compelling content was our priority. So we started bending the rules and editing "as tall as we can" and leaving it at that.
Crop them tall or post them wide. Just don't forget to caption them. 
Tip: Never looked at IGTV? Check out Mana's channel!
20. Make your bio and captions easier to read by inserting line breaks
Earlier on we recommended writing long captions. But these captions would have to be in paragraphs not one big unreadable chunk. Luckily there are tons of options to help you format your captions. So many that Instagram has had no incentive to make formatting available natively on the platform.
You can compose your message in a Facebook post and then copy and paste it to Instagram.
Or in a notepad application.
You can use a scheduling tool like Latergram, Hootsuite or Bufferapp to craft your post and format it to your heart's desire.
Or you can use this caption maker tool.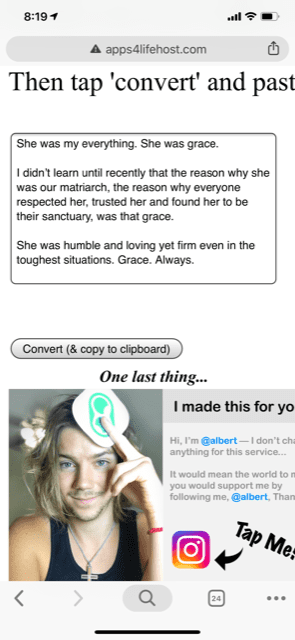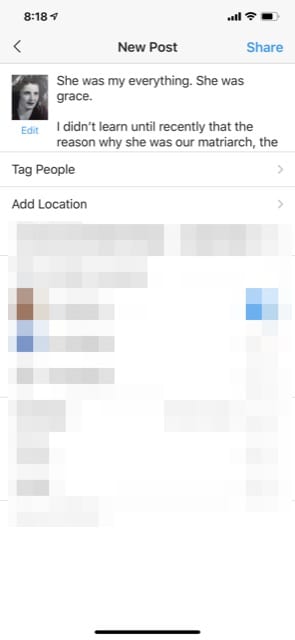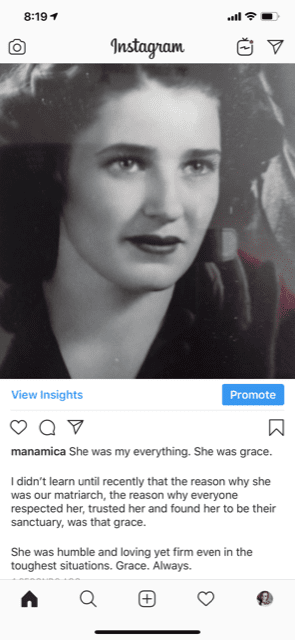 21. Encourage employee sharing by offering fun opportunities 
Do you think people believe brands? Or people? The best thing that your brand can possibly do is to encourage your employees to be your ambassadors. One way to encourage participation is to make it fun. Create Instagram opportunities within your business, such as photo booths, props, and branded hashtags. Create a company hashtag that employees can use when they show moments from the organization. One of our clients uses #[brandname]life. 
22. Add alt text to images
This new Instagram capability allows you to go beyond the hashtag for increased searchability. Although Instagram has been investing in technology to read and interpret the contents of an image, it's still not fully reliable. But alt tags will help the Instagram engines to understand what the photo is about and improve the odds that your photo will appear in related searches. Use this feature to add descriptive text to your images. Also, people using screen readers will now be able to hear the image description.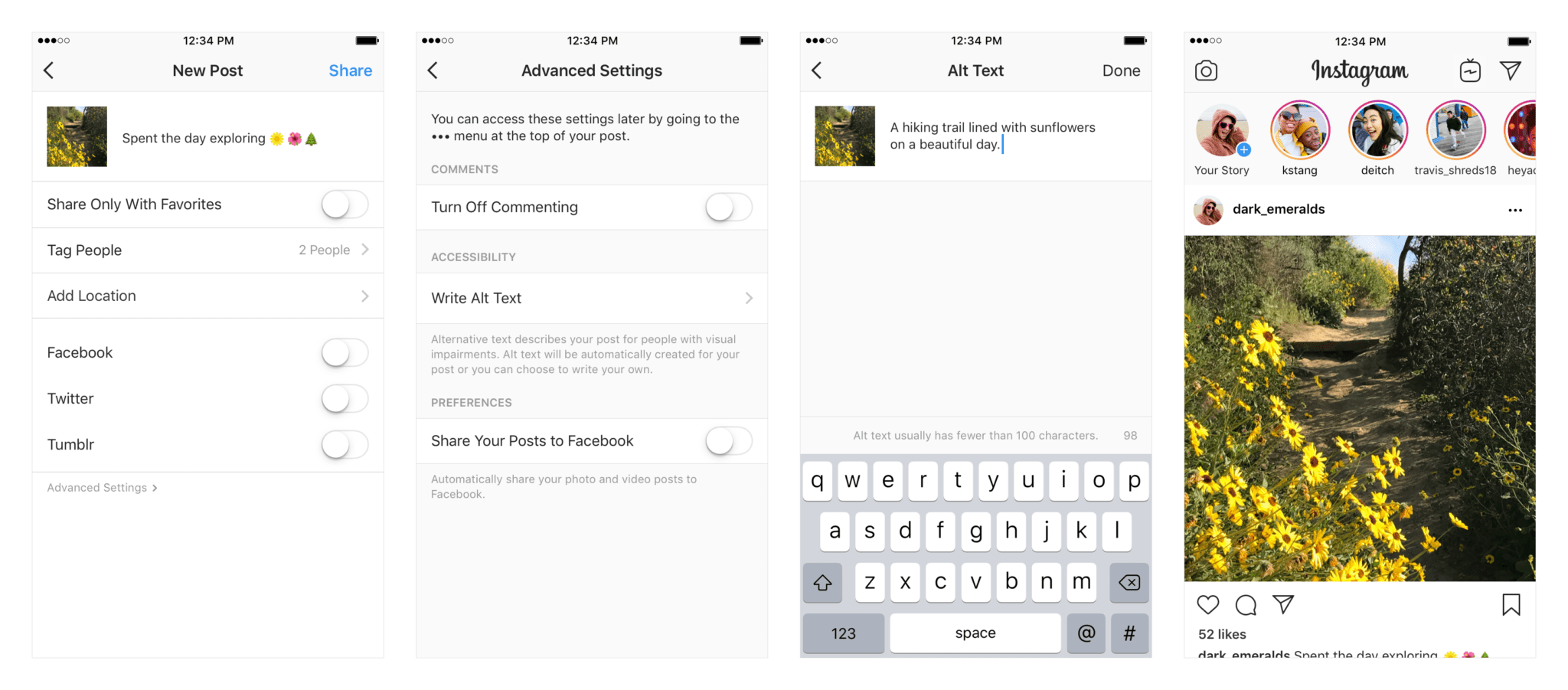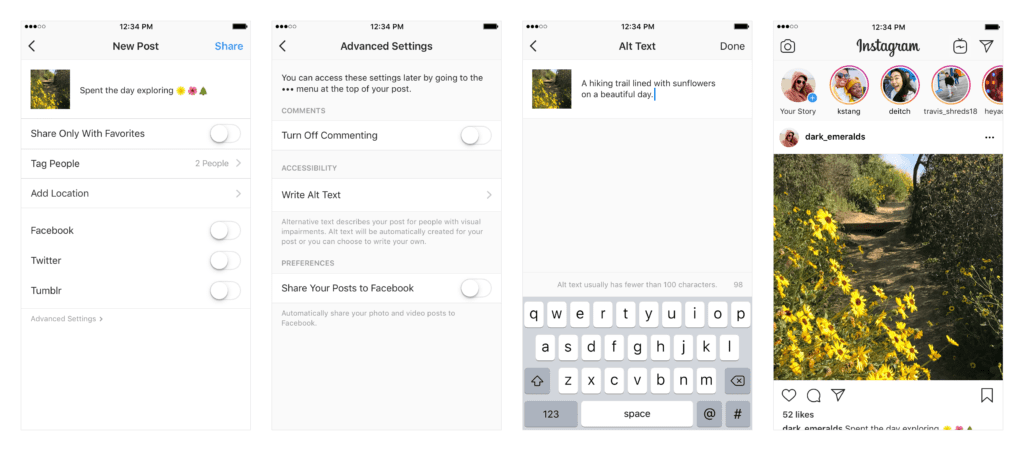 23. If you're going to get a service to do the engagement for you to accelerate account growth, read this.
We all want more followers and engagement… yesterday. And theoretically the more you take the initiative to engage with others, the better the returns. It won't just magically happen just because you post content.  You give and you get back. But we don't have all day. There are many services that will "like" "follow" "unfollow" and even comment on your behalf on as many posts as possible. There are also apps that will deliver likes for a fee (not recommended).
Few dare to admit that they're paying for "likes" and "followers." But we tested them so it would be a shame to hide the results. We picked two services that seemed to be going about it in a smarter, more targeted way.
Upleap
You can set accounts followed by your ideal audiences as well as hashtags to go after, and targets to be excluded. You set all of these up on an online dashboard and then an "account manager" takes it over from there.
The most valuable thing that came out of the test was seeing which targets gave the best results, but as you can see, they weren't able to discern between hashtags and accounts.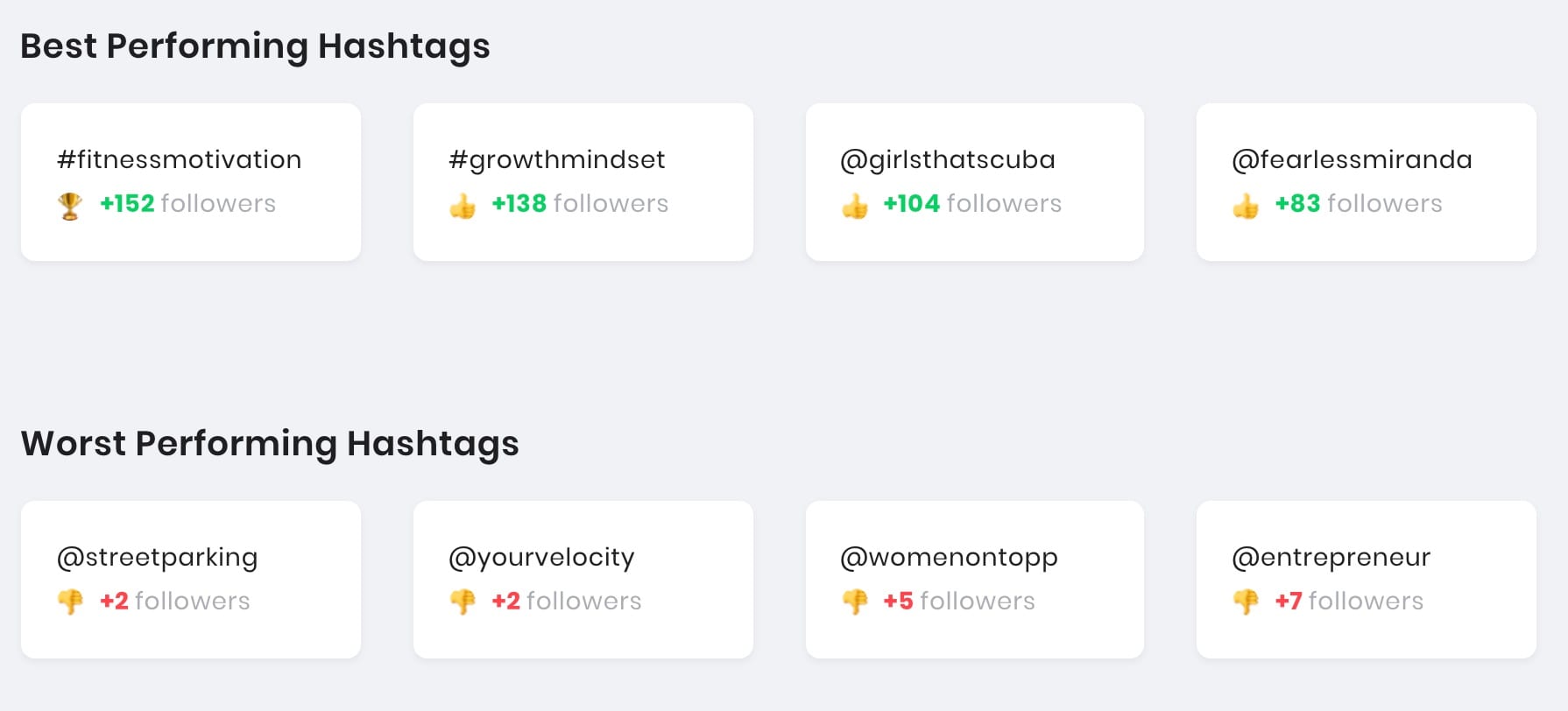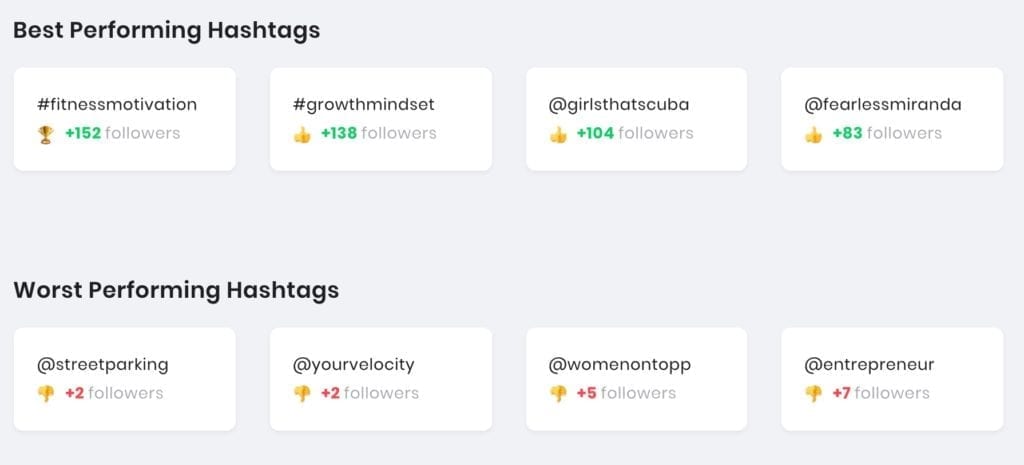 Social Upgrade
Social Upgrade was very similar to Upleap. You will choose targets and exceptions. The communication happens directly with someone from Social Upgrade and they were very responsive. The online dashboard shows fewer stats than Upleap.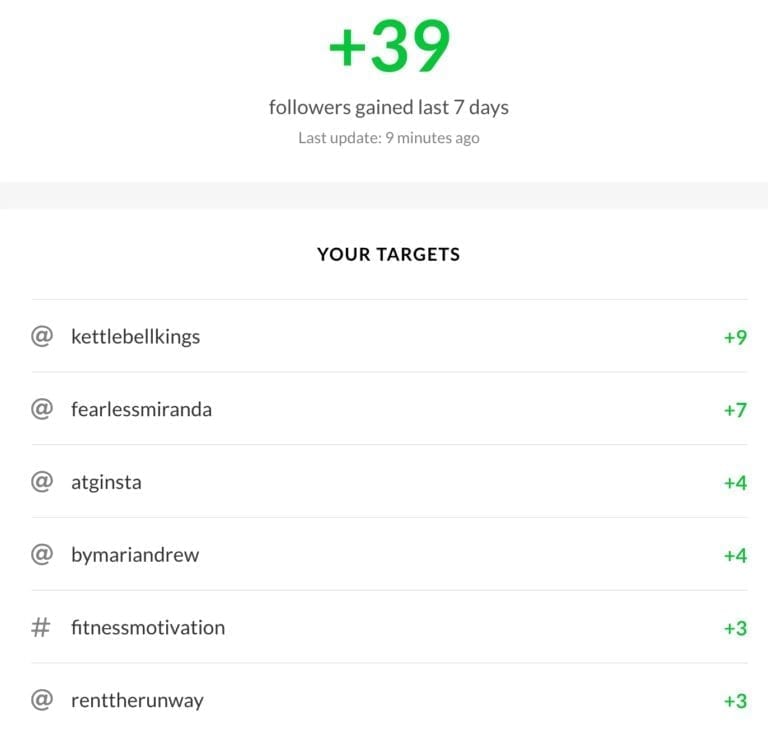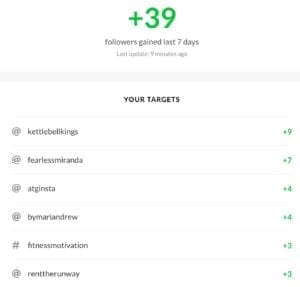 THE CONCLUSION: The number of new followers doubled each month.
Many of them turned out to be real, genuine accounts. With some, I struck up conversations and we truly engaged with each other. Unfortunately, many of the new accounts were from India (and I specified to both services that we only wanted to target users in the US), many were brand new accounts, and about 40% of those who follow will unfollow shortly.
In order words, you'll get some value, but also a lot of junk. 
24. Don't join others' pods. Here's why…
Pods are "secret" groups of people who help each other by liking and resharing posts of pod members. Or in theory that's how pods work. In the past few years, Facebook has started cracking down on Instagram pod groups, so most pods operate secretly and thus are hard to find and gain access to.
But those who do, report feeble results. Here is what Nick Pecori of Fstoppers found: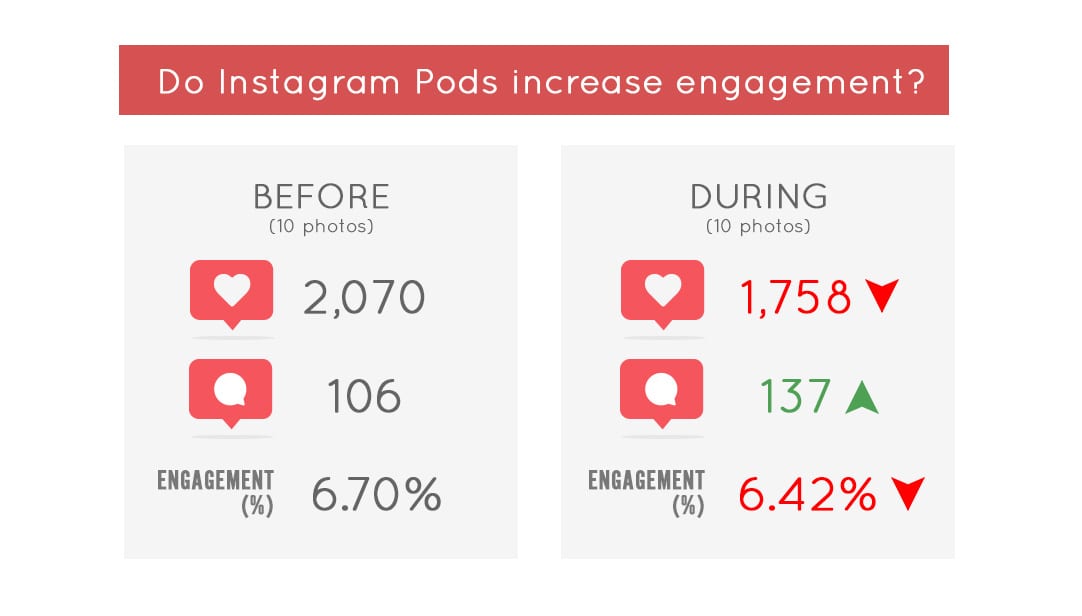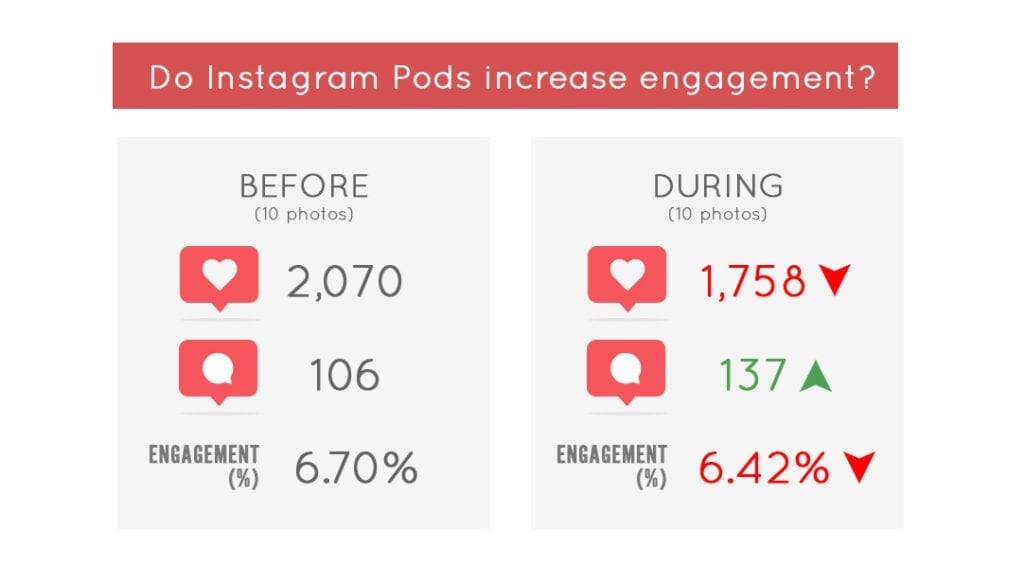 If you want to create a group of like-minded people to support each others' efforts, start one yourself. Keep it small and be selective about who you invite. And then give if you want to get.
[bctt tweet="Don't join others' Instagram pods. Here's why…" username="manamica"]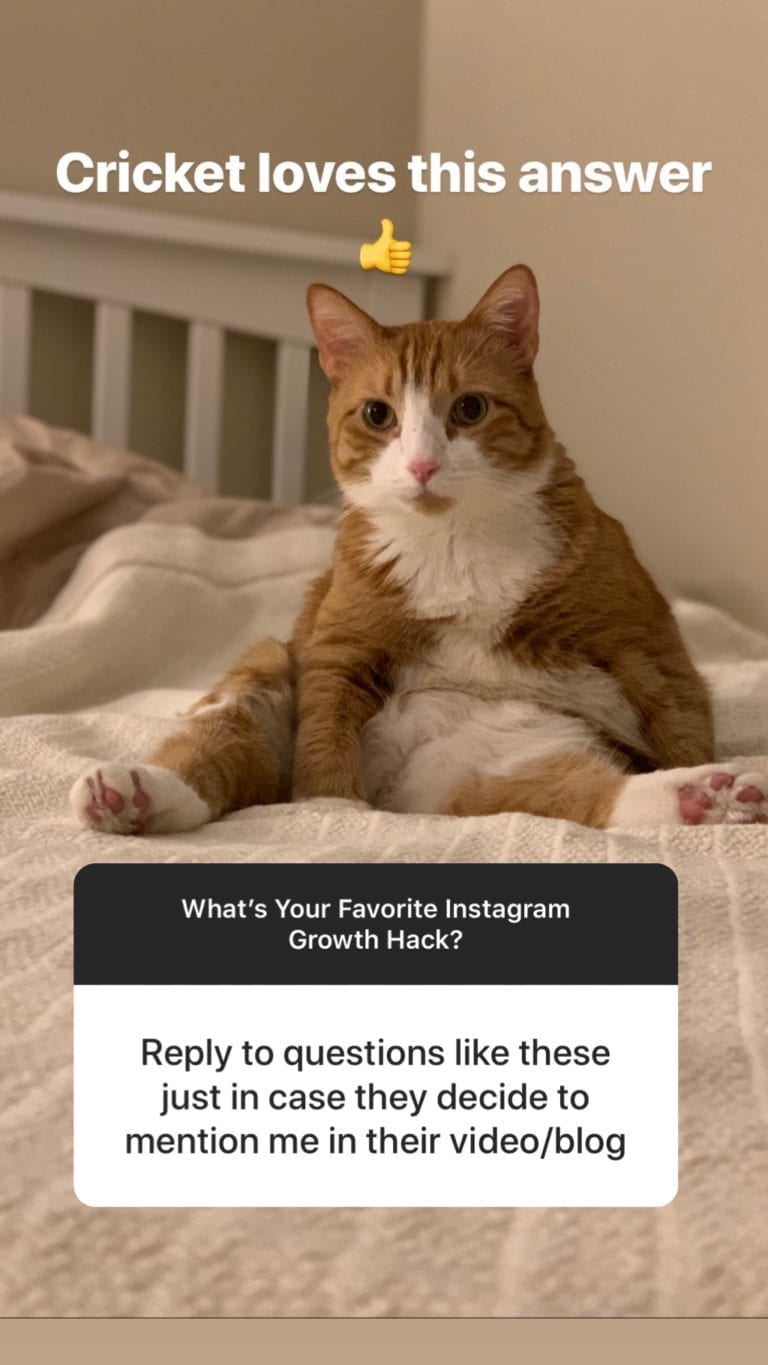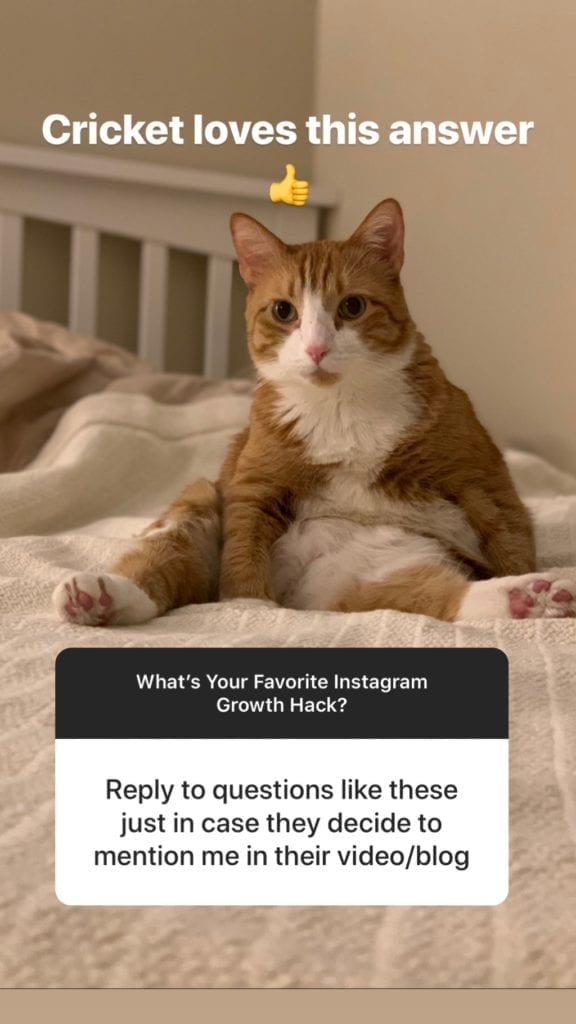 25. Help others out and you may get a mention, like this one
I often poll my Instagram audiences. I believe in taking the pulse and really listening before we speak, or in this case, produce content. So I asked my viewers for Instagram hacks and tips.
Deep Soni, @xdeeps said, "reply to questions like these just in case they decide to mention me in their video/blog."
Not only did I repost his answer with a funny kitty pic, but he also got this blog mention :).
26. Make analytics-based decisions.
Instagram has a wealth of data just waiting for you to use it to make decisions for your brand. You can see options like "engagement" or "reach" and search up to 2 years of posts to see what content is resonating with your audience.
Or, you can use an analytics tool to help you with deeper insights. Let data be your guide.
Here are some tools to look into: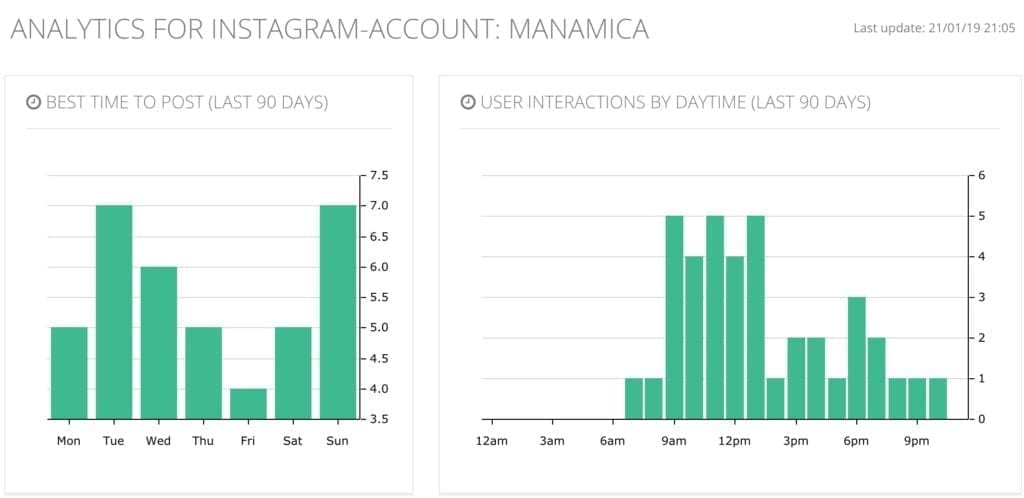 27. Easily download high-res photos to re-post
Want to re-gram a customer's Instagram post? Don't settle for screenshots. GramSave makes it simple to download high-resolution Instagram photos. Just copy/paste the link to the Instagram post and voila. You can even download multiple images from a gallery style post.
28. About that B2B and B2C thing…
Brands: If you're not on Instagram yet, you really should be. One of every three Instagram users has made a purchase after discovering a new product. With over one billion users, you can do the math on that one. And of those users, 31% of them make more than 75k per year.
But Instagram is not just for Business to Consumer Brands, Business to Business brands can get value too. With 50% of Instagram users following a business, it's a great way to attract new customers or other brands to partner with.
HEMLEVA's Samantha Leung has found great success that way: "Brands like ETSY & West Elm, and set designers for The Mindy Project have all reached out to me via Instagram."
What we've found resonates particularly well (especially where B2B is concerned) is authenticity.
Athletic trainer Audric Warren of Effort-Performance says authenticity is really your best bet: "Be authentic. Don't be fake for the sake of Instagram, people can usually spot a fake. Most importantly don't be someone you wouldn't buy from or sell something that you wouldn't want to buy."
Yes, Instagram is full of stylish and sleek photos, but it's vital to showcase humanity in your content. Are you doing trade shows? Show your team, not your booth or the outside of the convention center. Engage with your audience through Stories and on their posts as much as you can (this doesn't mean going crazy with emojis as a comment; leave thoughtful comments that demonstrate your expertise).
[bctt tweet="Authenticity is your best bet on Instagram… " username="manamica"]
What to look forward to on Instagram
As we've already mentioned, Instagram is constantly releasing new features. Here are some that are just starting to roll out or will be available soon.
Tap to shop
Instagram is making it easier than ever to shop directly from the platform. This will mean the end of third-party apps and services that attempt to make Instagram shoppable in a clunky way. As more brands make their images shoppable, it's vital to optimize your website for mobile if you haven't already done so.
Regram
Instagram just announced a new feature (available only on iOS for now) that allows you to post to multiple accounts at once. It's a bit of a time saver if your accounts have common themes, but we're recommending that you take the time to post original captions even if you want to use the same image instead.
In conclusion:
After hitting 1 billion users in 2018, Instagram is proving that it's a platform that's resonating with audiences. Take our Instagram marketing tips and hacks for 2019 and see how it helps your brand. Like anything worth doing, it will take time, focus and intention – there are no quick fixes. But here's to growing your business or brand and using Instagram to make 2019 your best year yet!
Further reading:
http://get.simplymeasured.com/rs/simplymeasured2/images/InstagramStudy2014Q3.pdf
https://adespresso.com/blog/instagram-statistics/
https://adespresso.com/blog/instagram-feed-vs-instagram-stories-experiment/