This article is published weekly as the show notes for Decoding the Algorithm, a weekly news LinkedIn Live (and YouTube or Twitter). But I lost my voice, so today it's just the show notes. Here we go: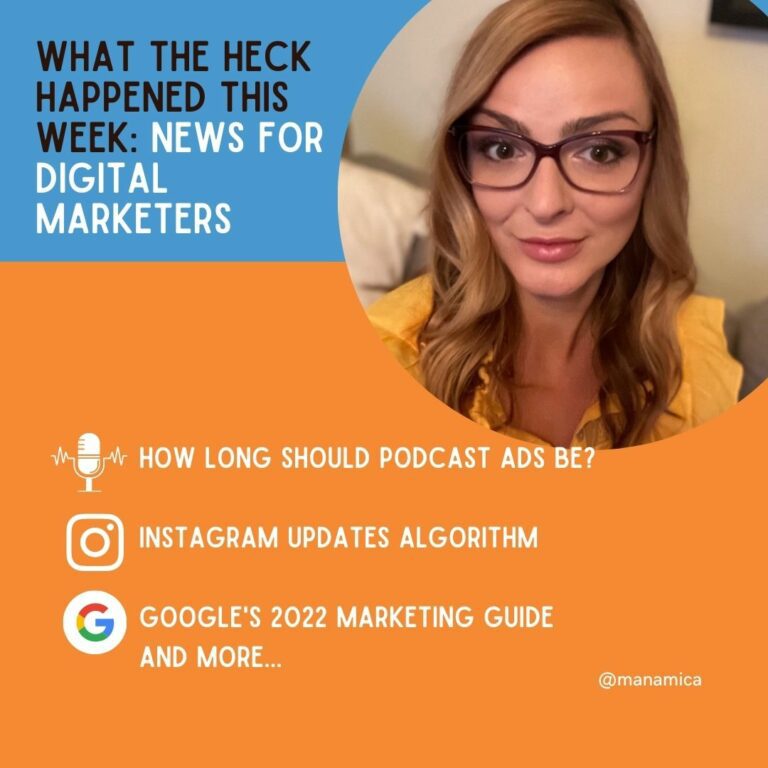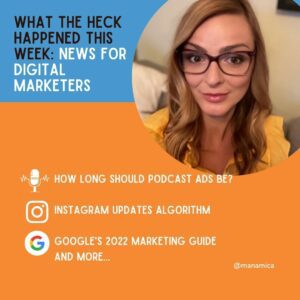 Instagram Announces Algorithm Update

Considering Metaverse eCommerce? Meta's Got an Update for You

Google's 2022 Marketing Guide in One Paragraph

What Data Says On the Best Length for Podcast Ads

AP Style Update: the "Correct" Ways to Use COVID-19 Pandemic-Related Language

TikTok Now Allows 3rd Party Pre-Scheduled Content

Elon Musk's Weed-Priced Twitter Buy Bid Drama Explained
Instagram Updates Algorithm to Reward Original Content
Adam Mosseri announced on Twitter that "creators are so important to the future of Instagram" that the platform wants them to feel rewarded for their contributions. So, here's what's new:
Product Tags – will be rolled out to everyone.

Enhanced People Tag – select a category for yourself and that category will show up when you're tagged in a photo or video.

Ranking change – to reward originality. Reshared content will be downgraded. BUT there's more to come here, according to Mosseri. I read that as – we haven't quite figured out how to properly identify original content. 
📣 New Features 📣

We've added new ways to tag and improved ranking:

– Product Tags
– Enhanced Tags
– Ranking for originality

Creators are so important to the future of Instagram, and we want to make sure that they are successful and get all the credit they deserve. pic.twitter.com/PP7Qa10oJr

— Adam Mosseri (@mosseri) April 20, 2022
Considering Metaverse eCommerce? Meta's Got an Update for You
Last week Mark Zuckerberg held a virtual roundtable with four creators and announced the introduction of virtual goods in the Meta Quest store and available to use in Horizon Worlds, Meta's open-world virtual reality playground. 
Meta's virtual goods will come at a hefty cost for creators who will only get 53% of the proceeds.
Curious to know how brands are playing on this playground? On April 2, Wendy's joined Meta's Horizon Worlds platform with "Wendyverse," a marketing-meets-gaming play. If you have a Quest 2 headset, you visit one of their two spaces: Towne Square Central (you'll find a Wendy's virtual restaurant), and Partnership Plaza (here you can shoot Baconators on a branded basketball court called the Buck BiscuitDome, like their current limited-edition $1 breakfast biscuits). The experiences were developed in collaboration with community creators.
Fast-food restaurants seem hungry for what virtuals spaces have to offer: Chipotle and McDonald's have virtual experiences. And according to AdAge Arby's recently filed trademarks to offer virtual food and beverages. 
If I were to summarize the parts of the guide that are not self-promotional, Google stresses the importance of meeting people in the "messy middle" of their journey. Content marketers and Google's search algorithm cues have been repeating this message for years – give the people what they want, how they want it, where they want it, when they want it. But to give them what they want we have to understand them on a deeper level. 
 "Marketers are looking for ways to deliver experiences that meet shoppers' rising expectations. For many marketers, the solution lies in gaining a deeper insight into how they can best tailor their ads and products to meet these needs. […] Brands using first-party data for key marketing functions achieved up to a 2.9X revenue lift and a 1.5X increase in cost savings"
How Long Should Your Podcast Ad Be?
It seems like everyone is starting podcasts. But how about advertising on them instead? 
The Interactive Advertising Bureau (IAB) predicts that podcast ad revenue in the U.S. will hit $2B by 2023, and is growing fast, with an estimated 31% YOY increase. 
If you want a piece of the pie, you may be wondering how long your ad should be. A brand lift study conducted by SXM Media challenged the widespread notion that longer ads did better than shorter ones. The results?
"The assumption that longer podcast ads work best is both confirmed and busted. At the top of the funnel, it's busted; shorter ads perform just as well. Down the funnel, it's confirmed: 60-second ads are better for consideration, education and moving listeners to act."
In conclusion, you should choose your ad length based on your campaign objective and for top-notch optimization deploy multiple creatives of different lengths, to move listeners through the stages of their buying journey. 
For the By-the-Book Writers: Here Are the "Correct" Ways to Use COVID-19 Pandemic-Related Language 
PR News has published an AP Style update. Here are two words that made me snicker:
Superspreader: "Superspreader" is one word. Use it when describing a person or an event. 
Anti-vaxxer: Refrain from using "anti-vaxxer" unless in a direct quote, which will require a larger explanation.
TikTok Now Allows 3rd Party Pre-Scheduled Content
TikTok has opened the floodgates to pre-scheduled videos. Social media management tools are starting to add video scheduling to their features. This should make it easier for brands that want to pre-edit and schedule in advance.
I'm not sure I'm a fan of this. Every time a social network has allowed this it led to a decline in authenticity. 
Elon Musk's Weed-Priced Twitter Buy Bid Drama Explained
Elon Musk loves Twitter. And bad weed jokes. He doesn't want to buy Twitter. He's wondering if Twitter is dying. He wants to buy Twitter. Are you keeping up? No worries, I have a quick explainer for you + Twitter's response and the latest news on the matter. 
What do you think? About this and everything else that happened this week? Please let me know in the comments.