The phrase "Social Media Engagement" gets a web mention every 11 minutes
The most favored word by social media strategists, engagement, is a big word with little meaning by itself. A useful social media engagement definition is still a rare encounter. Engagement, as engaged to be married, is a bit more clear – it's a commitment to tie the knot. But let's be realistic. Our social media friends' engagement is of a different nature, especially since we don't "put a ring on it".
Why so much talk about social media engagement?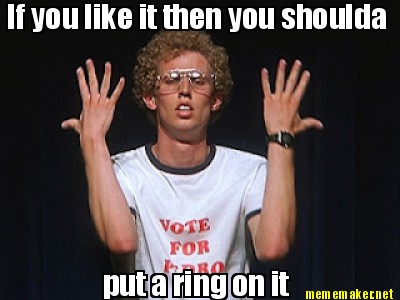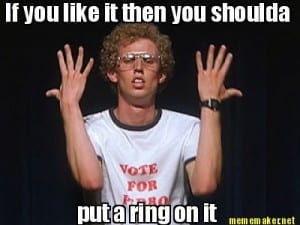 Social media engagement is a versatile term, especially if you're looking to impress. Here's a scenario. You see Mary at a party and she is talking about the latest nail polish color sharing app. You say, "you have to have that kind of social media engagement." Everyone agrees. You walk up to John who is talking about the new Facebook changes. You say, "oh that's going to hurt your social media engagement." John says, oh yes! At the back of the room Angie is answering a tweet on behalf of a client. You say, "their engagement online is great!" That's all it takes to be a social media expert! #Engagementize!
Engagement IS important but not as an end to itself, but rather as a precursor to action (what some call conversion). So, all jokes aside let's take a look at how we can make this concept practical.
Social media engagement definitions:
A. Simple social media engagement definition – this is what I typically use:
# of comments, likes, reshares and clicks per post
__________________________________________________    = ENGAGEMENT
#  of fans (or followers)
In other words, social media engagement is the cumulative effect of your online content in getting your audience's attention. It is an indicator of interest in you and what you have to offer.
B: Complex social media engagement definition: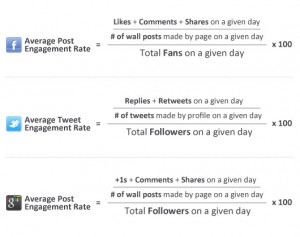 I prefer definition A because it takes into account clicks. Clicks are a better measure of engagement than "engagement" itself.
So is social media engagement important and Why?
Yes, it should be an important part of your strategy if it is the most needed condition for your audience to take the action you want them to take. Social engagement is not the end in itself, but the precursor to action. You won't see conversions from your social media work unless you first attract audiences with compelling content. Compelling content triggers interactions and interactions should lead to action.
And here's why:
Why is email open rate important? It tells us how many people may be interested in reading your message. Similarly engagement is important because it is an indicator of interest.  It's a precursor to the relationships you want to build or the action you want your audience to take.
The higher the engagement share the more opportunities to drive actions. Your marketing plan should have an activation action for every engagement action. You need to find that ring that will seal the commitment. Here's an example: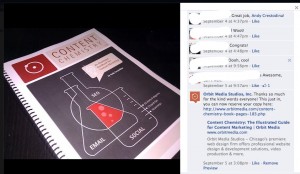 Let's say you are in the process of releasing a new book. You give a sneak preview on Facebook to show what the book would look like. You see a flood of comments (engagement) and people are interested. You then follow up with a link to where they can sign up to be notified when the book is being released.
Engagement is only relevant as long as it leads to action. I don't mean that the action should be taken today, but any online relationship that doesn't get activated into a deeper relationship is a lost opportunity.
How to Start Social Media Engagement
Know where you are now
The first thing that you need to do is to know where you are now in your social media engagement by analyzing what you have done and what else can be done to improve this. List the responses that you have received so far like the comments and shares you're getting every time you post and the number of followers or viewers that you have. At a minimum check periodically to see which of your posts are gaining most traction and give some thought to why that might be.
Know what strategy is useful and not
Every day is a learning experience. You'll never know what social media strategy works for you unless you try it. If you see that the strategy that you have been using is still effective in making your business grow then don't change it. However, if it's not working anymore for your business then be open to making changes. Revisit your engagement goals and find ways on how to develop your business through social media.
Here are some ideas:
Instagram: Switch to posting more to your stories; reshare your posts to your stories; change the colors of your images; test longer posts vs shorter posts; test different intros etc. 

LinkedIn: Try posting pdf attachments; Check what's new and give it a try, such as the new addition of polls; test longer posts vs shorter posts, etc.
Know who you want to be engaged with
This will guide you on how to motivate and entice your audience. You have to understand their needs as well as their wants so that you can give them what they want. Once you have identified your audience, it is a lot easy to determine what social media sites to join and the content that you will be publishing. How you want to be identified depends on the type of people that you want to be engaged with.
Know what content to create and share
After determining your audience and how you or your business want to be known, It's time for you to create valuable content for these audiences. The way to attract people is to be of help to them by catering to their needs and wants. Connect with them. You may ask what else you can do to be of service to them. Be creative and innovative in your ideas. Make it enjoyable, don't forget to have fun, for the benefit of your audience and for your own benefit as well.  
Know how to keep the conversation rolling
The more you connect the more your audience will connect to you. Be a friend. Listen to your audience's needs and be reactive and proactive in your engagements. Answer their questions and encourage feedback. Soon conversations about your business will be rolling like a ball. It will be passed on from one person to another spreading like wildfire. Prepare for this and just keep it rollin'.  
My challenge to you is to look at your social media engagement activities and add an action step to each of them. Put a ring on it. You will then start seeing the value of engagement.
How do you move people from "engagement" to action? I'd love to hear your tips in the comments.