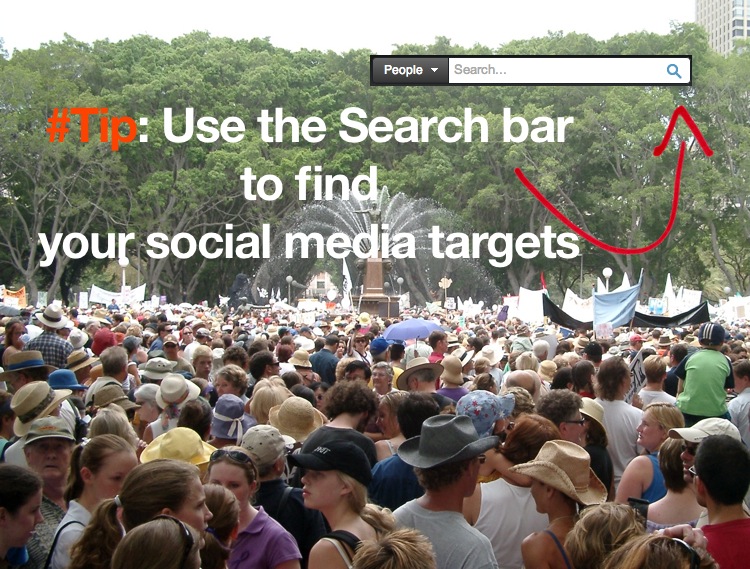 In the last social media planning essentials article, I talked about how to get ready for a new social media plan. Now that you're ready, let's plan your 2013 social media marketing strategy, starting with Part 1: How to Find Your Social Media Audience.
What is the secret sauce of social media marketing? Well, as the term "social" implies, social media  marketing is about people and community. And just like in any social exchange, the perks of a relationship must be earned. That's why social media is also called earned media.
To earn an audience, we first have to find them and then understand what motivates them. Without an audience, we would be marketing in a void. So who are they and where are they?
Define your social media audience
What do the social profiles of your direct buyers look like
Social media profiles are made up of the following indicators:
What's in the bio: Every social network features a bio section where an individual can say a little something about themselves.
What they post: Often called the social stream, this is the latest post or activity from the individual.
What they like and buy: Social users frequently post what they watched, what they bought, even what they drank. Depending on your industry, this information is valuable.
Where they go: Much of social sharing has a location appended to it. If your audience has elected to share this information, it is very useful information.
So, along these lines, define your audience's social profile:
Where are they located?
Where do they spend their time online: Facebook or Twitter? Meetups? Google+? LinkedIn Groups? Don't assume you know. Do the research.
What job titles do they use in their social media bios and descriptions?
What are other identifiers they list in their social profiles? Do they love coffee? Are they runners? Do they get involved with charities?
What do your targets post about? Your targets will talk about what's interesting and important to them. What is that? Is it crafts, is it jewelry, is it charity or leadership?
What do the the social profiles of your strategic partners look like
Strategic partners tend to be a category that few know how to define well, yet most B2B companies report 80% of their business comes from strategic partners (or what they call "referrals"). These are the key business contacts who will give you extensive exposure to your direct buyers, or will directly refer business to you.
For example, for a retail product such as coffee, a large Internet retailer could be a good strategic partner, or a nonprofit that would like to co-brand the coffee. A web design company will find marketing strategists and SEO companies to be good strategic partners. Individuals can be good strategic partners too, especially those people who are connected with your target audience. Let's say your target audience is made up of Chicago startups. In that case, leaders in the Illinois Technology Association could make good strategic partners.
Find your audience on social networks
Now that you know who your audience is, you need to find them. Try these 8 tips:
1. Google them
The other day a client asked how we can get in front of parent and kids organizations in a specific Chicago suburb. I googled "kids sports," "children's sports," "suburban moms" and a few other key terms and found dozens of organizations and blogs with full contact information listed on them. Not only have these organizations listed their Twitter and Facebook accounts, but most of them listed personal email addresses of the organizers. Yes, it's that simple.
2. Use social networks' search tools
LinkedIn, Twitter, Pinterest, Google+ and other social media networks all have a search bar. Use it! You can search for people by name, job title or interest. If they list any of the details you established as your audience (see Step 1 above), you will be able to find them. Twitter even has a neat advanced search tool to find people based on what they are tweeting, within a specified zip code.
If you have a paid LinkedIn account, you can save your search results and even organize them into folders. Your social networks can act as micro-CRMs. Take advantage of these features!
3. Do a Twitter bio search
Try one of my favorite tools: SocialBro.com. We wrote about SocialBro a while back, as the best thing to happen to Twitter since the hashtag. You're able to search Twitter bios by keywords and location. Want to find marketing directors in Chicago? SocialBro returned 248 hits. Want to find dog lovers across the Twitterverse? SocialBro found more than 15,000 Twitter profiles that say "dog lover." Yes, there's a world full of "lovers" out there. Go and get them!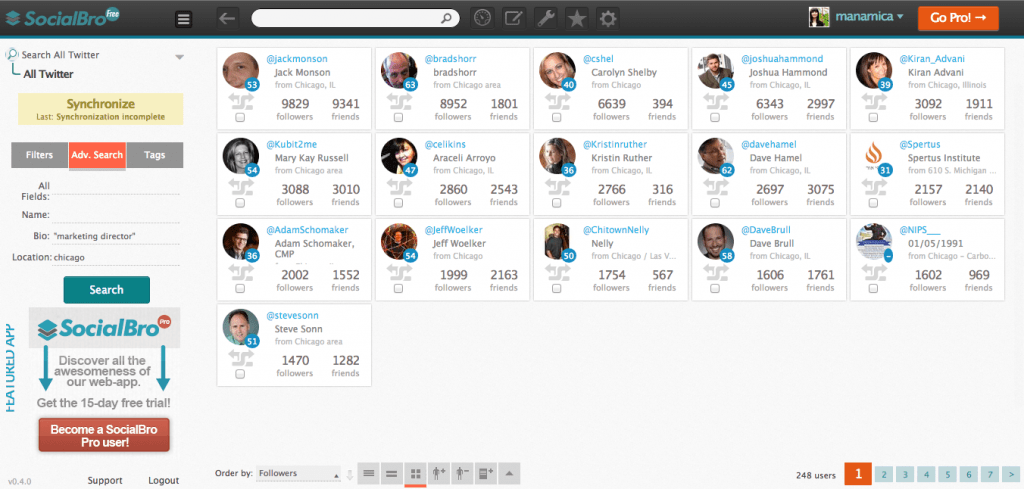 4. Give affinity social apps a try
Foursquare, for example, is a web and mobile platform that allows people to "check in" and interact with friends and strangers who visit the same retail locations. If you want to find coffee lovers, search for who checked in at Starbucks. There are similar apps for beer, movies and more.
5. "Borrow" a list
Lists are one of my favorite Twitter features. Being able to organize, observe and interact with specific target groups makes my work so much easier. I don't have to get lost in the endless Twitter data stream. But you don't have to go through the trouble of creating a list. You can simply borrow one from someone else by subscribing to to someone else's public list.
Start with your most respected contacts. Take a look at their lists and subscribe to those that seem relevant to you. Once in a while, look at new contacts' lists. They may be a goldmine of journalists lists, executives or excited fans of a product or service you are offering.
Or borrow a list from a directory. There are three directories I search for lists: Listorious, ListAtlas or Twibes.
6. Create a Google+ circle and call for "submissions"
Google+ circles are somewhat like Twitter lists. Search for Google+ profiles that match one of the social profiles you're targeting. Let's say you're looking for SCUBA enthusiasts. Create a SCUBA circle, share it and ask people to recommend others with similar interests. Then watch how your circle grows.
7. Find people who talk about specific topics
You can do this by searching specific topics in a Hashtag directory such as hashtags.org.
8. Set up searches in your social media management dashboard
We like Hootsuite, but the same applies to Tweetdeck or SproutSocial, other tools our team uses. Use the "Add Column" function to create real-time conversation stream by keyword and location. In Hootsuite, you also can set up searches for YouTube, Digg, Instagram and other networks. Whether you are looking to connect with content marketing enthusiasts, gluten-free foodies or transportation professionals, there's a search for that.

Now you're all set to track down your audience. Find them today! Then check back for the next step in planning your 2013 social media strategy.
Do you have any tips on how to find online audiences? Please share! 
This is a four-part series. Check out Part 2: Develop Your Social Media Content, Part 3: Compel Your Social Media Audience to Act and Part 4: 7 Essential Steps to Social Media Lead Generation and Conversion.